In conjunction with the official release of the latest adizero F50 boots, adidas have also launched their latest mobile gaming app called the 'F50 Game'. It is now officially downloadable from the Apple Store or Google Play, giving users an extremely unique experience.
The app generally consists of a game, 360 product tour and definitive f50-related experience. The game basically requires players to study selected images of adidas sponsored footballers and pick where on the image the real ball is placed from three possible alternatives.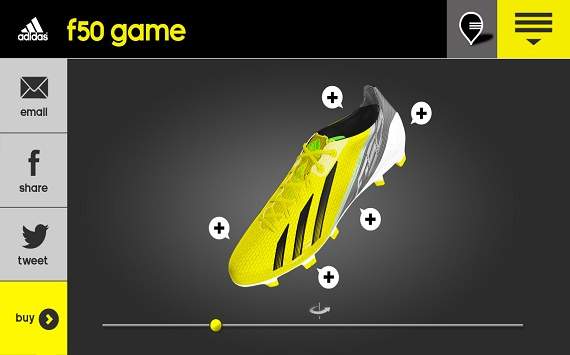 Big name players such as David Villa, Lionel Messi, Karim Benzema and David Silva will be featuring prominently in the game as well.
Players are also given the liberty of posting their score online, and the top scores around the world will be in contention to receive unique prizes, including a pair of adizero F50 boots signed exclusively by none other than Lionel Messi.
Since the football boots itself features a new technoloy that allows players to track their performance metrics, this application will essentially allow them to compare their statistics with other users around the world.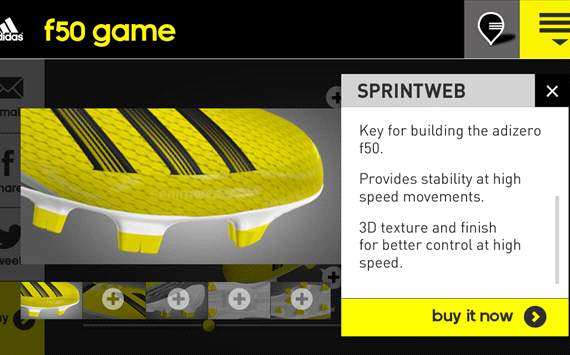 This new feature records top speed, distance covered and active zones, making it the only performance tracking device that captures 360 movement. Therefore, users will now be able to transport their data into their iPhone/iPod/PC/Mac wirelessly before accessing it and analyzing it via the app.
The 360 product tour will allow users to get a unique look at the latest speedy footwear, offering them a detailed perspective as well.
This new application is certainly a magnificent effort from adidas, as they seek to allow users to access data that they never did before.