PROFILE
By Chris Evans
We've heard it all before. Foreign star moves to England, lives the showbiz lifestyle and hops on the first plane home again if things go wrong.
It's not all headlines, cash and girls though, just ask ex-Cameroon Under-21 goalkeeper Alex Malong, who traded professional football and international caps for Central Midlands League outfit Glapwell FC.
Six years since the ambitious shot-stopper moved to Blighty, Malong is still waiting for his big break in English football, currently keeping net as the Derbyshire club's star attraction in step 11 of the English football pyramid.
"I don't know any other international players at this level," said the ambitious Malong, who counts Barcelona's Alex Song as one of his best friends. "People always say to me, why aren't you at a big club? The answer is I haven't been given the chance – clubs think I'm trying to con them."
Far from being another Ali Dia aiming to make a quick buck, Malong's football CV shows real potential.
After growing up with his uncle in Cameroon's largest city, Douala, only-child Malong was scouted from thousands of other teenage hopefuls by national legend Eugene Ekeke to join the renowned PMUC Academy.
"I was lucky enough to get an education but a lot of kids can't afford it," Malong recalled. "So there are loads of people playing football every day, hoping to be picked up by one of the academies.
"It's tough and you have to be very skilful to get noticed. This is the way most of Cameroon's top players start, including stars like Samuel Eto'o. There were a lot of good players in my academy who have since signed for European clubs."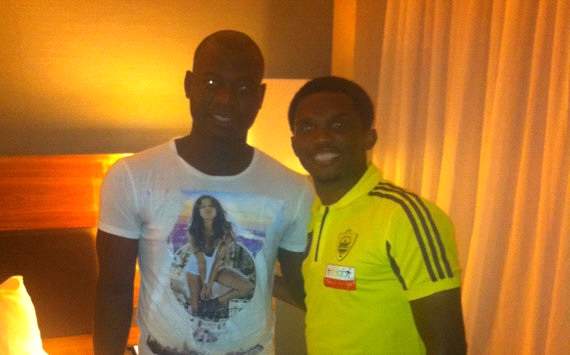 Eto'o Are Ya? | Malong counts some of the world's most famous footballers as friends
Having earned plaudits alongside ex-West Brom frontman Somen Tchoyi at the PMUC Academy, Malong left his family to play in Malaysia, Singapore and Thailand, before moving to England when his British girlfriend fell pregnant in 2006.
As an unknown player moving to a country already brimming with global talent, Malong's Cameroon Under-21 call-ups counted for little as he tried to make a name for himself.
"As a goalkeeper you get less chance than a midfielder or striker," explained Malong. "Most clubs have only one or two goalkeepers and don't change them very often, so starting from the bottom is hard.

"It's difficult moving to a new area where people don't know you. A lot of managers wouldn't even give me a chance to train with them because they hadn't heard of me. They'd rather get their players from elsewhere than take a chance.

"My biggest downfall was coming over here without an agent because it's difficult to move from Asia when there's no one to help you find a club."

Instead Malong started to climb the non-league ladder, rapidly progressing up the divisions in successive seasons with Blisworth, Wellingborough and Rothwell Town.

After building a strong reputation in Northamptonshire, then-Blue Square Premier side Kettering Town came sniffing, before a family tragedy scuppered any chance of a deal.

"My wife's mum got very ill and passed away," Malong recalled. "It was a bad time, so we moved up to the Chesterfield area to be close to my father-in-law and the rest of the family.


THE DISTANT DREAM

Incredibly, despite having no luck in getting himself a professional deal in England, Malong was instrumental in getting former-teammate Somen Tchoyi a dream move to the Premier League.

After identifying Malong as a good friend of several top African players, including Alex Song and Andre Bikey, a London-based agent approached him about signing them up.

"Tchoyi was at Red Bull Salzburg in Austria at the time and I gave them his details," Malong said. "They weren't interested at first because he didn't play in a good league but they eventually took him and pushed through a move to West Brom.

"I said to Somen, 'People don't want to help me, but I can help you'. It's the story of my life, how can I help someone get to the Premier League and not get a professional club myself?"
"Scouts from Kettering were looking at me, but I only found out after we'd put our house up for sale. It was the end of the season and we couldn't afford to wait the two months before I could start training with them."
Buoyed by The Poppies' interest, Malong contacted several professional clubs close to his new home, only to find closed doors at every turn.
"I tried to get trials all over the place, but couldn't get one," the 28-year-old said. "I went to teams in the lower leagues and they told me they'd already got their goalkeepers.
"I went to Chesterfield and asked (then-manager) John Sheridan for a trial. He said they didn't need a goalkeeper and then signed one on loan a week later.
"When you ask to come and train – even once – teams don't let you, it's so frustrating. The culture in England is not to give players from smaller teams a chance, meaning so much talent is wasted in the lower leagues."
With no other opportunities elsewhere and in need of game time, Malong joined Glapwell on a short-term deal earlier this season and soon claimed the number-one jersey.
Despite plying his trade in football's wilderness, the upbeat keeper still harbours ambitions of reaching the professional game.
"My teammates and the people who watch me can't understand how I couldn't find a bigger club," he said. "I get asked all the time why I'm not playing at a higher level. You need to play to make people notice you and that's what I'm doing at Glapwell.
"I am lost in the football world at the moment. I have this talent but don't know what to do with it, I've tried everything and can't get a chance. It's my dream to be a professional footballer in England and just need to prove I can play at a good level.
"If I stay fit and train hard, I've got another 10 years ahead of me. I am confident I can play in the Football League, I just need someone to take a gamble on me."