By Andrew Leci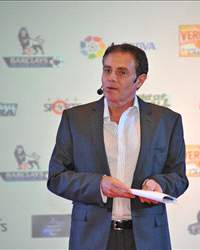 Record breaking Harry Redknapp is now at the managerial helm of Queens Park Rangers, and he may just have taken up the biggest challenge of his career.
Why record breaking? Because Henry James Redknapp, 65, has just become the first man ever to manage 5 different Premier League clubs.
Does this point to a peripatetic nature, or an inability to hold down a job for very long? Does Harry have the reputation of being a 'quick fix' man, the knight in Armani armour who enters the fray when all looks lost, or does he have the kind of personality that means that at some point he will come into conflict with figures of authority at the clubs he works for?
The answers to these questions depend on who and what you read, and who and what you want to believe once you've done the reading.
Accused in the past of being a "wheeler dealer" - an epithet he genuinely loathes - there is very little doubt that he is invariably a popular manager among players.
Harry is keen to play the 'East End boy from humble beginnings' card, and sees himself as one of the lads; there to laugh and joke, and indulge in pranks, as any man would when employed in an industry that ultimately amounts to playing a game for money.
Importantly though, he's a cajoler and a motivator; a man who can put an arm round the shoulder of a player, make him feel loved, wanted, and good about himself, creating the right kind of environment to get him to perform to the best of his ability.
There are many different profiles for a football manager. Some are deep thinkers and assiduous analysts, others belong to the gung-ho 'just get out there and give it a go' school of footballing thought, and Harry would certainly attend the latter.
His involvement on the training ground tends to lightly touch on the technical aspects of the game, while he works out what needs to be said, and when, and to whom, in order to get his players playing for him, and to the peak of their powers.
There can be little doubt that his appointment at QPR (a team lying at the foot of the Barclays Premier League table, and the only team in England yet to win a game this season) was based on his ability to gird the loins of his troops, and lead them unflinchingly into the battle for survival that looks, statistically at least, already all but lost.
If anyone can do it though, Harry can. Why? Because he's already shown an almost uncanny ability to keep teams where they feel they should be. He's a 'go to' man in a crisis, and he loves a challenge, although in some ways he's already absolved himself of responsibility should QPR suffer the dreaded drop come season's end.
In almost his first interview following his appointment, he was asked why he thought QPR were in such a perilous position, and he suggested that the buck stopped with the players. He refused to blame his predecessor Mark Hughes (let's face it, he couldn't) and maintained that the players have to take responsibility for the club's current plight.
So, if QPR do go down, it will be the players' fault – the situation he has inherited is a parlous one – and if he manages to keep them in the top flight of English football, there's no doubt that he'll be hailed as hero. In some ways, it's not a bad situation to be in.
The thing is, if QPR are to survive, they're going to need some new players, and by 'new', I mean different, and by different, I mean not the kind of players that were brought to the club in the summer.
Having narrowly avoided relegation last season, expectations at the club over the summer were high, perhaps even unseasonably high.
There was nary a thought that another relegation battle would ensue, and the bevvy of new talent reflected the club's intentions to put together a team that would sit comfortably in mid-table and be able to play some stylish football without the threat of the drop hanging over their head(s) like the sword of Damocles.
Fast forward to 14 games into the current season, the single horse hair that legend has it prevented the sword from dropping onto Damocles' head, didn't hold for Mark Hughes, and QPR are in deep trouble with a squad not designed (or even particularly well equipped, it has been suggested) to deal with a relegation battle.
Harry has arrived on his trusty steed (out of which he is fond of giving interviews to almost anyone with a camera it seems - one of the reasons, allegedly, why his previous chairman at Tottenham Hotspur dispensed with his services in June with such alacrity) and QPR fans are expectant once again.
If anyone can, Harry can, they'll cheerfully state, and the 0-0 draw at Sunderland on Tuesday night was a step in the right direction – they battled their way to an away point and achieved their second clean sheet of the season. And if he does, he'll just about secure his place in West London sporting legend.
If he doesn't, then I suppose the players will simply have to accept the responsibility.