By Wita Novianti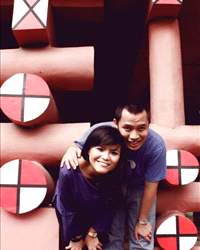 I have been living in Malaysia for the past 7 years. I came here when I started my tertiary education in this country before deciding to stay on and work here. In addition to that, I am now married to a Malaysian.
Today my adopted country will be going up against the country of my birth in the AFF Suzuki Cup and this clash certainly brings back memories to my mind.
I can still remember the first time I watched the game involving these nations 2 years back at the National Stadium in Bukit Jalil. I was so excited to watch the game live at the venue, and of course my husband (who at that time was still my boyfriend) also came along with me. Malaysia has been really good to me but that day I knew where my loyalties would lie. My support was definitely for my own country Indonesia and my husband was supporting Malaysia. We wore the jerseys of our respective nations. He came in yellow and I was in red.
The moment was so great - to see Indonesian and also Malaysian supporters yelling in excitement, and singing their own soccer cheer songs.
However, I was totally devastated after the game as Indonesia ended up losing 3-0 to Malaysia. Indonesian players played so badly that it seemed as if they had no energy whatsoever to keep up with the Malaysian players. I was extremely sad and down at that time, while my husband who was sitting next to me showed me his excitement at Malaysia's victory.
I was so upset with my husband because he was mocking me all day long that I had to keep telling myself that it was just a game. It never fails to bring a smile to my face when I look back at that moment now. As for this year, I am no longer in the mood to watch the game at the stadium for the fear of ending up quarrelling with my husband.
Nonetheless, we are planning to watch the game out on a big screen at some Mamak restaurant (name for Indian Muslim eateries in Malaysia, where people gather to watch live football matches) - supporting our own countries. This time around, I really hope that Indonesia win this game with a 2-0 score-line so that I can laugh back at my husband. I want my revenge.
Wita's prediction:
Malaysia 0-2 Indonesia
Indonesia have been playing good so far. They have become the leaders in their group and are yet to lose. The players are playing much better than in 2010. As for Malaysia, they have been playing well but I don't think they are as strong as they were two years ago. So, I'm going for an Indonesian win tonight.