By Andrew Leci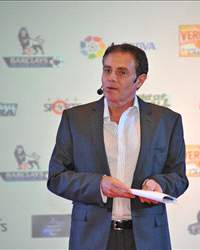 It's not often that I think up three different ways to start a piece. Even when I do, the process of literary natural selection kicks in, and one or two of them fall by the wayside, leaving the way clear for the starting point of choice.
Of the three almost irresistible opening gambits for this edition, not one seemed either spurious or worthless, and none were prepared to fall on their own verbal swords, so I'm going to give you all three, and see where we go from there.
VERSION 1
There are a couple of questions I'm often asked with regard to football, and the Barclays Premier League in particular.
1) Can we justify paying footballers the staggeringly high wages they currently enjoy?
2) Why would someone, in his right mind, accept the job as manager at Chelsea Football Club?
The answers, in a nutshell, are, 'yes', and 'money'. I may expand later.
VERSION 2
Fans of Roman Abramovich; you may need to look away now. Everyone else, carry on reading.
I don't think I've lost too many of you, have I?
VERSION 3
To make a mistake once, and learn from it…that is human, and necessary for our continued existence.
To make the same mistake twice is tantamount to stupidity.
To make the same mistake over and over again, expecting a different outcome every time…that is the definition of madness.
Roman Abramovich, take a bow.
So, which one do you like best? Or none of the above?
I can't take credit for the 'madness' quote, or at least I could, but the executors of Albert Einstein's estate might call me up on it. Einstein got plenty of things wrong, clearly, but I believe he was on the money here.
Roman Abramovich is obviously not a big fan of the theoretical physicist who helped shape our world – or at least much of what we think we know about it – and seems to believe that at some point, making the same mistake over and over again, will yield the result (and indeed the results) he's looking for.
Roberto Di Matteo becomes the latest in a string of managerial casualties at a football club that offers the job security of an unregulated diamond miner. He was the 9th manager (both full time and caretaker) in the Roman Abramovich era which started when the Russian billionaire bought the club in 2003.
That's 9 years, and 9 managers, and Rafa Benitez is about to become the 10th.
Benitez managed Liverpool for 6 years, and delivered an FA Cup and a UEFA Champions League trophy. Goodness me, isn't that pretty much what Di Matteo has just done at Chelsea in the space of 8 months?
It would be difficult to imagine anyone who personifies more the rivalry between Chelsea and Liverpool than Benitez – the man who had a fractious relationship with Jose Mourinho during those seemingly innumerable Champions League clashes between the teams in the mid-2000s.
He also criticised Chelsea for the way they were trying to 'buy success' under Abramovich's ownership. The fact that he had a very poor relationship with Chelsea fans adds further mystery to the decision making process at Chelsea's Board level that threw up Rafa as the ideal replacement for Robbie.
Di Matteo has done nothing wrong, and has had Chelsea playing some of the best football we have seen from them in several Premier League seasons. He's been bold in his team selection, and as expansive as possible in his style of play, and a month ago the team were sitting proudly on top of the table.
Cue a series of disappointing results, leading to very probable elimination from the Champions League at the group stage, and Di Matteo is out the door at Stamford Bridge faster than Abramovich's accountants could write the severance cheque.
The simple fact is that it is Roman Abramovich's club, which he finances with his own personal fortune, and he can do just whatever the hell he likes with it. Somehow, I don't think anyone needs to remind him of that.
But, he's dispensed with the services of a decent man, with considerable managerial potential (if lacking in experience), who delivered the holy grail in May. Abramovich's avowed desire when taking the helm in 2003 was a Champions League trophy, and Di Matteo succeeded where Mourinho (not to mention Guus Hiddink and Carlo Ancelotti) failed. Chelsea were fortunate in claiming the crown in Munich, but then so were Liverpool, under Benitez back in 2005.
I've spoken to several Chelsea fans in the last few hours, and not one of them is happy either at Di Matteo's ouster, or his replacement.
Abramovich's knee has jerked far too many times in the last few years, while the sackings and subsequent appointments don't seem to have had the desired effect.
And yet, he continues to do it over and over again, and each time expects the outcome to be different.
Who knows, maybe one day it will. Perhaps Rafa Benitez is the man who can quaff from the poisoned chalice without it shutting down his liver – although it's worth noting that his appointment is only until the end of the season, and we can all guess what that may mean. Has someone had a 'Pep' talk?
In the meantime, Chelsea fans will have to go away and rewrite their Rafa Benitez songs, while we scratch our heads and speculate on the apparently tenuous relationship between reality and the super-rich.
Catch Andrew Leci on ESPN STAR Sports' coverage of the Barclays Premier League and on 'The Verdict' every Monday at 8pm on ESPN.