By Andrew Leci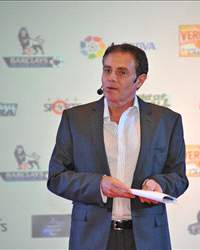 The North London derbies are highlights in any Barclays Premier League season.
Viewers look forward to them immensely, irrespective of their allegiances, and as a presenter, they always provided innumerable sub plots and talking points that make the build-up so stimulating and so much fun to be involved in.
As for the fans themselves…I think it's fair to say that they are the most eagerly anticipated fixtures of any season, regardless of the teams' levels of success during the campaign.
The first derby of this season probably couldn't come at a worse time for both managers.
Both Arsene Wenger and Andre Villas-Boas are under considerable pressure, and results last weekend did nothing at all to ease it.
I wrote last week of the situation Wenger found himself in, and suggested that nothing less than a stylish win against Fulham at The Emirates would have been enough to get the team back on track, and him back on-side with the fans.
Arsenal contrived to throw away a two goal lead, and miss a late penalty that could have secured all the points, and trust me when I say that the rumblings among the Gunners faithful at the final whistle were loud, dissonant, and not even remotely good humoured.
Tottenham Hotspur also contrived to throw away a lead, at the defending champions Manchester City, and put in almost as banal a performance as it's possible to achieve.
Eyebrows were raised to hairline level when Jermain Defoe (hat-trick hero in the Europa League three days previously) was left on the bench, and Emmanuel Adebayor was given the nod ahead of him.
Adebayor played well, despite being jeered at every touch by the fans of his former employers, and played his role as the pantomime villain (it's approaching that time of year in England) with a degree of relish. But he didn't score, and his use as the focal point for Spurs' counter-attacking tactics, didn't work as well as I'm sure it did in the manager's mind.
More importantly perhaps, Spurs looked intent on holding on to the slender lead Steven Caulker had given them in the 21st minute and, let's be brutally honest, hoping for the best. It's a dangerous game to play against Manchester City.
Arsenal were 2-0 up after 23 minutes and cruising (purring even) against Fulham and let a side that had never beaten them on home soil in the history of football, back into the game – very nearly allowing them to win it.
The results for both teams of late have not been good, and that ratchets up the pressure ahead of the next Premier League fixture quite a few notches. The fact that they meet each other adds an extra little frisson to what is already guaranteed to be a spicy affair.
Football historians will know that the rivalry between the two clubs dates back to the early part of the 20th Century (around 1919, to be imprecise), when Arsenal supplanted Spurs in football's top flight. Shenanigans were suspected (never proven).
The fact that Arsenal had, 6 years earlier, moved their ground from South to North London (to become Spurs' neighbours) had already created an enmity – impinging on territory is, after all, likely to provide all the excuses for tribalism anyone is ever going to need.
The rivalry has gone from strength to strength, and often resulted in pitched battles during the 1970s, when English football (as least as far as crowd violence is concerned) had reached its nadir.
And then, all we have to look back to is the end of last season, when Arsenal pipped Spurs for 3rd spot, and Spurs were 'demoted' to the Europa League when Chelsea pulled off their unlikely triumph in the UEFA Champions League.
That must have been a bitter pill for Spurs fans to swallow, especially after leading Arsenal in the standings for so much of the season.
Arsenal secured 3rd spot by beating West Brom 3-2 at The Hawthorns on the final day of the season, and it was a game that will be remembered for a catalogue of goalkeeping howlers from the Baggies' Marton Fulop – only called into action on the day of the match.
Fulop was at Tottenham Hotspur for 3 years between 2004 and 2007, and didn't make a single first team appearance.
The match against Arsenal was his one and only first team appearance for West Bromwich Albion and he was released from his contract a couple of days later.
Not surprisingly, conspiracy theorists had a field day over that one, but it all adds to the backdrop for Saturday's game.
It's not a fixture that neither side can afford to lose.
It's one that neither side can afford not to win.
Catch Andrew Leci on ESPN STAR Sports' coverage of the Barclays Premier League and on 'The Verdict' every Monday at 8pm on ESPN.