Just one weekend ago, Juventus' 49 game unbeaten run had come to an end against a rampant Inter side. It was tragic for Juventus fans, and the context of the game made it far harder for fans to ingest. It was Juventus' first league defeat since Conte's appointment; it was the first loss ever at the Juventus Stadium, it was supposed to be the fairytale 50th consecutive unbeaten game and most of all it was against Inter.
Many fans and pundits were quick to come to conclusions; Juventus' season was in turmoil, apparently. Juventus' subsequent match was against Nordsjaelland in the Champions League, in what was a do-or-die game for Juventus' Champions League hopes. Anything other than a thrashing would've been seen as a failure, and many looked for signs of a weakened, depleted Juventus. She was nowhere to be found.
A galvanized Juventus team ran rampage on Nordsjaelland, scoring 4 at the Juventus Stadium. This was an important result, albeit not an outstanding one, which served to raise the players' moral and reassured the fans. This was one of the best games Juventus had played in weeks, or even months. Juventus hadn't been playing up to the level that they were expected to, but their performances were tainted by "unbeaten glasses".
Juventus' unbeaten streak might have been a curse for the team, as many ignored the multiple poor performances the team had had this season, as they were more focused on whether Juventus would hold on and continue their streak. Many performances were lackluster and unlike the team that won the league in the prior season.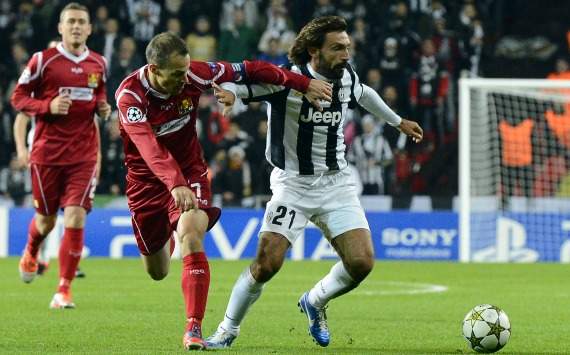 Pirlo had been far less influential to the side, and Vidal hadn't played a great game since his Champions League game against Chelsea. Although Asamoah had starting the season incredibly, he lost form through October. It was easy to ignore the lack of form of most of the team, as they were still pulling through to get "positive" results, which just meant that Juventus were not losing.
Whilst Juventus averaged over 62% possession over course of the entire 2011/12 Serie A season, they had averaged under 55% in the last 2 months, and have played a far less dominant game. There were instances where Juventus were clearly outclassed, like the games against Fiorentina and Inter as well as the Champions League tie against Shakhtar.
Juventus followed their Champions League victory over Nordsjaelland with an away game against newly promoted Pescara. The game ended 6-1, Juventus scoring 5 goals in the first half. This meant that Juventus had scored 9 goals in 135 minutes after the Inter defeat, sending a resounding message to the media as well as the other title-contenders: Juventus are still the top dog. Juventus hadn't won by such a large margin in 15 years against Milan, and hadn't scored 5 first half goals since 1947. It seems that Juventus' records didn't end at the unbeaten streak.
The Inter game served as a great wakeup call for this Juventus side, and will serve them greatly in the future of this season. The team had become very complacent, and hadn't been performing under the pressure and media spotlight on the unbeaten run. Now the team can concentrate on playing games, rather than trying to reach Milan's illustrious "invincibili" record.
We can look back on what was a truly sensational streak of games, and look at what the team had achieved. One of the most incredible statistics was Juventus' defensive record during the run, where they had only conceded more than 1 goal 3 times including the Inter defeat. Considering teams like Manchester United and Barcelona have conceded more than 1 goal 7 and 4 times respectively, this season alone.
The team scored 97 goals, and conceded just 21 goals in the unbeaten run. Impressively Juventus have had this great streak without a top class striker, whilst the other teams who've had impressive unbeaten runs always had a top striker, like Arsenal's Henry and Bergkamp, Milan's Gullit and Van Basten and Porto's Falcao. Juventus achieved their streak with no player even reaching 12 league goals.
Although it seemed devastating enough, to lose the potentially 50th consecutive positive result, it was a great wakeup call for Juventus, and not only ended the streak but the blindness and ignorance of the team's faults and complacency. Juventus and Juventini around the World can thank Inter for the defeat, as it was in Juventus' best interests.
Juventus stand first in the league, after Inter undid all their hardwork against Juventus with a 3-1 loss to Atalanta. Even after the 3-1 loss to Inter, Juventus lead Serie A in scoring with 29 goals and have the best defense, conceding just 9 goals.
Juventus now have a one game unbeaten run in the league, and counting.