By Andrew Leci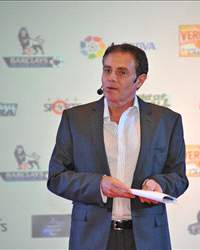 If Arsene Wenger's post-match demeanour at Old Trafford last Saturday is anything to go by, the man is feeling the heat.
Which in itself is strange, seeing as the tunnel was as cold as a popsicle, and not possessing nearly as much flavour.
Following a lacklustre performance from his players that saw them fall to a 2-1 defeat – the result flattered Arsenal, let's be honest – he looked like a man with the world on his shoulders; a man burdened perhaps, by the weight of expectation that came from a good start to the season, both on the domestic front and in Europe.
It looked, for all the world, that despite the departure of Robin van Persie (and Alexandre Song) Arsenal's summer signings had turned the team into genuine title contenders; a unit capable of playing outstanding football (at times) modelled on the precepts of Arsene Wenger's footballing philosophy.
And then something went wrong.
A league defeat at Norwich (surprising), was followed by a Champions League reverse at The Emirates (unthinkable, unprecedented, unhinging), and that was followed by a squeaky home win against beleaguered QPR.
After the Keystone Cops affair in the League Cup at Reading, last weekend saw a performance against Manchester United that could best be described as 'lacking in intensity' – at least that's what I suggested to Arsene himself after the game, and (unlike with anything else I said during our post-match chat) he seemed to agree.
Getting a Champions League point at Schalke could never be considered a poor result, although when you consider that Arsenal were 2-0 up, perhaps it could be, and believe it or not, Arsenal's biggest test lies immediately ahead.
It's a home game, against Fulham.
I know that in previous seasons such an assignment wouldn't have been particularly daunting, but such are the current circumstances that nothing other than a convincing win, exuding style, ostentatious in a show of confidence, will be enough to keep the media wolves from Wenger's door, and the disaffected (and constantly demanding) Arsenal fans from venting their burgeoning (and possibly righteous) anger.
Arsene Wenger's relationship with many Arsenal supporters is a complex one.
Quite apart from the fact that the first 5 letters of both names are the same – a marriage made in heaven if ever there was one – Wenger and the Arsenal faithful are on the same page when it comes to a brand of football that is both pleasing to the eye, and highly effective in getting results.
The problem is, that while some of the football over the last few seasons has been captivating at times, there has been little reason to open the trophy cabinet at the Emirates Stadium – other than to polish what is already there.
Despite detractors suggesting that Wenger is niggardly when it comes to spending the club's money, Arsenal laid out some significant sums over the summer. Yes, they made money from the sales of Van Persie and Song, but the influx of new-to-the-club (but well established) talent, seemed to herald a new era.
Wenger and Arsenal now need to prove that style can come with substance, and that you can entertain and play good football, while getting good results at the same time.
Arsenal fans have been spoilt in the past, and they expect, and deserve, a level of success that's been missing for 7 seasons. I wouldn't suggest for a moment that Wenger isn't acutely aware of the situation he's in, and the tenuous nature of the love affair between him and the fans.
The question is though, will the current crop of Arsenal players be able to lend the necessary support?
It seems almost absurd to talk about a crisis at a club that sits 7th in the table after 10 games. But such are the exalted standards set during the tenure of Arsene Wenger, that being 9 points behind the league leaders even at this stage of the season, is hard to accept.
A stylish win over Fulham this Saturday would be most welcome (particularly for me - I really don't want to confront another disgruntled Frenchman at a post-match interview), and everyone will be expecting it to happen.
That may be part of the problem.
Catch Andrew Leci on ESPN STAR Sports' coverage of the Barclays Premier League and on 'The Verdict' every Monday at 8pm on ESPN.