ESPN Star Sports' Andrew Leci compares the Barclays Premier League to 'War and Peace', Leo Tolstoy's famous novel
By Andrew Leci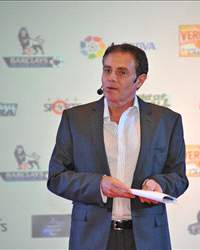 'War and Peace' is a cracking novel.
In actual fact, its writer, Leo Tolstoy, didn't really consider it a 'novel', suggesting that it was more of an historical narrative with interwoven fictionalised stories and a smattering of philosophical conjecture (much of it on the nature of history itself).
Whatever it was intended to be, and whatever it may be perceived as, it's a magnificent work, spread across four volumes (six if you count the epilogues), spanning a significant period of time, and relating events and emotions experienced through the eyes of five aristocratic Russian families.
I'm just wondering, and I am prepared to concede that it may be a bit of a stretch, if we can compare 'War and Peace' to the Barclays Premier League season 2012-13.
The battles will be staged each and every weekend from now until May 2013, and there will be, no doubt, the requisite periods of soul searching following every humiliating defeat or tactical game plan that was thrown out the window.
There will be intrigue, as alliances are formed and relationships developed, and come the 19th of May 2013 (perhaps even earlier), the real winners will be acknowledged and the vanquished left to count the cost of an unsuccessful campaign.
Manchester United have been the 'tsars' of the Premier League almost since its inception, and while there's nothing particularly Bolshevik or peasant-like about Manchester City, last season introduced a major change in the balance of power that may turn out to be an enduring one.
While United's season got off to the worst possible start with their defeat at Everton, City did what they did on the final day of last season – coming from behind (a bit like Napoleon's troops in certain battles) and securing the points against Southampton with an almost glorious sense of inevitability.
Despite not spending much during the summer, City remain as the team to beat this season, and their strength in depth would put the Rostov family to shame. It's interesting to note that this time round, Chelsea and Arsenal will be playing the role of upstarts in their attempt to break Manchester's apparent stronghold on the title.
How will Arsenal cope after the loss of two very influential players?
If the 0-0 draw with Sunderland last weekend is anything to go by…in customary style and in time-honoured fashion. They will continue to play Arsene Wenger's brand of football, and there is no surprise that the players who have come into the club over the summer are well designed for the task.
End product, as ever, will determine whether this is to be a good nine months for the Gunners, or whether they will take their trophy-less season count to 8.
It would be mischievous of me, defamatory even, to compare Chelsea to the Kuragin family in 'War and Peace', so I won't. Suffice it to say that Roman Abramovich's possibly waning interest in the club has been reignited by FA Cup and Champions League successes last season, and he's splashed the cash this summer with genuine billionaire abandon.
Chelsea now have a title-winning squad with a slew of game-changing match-winning players, while those inside and outside the club continue to denigrate their entertainment facility. Perhaps, like a crumbling Moscow residence, circa 1805, they could be in need of a new 'ballroom'.
And what of Liverpool, aristocrats of the English game, who, in terms of success on the field, have fallen on hard times?
For the third season in a row, they begin life with a new man at the helm who, this time, it's been said, will be given time to restore past glories. The Merseyside club need to stop wasting money, reassess core values, and remember what it was that made them the club that everyone wanted to emulate but whose legacy is in danger of being undermined.
Brendan Rodgers has to be the right man for the job.
In terms of perspective 'War and Peace' is characterised by god-like observation, similar to those of us who live and breathe the Barclays Premier League from a host of different standpoints.
We support, we encourage; we denigrate and we criticise, delving into the minutiae of the game in microscopic detail. That's what we do, while the players, managers and ancillary others associated with our favourite football clubs prepare to deliver the unfolding story of an epic season.
'War and Peace' ends in triumph for some, abject failure for others, and while football, despite what Bill Shankly may once have said, is not a matter of life and death (Shanks said it was more important than that, of course) this season in the Barclays Premier League promises just as many ups and down, thrills and spill, and complex human stories to stir the imagination.
And plenty of good football, to boot.
Catch Andrew Leci on ESPN STAR Sports' coverage of the Barclays Premier League and on 'The Verdict' every Monday at 8pm on ESPN. Visit www.espnstar.com/footballmanager to win a share of US$25,000 in cash prizes in this seasons' Football Manager