EXCLUSIVE
By Goal.com Asia
He came within one match of his first major international trophy, and now Italy defender Giorgio Chiellini answers selected questions of Goal.com Asia readers.
There was no shortage of questions for the 27-year-old, with the Juventus man answering some of your questions on Alessandro Del Piero, Zlatan Ibrahimovic and the prospect of facing Lionel Messi.
Q: When you were a boy, who was your idol, and how did he influence your career? - James Marassa, Australia
A: This is an easy one; as a boy, my idol was the great Paolo Maldini [pictured].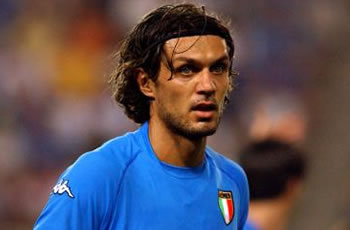 Q: With Juve, as well as with the Azzurri, you always wear the No.3. Does that number carry a special meaning for you? Gian Farrentino, Indonesia.
A: As said, Paolo Maldini was my favorite player, so I always wanted to play with "his" No.3.
Q: When Juve was relegated to Serie B, you decided to stick with the Bianconeri. What gave you motivation to stay? Kim Ye-Chan, Korea and Wahyu Khanoris, Indonesia.
A: It doesn't matter in which category, Juve was and always will be a great club, so it was not a difficult decision.
Q: How did you say "goodbye" to Alessandro Del Piero, a Juve's legend? Zhang Zhang, China.
A: The best way to part was to win a legendary Scudetto together with Alessandro. It was a honor to play with him, and I wish Ale all the best for his next adventure.
Q: Who should be the future's captain at Juve, you or your friend Claudio Marchisio? Juventus10YearsFan, Hong Kong.
A: I don't know, but I believe that both Claudio and I have what it takes to be Juve's captain.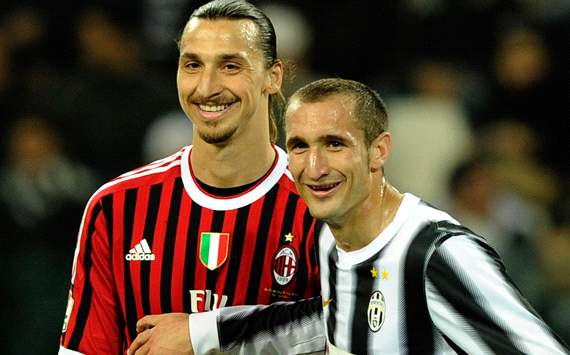 Q: Who is or was your favorite partner in defense, and who was your most challenging opponent? Daniel, Malaysia; Abhishek Lunia, India; Oh Jung-Min, Korea and Noriyasu, Japan.
A: As a team-mate, the one who taught me the most was undoubtedly Fabio Cannavaro. As an opponent, the fiercest bouts were always against Zlatan Ibrahimovic [pictured with Chiellini], a fantastic player.
Q: Which striker would you like to challenge, and would you like to meet Barcelona in this next season's Champions League? Pitsanu Suwannasing, Thailand and Abhishek Lunia, India.
A: Sure, I'd love to play against Messi and his Barcelona, but... possibly in the final!
Q: In the future, would you like to try an experience playing abroad? Natthaphat Kanchanwong, Thailand and Mohamed Zizo, Malaysia.
A: Playing abroad is one of the things I might like to do in the future, but as now, I have only Juventus in my mind.
Q: Among Italian young defenders, do you see a future Chiellini? Yash Haldanka, India and Reiko, Japan.
A: Well, I feel I am still quite young, so I hope it will be a while before we see a "future Chiellini". However, there are quite a few good young defenders in Italy, such as [Davide] Astori, [Angelo] Ogbonna, [Andrea] Ranocchia, [Michele] Camporese - all prospects for the national team as well.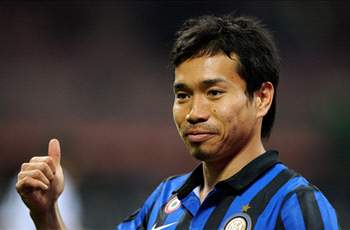 Q: What is your impression of Asian football and what do you think of Yuto Nagatomo at Inter? Tsubasa Ozora, Japan.
A: Asian football keeps improving, and that's proven by the fact that so many Asian players are doing well in Europe nowadays. Nagatomo [pictured] at Inter is surely one of them!
Q: We're two Italian guys opening a Juventus Fan Club in Singapore. Are you and Juventus interested in increasing the number of supporters in Asia? How do you communicate with them and all your fans all over the world? Luca Messina and Vincenzo De Laurentis, Singapore.
A: It is great to hear that Italian football has now many supporters in Asia. There is definitely a reciprocal interest with great names such as Marcello Lippi now working in China - the country where we'll play the Italian Supercup! To keep in touch with my fans, I am a bit of a tech-geek, and I have helped developing the Chiello App, which works on iPhone and Android and lets you know all you need about me! And please check out my official website www.giorgiochiellini.com and www.chiellini.it