Malaysia did well to recently end an eight year winless drought against our rivals, Singapore. A solid defence, robust midfield and a dangerous forward line to boot, certainly brought back memories of a triumphant AFF Suzuki Cup campaign where the Malayan Tigers reigned supreme. Here are five key points derived from the all important win against the Lions;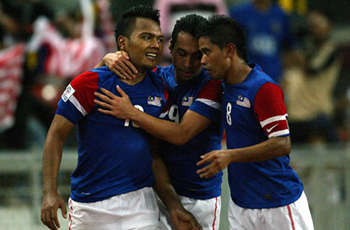 1) Safiq Rahim is an integral cog of the Malaysian machine
To say Safiq Rahim is indispensable to the Malaysian national team is an understatement, as not only is he the team skipper, but he is also our very own regista. His vision and finesse was at its best as time and again he sliced the Baihakki led Singapore defence open with his inch perfect passing. He may not be in the same class as the likes of Xavi Hernandez, or Andrea Pirlo, but it is not too farfetched to say he is arguably South East Asia's best at the moment. He also kept the team ticking with neat one touch passes and his determination in driving his team-mates on. And yes, it didn't hurt our chances either that he is a dead ball specialist.
2) Norshahrul Idlan Talaha is the perfect foil for our main striker
Norshahrul Idlan Talaha or Mat Yo, as he is affectionately known to the Kelantan fans, is an underrated striker. This is mainly due to the scoring exploits of Safee Sali. However, he yet again proved how vital he is to the strike force of the national team by creating space not only for himself, but more importantly for his strike partner; Shakir Ali. He reveled in his role behind the main striker as he was given the freedom to roam and as a result his creativity and flair shone through with his assist of Shakir Ali's goal. Be it partnering Safee Sali or Shakir Ali, Mat Yo must be chosen by coach Datuk K. Rajagopal to be a mainstay of the starting lineup.
3) We have finally found a solid centre-back pairing
Our defence has been persistently marshaled by Aidil Zafuan and time and again we have seen him single handedly save our national team with his robust last ditch tackles and surging runs from the back. However, he has been continuously let down by his partners in the centre of our defence. Fear not Malaysians, with the emergence of the lanky Amirizwan Taj, it is safe to say Aidil Zafuan may have found his partner in the heart of the defence. The understanding between the two was evident as both Qiu Li and Aleksandr Duric found it hard to penetrate the defence. It must also be noted here that Amirizwan Taj also did well standing toe to toe against the big target man, Aleksandr Duric, who has been a constant thorn to the Malaysian defence over the years due to his sheer physical presence.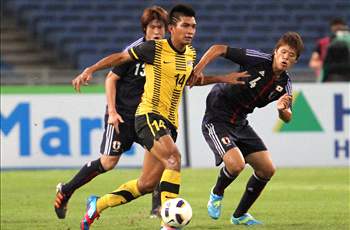 4) Shakir Ali is an able deputy to Safee Sali
Each time Safee Sali's name is absent from the starting lineup, there is always an uneasy feeling amongst the Tigers fans as we are being deprived of our chief goal-getter. However, things are looking up, especially with the clinical display of young Shakir Ali. He showed good predatory instincts and good off the ball movements that shackled Daniel Bennett in the centre of the Singapore defence. This display bodes well and will hopefully ease the burden being placed on Safee Sali to find the net each time he plays.
5) Azammuddin Akil is an upcoming talent to be reckoned with
Pahang winger, Azammudin Akil was a pleasant surprise to the starting lineup in the match and his energetic displays will surely do no harm to his chances of cementing a place in the national team line up. His marauding runs from the right wing position provided more width to the team and he simultaneously performed his defensive duties reasonably well. It is refreshing to see a winger that is brave to attack but yet also defend as well. Azamuddin notably complements the nippy left winger, S. Kunalan. As a result, seamless penetration from both of our flanks forced the Singapore defence to sit back and withhold the pressure.