It is a competition that will captivate not only Europe but the world - an alignment of stars and a host of mouth-watering matches.
Making Euro 2012 predictions can be a dicey affair, but
Goal.com
's Asia editors are prepared to put their names on the line to reveal theirs.
From a feeling that the Ukraine will be the one to surprise from Joe Patit [Chief Editor - Thailand] to his Malaysia and Singapore equivalent Bhas Kunju putting the spotlight on Cristiano Ronaldo - we've got almost every possibility covered.
| | |
| --- | --- |
| | CESARE POLENGHI | ASIA MANAGING EDITOR |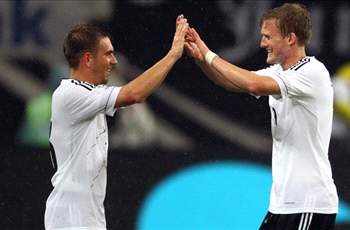 Who will win, and why?
Germany. They were good at the 2010 World Cup in South Africa, now they seem ready to take on the continent. We finally have a "cool" German team, who would have ever expected this? With their multi-national roster, they might repeat the feats of France's 'Internationale' at the 1998 World Cup.
Which team will be the surprise and why?
Hard to say, but I think either Russia, who seem very solid, or France, that have an impressive offensive half-squad.
Which team will disappoint and why?
England, because they have so many injured players. And they always do disappoint, don't they?
Three players to watch:
Robert Lewandowski [Poland] - Was ace with BVB this season, he is in full bloom, and he plays home.
Christian Erikssen [Denmark] - The next jewel from Ajax Amsterdam, reminds me (and many others, I guess) of a young Miki Laudrup
Mario Balotelli [Italy] - One way or another, he will hopefully entertain us...
| | |
| --- | --- |
| | |
Who will win, and why?
Germany. With the perfect blend of mature heads, yards of pace and a string of match-winners, Low's side can become the new world powerhouse by winning Euro 2012. A few unconvincing results in friendlies this year should not mislead;
Die Mannschaft
are best-placed to take the throne from Spain's head.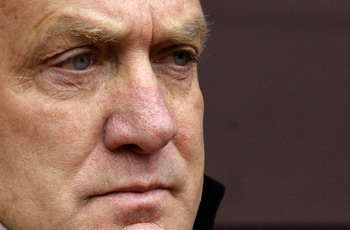 Which team will be the surprise and why?
Russia will fancy their chances of getting out of a group featuring co-hosts Poland, the Czech Republic and Greece, and well they should. Dick Advocaat's squad is no fountain of youth, but he has both quality and steel in spades. It is up front which may drive Russia if they are to make a splash at the tournament, however. Captain Andrei Arshavin will pull the strings just behind the strikers, who include the mercurial - if sometimes infuriating - Roman Pavlyuchenko, new Fulham favourite Pavel Pogrebnyak and the experienced Aleksandr Kerzhakov.
Which team will disappoint and why?
How does an England team already tipped to disappoint then disappoint further? If the saga over appointing a new manager and sorting out the John Terry debacle were not enough, the Three Lions have been hit with key injuries. But how does new manager Roy Hodgson respond? By ignoring veteran Rio Ferdinand for a rookie right-back, drafting in a goalkeeper with no experience above League Two as his third choice and selecting a host of Liverpool players after an ordinary season for the Merseyside club. England fans always expect too much, but even their seemingly eternal optimism must be tested at Euro 2012.
Three players to watch:
Arjen Robben [The Netherlands] - He missed a crucial penalty in the 2012 Champions League final for Bayern and also passed up two superb chances in the 2010 World Cup final. Robben probably will not feel the same way, but that he remains crucial to his country is in no doubt.
Christian Eriksen [Denmark] - The highly rated attacker will need to be at his best if Denmark is to emerge from a daunting Group B alongside the Netherlands, Germany and Portugal.
Rui Patricio [Portugal] - The Portugal No.1 might have nightmares at the thought of facing the likes Mario Gomez and Robin van Persie in Group B, but he has battled against the odds for Sporting Lisbon this season and is more than capable of building upon his reputation here.
| | |
| --- | --- |
| | MU TONG | CHINA & HONG KONG |
Who will win, and why?
Holland. They have maintained power since 2010 World Cup, and with red-hot strikers Robin van Persie and Klaas-Jan Huntelaar, they are even better and stronger. Fighting in Group B's 'Group of Death' against Germany, Portugal and Denmark means every game is a final for them. But, in another way, it is good for their mental preparation for the knock-out stages - as long as they qualify.
Which team will be the surprise and why?
In my opinion, Croatia will edge Italy and Ireland to become the first team to get a ticket for the knock-out stage. Darijo Srna, Niko Kranjcar, Luka Modric, Eduardo and Nikica Jelavic will shine at Euro 2012. And, with some good luck, they could meet England or France in the quarter-finals for a semi-final place.
Co-hosts Poland are another dark-horse contender. Possessing their best team after 1980s, they would feel capable of reaching the knockout stages through Group A. Wojciech Szczesny and Robert Lewandowski's performance will be worth a follow.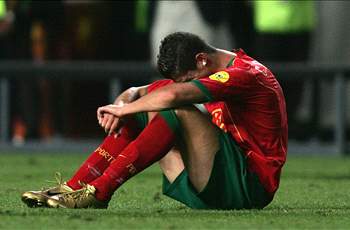 Which team will disappoint and why?
Portugal - a team only about Cristiano Ronaldo. In the red and green of his country rather than Real Madrid's white, CR7 is a selfish player that his 10 team-mates must cater for. Ronaldo is a superstar, but the current Portugal side is not a united real team. The may not win a game in Group B. Ricardo Carvalho's absence is also vital, because Pepe has became a defensive midfielder for Real Madrid.
Three players to watch:
Robin van Persie [the Netherlands] - He may very well win the Golden Boot if Holland can reach the semi-finals or higher.
Luka Modric [Croatia] - The bright spark for Croatia, there are plenty of transfer rumours about his future after this tournament.
Robert Lewandowski [Poland] - Having contributed to Dortmund's successful season, he could now write history with his young Poland team-mates for his motherland. In the game Football Manager, Lewandowski becomes one of the world's best strikers in the next five years - maybe it is not by accident.
Follow Mu Tong on

| | |
| --- | --- |
| | |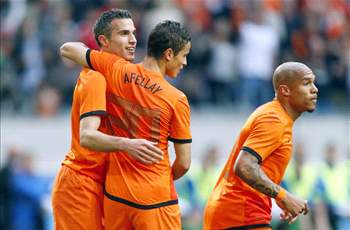 Who will win, and why?
If Xavi ticks, Spain shall successfully defend their title. However, having Sergio Ramos and Gerard Pique as centre-backs would not help, as the former is prone to giving away free-kicks and the latter is not the best in one-on-one situations. I would go for Netherlands to win the tournament, given that they have the most lethal strikers in Robin van Persie and Klaas-Jan Huntelaar, the most creative playmaker in Wesley Sneijder and the best wingers in business - Arjen Robben and Ibrahim Afellay. Expect Nigel De Jong and Mark Van Bommel to break one or two bones of their opponents, which will add plenty of spice.
Which team will be the surprise and why?
As Arsenal manager Arsene Wenger said, Portugal could be the surprise package of the competition. While their 3-1 friendly loss to Turkey on Saturday was a poor one, Portugal were not as bad as the scoreline suggested, as they constantly dominated in the opposition's half. They do miss someone like Rui Costa or a Deco as a playmaker, but hopefully they can use the pace of their wingers and full-backs to good use to surprise their opponents.
Which team will disappoint and why?
Italy. They lack the determination and grit of 2006 and do not have a decent striker - something which most teams boast. It would be hard to not to expect Mario Balotelli to come up with another in his long line stupid antics, and it surely comes as a surprise as to how his countrymen speak so highly of him. The absence of Domenico Criscito shall hurt, as he was one of their best players against Spain in the famous 2-1 victory in 2011. Let us hope they do not bore us this time around.
Three players to watch:
Sebastian Giovinco [Italy] - He may get a chance to play under Cesare Prandelli in the
trequartista
role. An amazing player, you must wonder how and why Juventus could be so daft to let him go.
Karim Benzema [France] - It is about time the Real Madrid forward stars for his national side and draws attention to how stupid Raymond Domenech was in dropping him from the 2010 World Cup squad.
Ibrahim Afellay [the Netherlands] - It is great to see him back up on the field after an injury ravaged season for Barcelona. He can cut inside, shoot and go outside and his dribbling skills are second to none.
| | |
| --- | --- |
| | |
Who will win, and why?
France. Under the leadership of Laurent Blanc, there have been massive improvements from this team within the past eight months. The fact that they are in Group D also benefits them. With England and the Ukraine struggling, they likely just need to ensure victory over Sweden to top the group in the final match. This they shall do, leaving England and Ukraine to battle it out for second.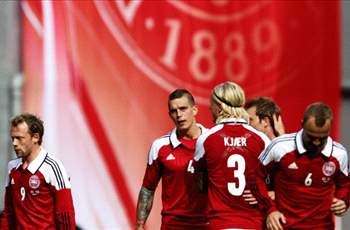 Which team will be the surprise and why?
Denmark. Say what? Denmark? Sorry to disappoint you Dutch, German and Portuguese fans. But to call Denmark the whipping boys in the group of death is hasty. Morten Olsen will know how to defend against these big teams, and score when they get a clear opportunity. Memories of Euro 1992 and the fact they beat Portugal in the qualification will be a big motivation for Denmark.
Which team will disappoint and why?
Germany - the youngest team with such big names. But being labelled as favorites in a group of death and being under quite a lot of pressure to win the tournament - with some distractions every now and then - is not a familiar situation for Germany. They are simply not used to it and will likely perform below expectations.
Three players to watch:
Jakub Blaszcykowski [Poland] - Many of my colleagues have mentioned so many players from Borussia Dortmund but left out Blaszczykowski - another central figure in the team's back-to-back Bundesliga titles. Keep a close eye on him. As captai,n he will lead Poland past Greece, Russia, and the Czech Republic.
Oliver Giroud [France] - He is in banging form, leading Montpellier to win the Ligue 1. Expect him to score some very important goals for France.
Christian Eriksen [Denmark] - Everyone should pay close attention to Eriksen, as he will close down the midfield options for opponents and take charge of Denmark's attack.

| | |
| --- | --- |
| | |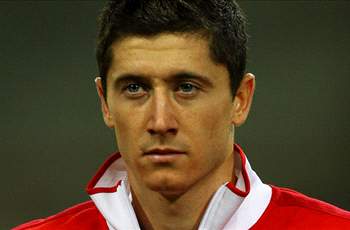 Who will win, and why?
Germany. It is said they are in the tournament's Group of Death, but almost all Euro group stages
are just that. Germany have young and excellent talents and, considering the form of the top players for each strong nation, they are the team in best form. In addition, many of their players are still hungry for a trophy because after losing important matches at club level.
Which team will be the surprise and why?
Poland. They have not win a match at a European Championships, but they possess several good players, like Robert Lewandowski. As co-hosts, they are also playing in their back yard, and must reach the quarter-finals at least.
Which team will disappoint and why?
England. They lack key player and a good manager. Wayne Rooney cannot play in the first two group games through suspension. Many fans must have expected Redknapp to be appointed the new manager - and
players too. Hodgson's appointment is not convincing.
Three players to watch:
Mario Gotze [Germany] - He is expected of so much by fans and media alike. It will be intriguing to see how Shinji Kagawa's former club team-mate performs at the Euros.
Antonio Cassano [Italy] - He is the "heart" of suffering Italy, and knows how to overcome difficulty.
Luka Modric [Croatia] - The maestro must get going and perform against Spain. He should be eager to impress bigger clubs than Tottenham.
| | |
| --- | --- |
| | |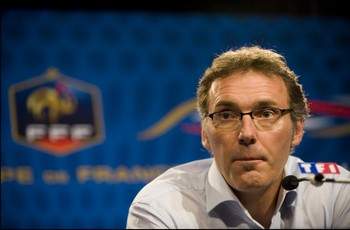 Who will win, and why?
Germany. They have all the qualities to win it. They can play with short passes, crosses - anything. Their defence is also stable and players know each other well.
Which team will be the surprise and why?
France. They seem to be united under Laurent Blanc after their disastrous 2010 World Cup and have not lost in almost two years. Karim Benzema can make Euro 2012 his tournament.
Which team will disappoint and why?
England. They are just not good enough even without injuries, but expectations are always high. In Korea, England is very popular thanks to the English Premier League, but I do not see any true world-class players except Wayne Rooney and Ashley Cole in current team - and Rooney cannot play against France and Sweden.
Three players to watch:
Karim Benzema [France] - Has showed his full potential at Real Madrid. I hope to see play of genius at the tournament.
Fernando Torres [Spain] - Without David Villa, he needs to score, or Spain cannot win the tournament.
John Terry [England] - Defence was key to Chelsea's Champions League win. Terry needs to do it again in national team, in the face of all the drama he has created.
| | |
| --- | --- |
| | BHAS KUNJU | MALAYSIA & SINGAPORE |
Who will win, and why?
I was thinking Italy, given every time there was a scandal back home they won something [the 2006 and 1982 World Cups]. But instead, I will go with England. So thoroughly underwhelming, they might just surprise everyone who expects nothing of them. For the first time in a long time, there is an England side in competition that is not built around stars and idols, but on sheer practicality. In short, this is a team that has been put together to play as a unit and grind out the results, however unimpressive it might be.
Which team will be the surprise and why?
Ireland. They have surprised everyone by being there in the first place. But jokes aside, Ireland make up for a lack of quality with sheer grit and that will make for at least a couple of interesting giant-killing acts. In a group with Italy and Spain, the script writes itself.
Which team will disappoint and why?
Spain. With Puyol and Villa missing, they are shorn of key players up front and at the back. That, plus the added pressure of challenging for a third-successive international title, means it is going to be a disappointing campaign. Think France at the 2002 World Cup.
Three players to watch:
Lukas Podolski [Germany] - Goal machine. That is not enough? Well, technically he is playing on home ground, being born in Poland and all.
Joe Hart [England] - Whatever happens to England, their players always come under scrutiny - for better or worse. But in Hart, England have a steady pair of hands and a young player waiting to shine in the international scene.
Cristiano Ronaldo [Portugal] - Why not? After a blistering European and domestic season with honours to boot, Ronaldo will be auditioning for FIFA Ballon d'Or at the Euros. His determination for success alone will bring out the best in him.
| | |
| --- | --- |
| | |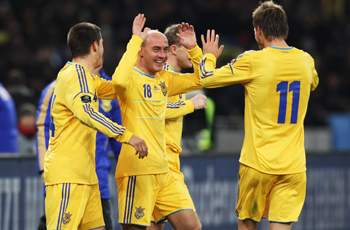 Who will win, and why?
Germany. They have a good combination of players, an experienced coach and outstanding team work.
Which team will be the surprise and why?
The Ukraine. Most columnists and fans believe this team has too many old players and will most likely will be eliminated at the group stage. But, as the co-host, they will put their best foot forward. Their players are experienced, handing them an advantage when facing young opponents.
Which team will disappoint and why?
England. As always, when your expectations are too high, expect a fall.
Three players to watch:
Antonio Cassano [Italy] - It is time for Cassano to return after his good performance in qualification. Italy's squad has changed markedly since Cesare Prandelli took the job, and Cassano - even considering his absence due to heart illness - is the most dangerous forward for Italy.
Mario Balotelli [Italy] - He will be a surprise in the tournament. Expect a good debut for him in his first international continental tournament.
Andriy Shevchenko [the Ukraine] - The veteran striker has been off the world-class list some time, but the instinct is still with him. This could be his last major tournament, but he could also be one of the top scorers.
Will our experts get it right? Have your own say below in our comments section!