1. Arsenal have some resilience
There was a rumour that Sunderland agreed to pay for a first class air ticket back to New York for Thierry Henry, complete with a meal of lobster, beluga caviar, all washed down with Dom Perignon champagne; all to ensure that Henry actually goes back to play for the New York Red Bulls.
Sunderland will be glad to see the back of him and relieved that he won't be playing when they host Arsenal in the FA Cup next Saturday as Henry has scored 5 goals in his last 4 games versus the Black Cats, and in his last three trips to the Stadium of Light.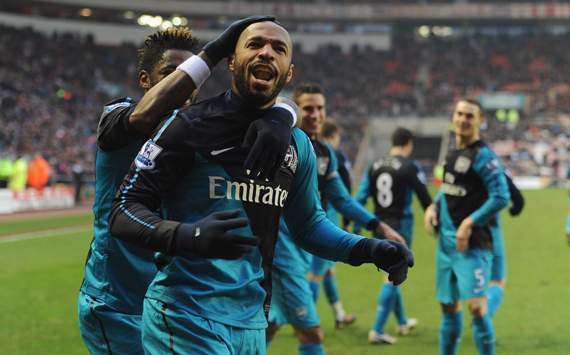 Perfect farewell | Henry scored in his final EPL match against Sunderland
However Saturday's game wasn't just about Henry, it was also about the fact that Arsenal showed a resilience that has often been missing from their performances this season in recovering from a goal down, away from home, against an in-form opponent. They may have caught a tired Sunderland side, who played 120 minutes only 3 days earlier, at an opportune time, but the desire and fight they showed may bode well for the race for fourth place.
2. The end is nigh for Andres-Villas Boas

You know it's time to worry when your boss visits you at the workplace 3 times in a week, especially if your boss happens to be Roman Abramovich, the man who has sacked 5 managers during his reign at Chelsea.
It cost Chelsea £28million to get rid of former manager Carlo Ancelotti and hire Andre Villas-Boas, and that came one season after Ancelotti secured a league and cup double. AVB's record of 43 points from 25 games is Chelsea's lowest since 2001/02, and after their meek surrender against a hard working and dogged Everton side, it means they have only managed 12 points from the last 10 Premier League games.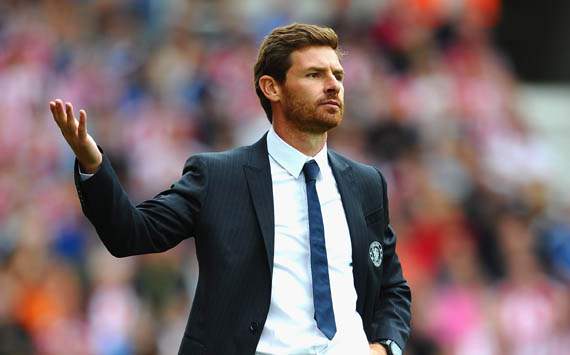 What is going on?| AVB clueless on Chelsea's struggles
Something tells me with Abramovich's track record for sacking managers, the fact that Gus Hiddink is currently out of work, and with José Mourinho rumoured to be leaving Real Madrid at the end of the season, that AVB will soon become another expensive managerial footnote in Chelsea's history.
3. Mick McCarthy picks a bad time to be attacking

So Mick McCarthy has been sacked by Wolves, ending his five-and-a-half-year reign. I'm not sure the league will be the same without hearing the phrases "put a shift in" or "got a slapping" post-match in his thick Yorkshire accent.
McCarthy did a great job in his time at Wolves, he rebuilt a squad with little money, took them into the Premier League and kept them there for two seasons. It's a shame that it ended with a humiliating 5-1 defeat at home to their fiercest rivals, West Bromwich Albion. McCarthy was often criticised by his own supporters for being too negative, especially when playing 4-5-1 at home.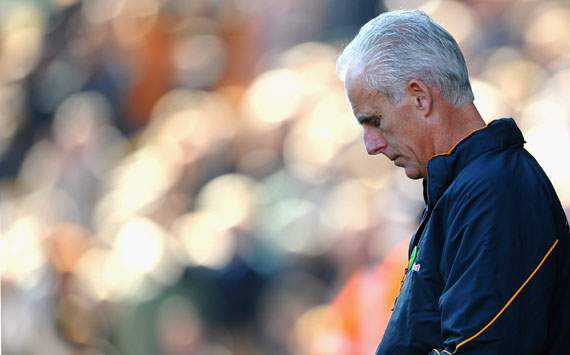 Crestfallen | McCarthy paid the highest price after derby defeat to West Brom
On Sunday he started with Matt Jarvis, Jamie O'Hara, Slyvan Ebanks-Blake, Steven Fletcher and Kevin Doyle, in an attempt to show attacking intent. However it didn't have the desired effect, instead Wolves lost the midfield battle, looked disorganised and couldn't keep possession. Although McCarthy got it wrong tactically, there were also individual mistakes and some embarrassing defending that cannot be completely blamed on him. If, in the words of McCarthy, Wolves cannot "defend the bleeding cross" then the next manager has got a heck of a job on!
4. Nobody likes them but the owners care

There is a well known chant sung by supporters of Millwall Football Club, "No one likes us, we don't care." Over the past few months it seemed as if one of the most popular football clubs in the world, Liverpool, had adopted the same siege mentality.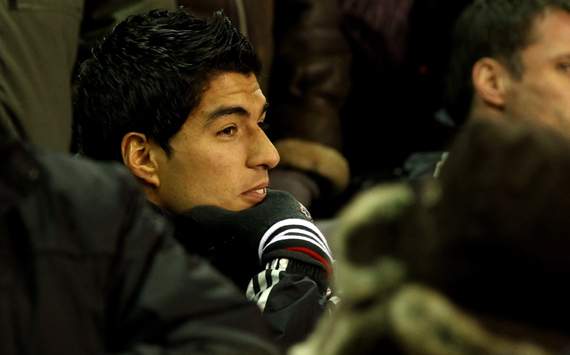 Public Enemy | Suarez is seen as a disgrace to Liverpool FC by many
However after Saturday's events in which Luis Suarez refused to shake Patrice Evra's hand after being found guilty of racially abusing him last October, the club faced headlines in UK papers such as "Day of disgrace" and "Kick him out." Perhaps more importantly, it made headlines worldwide as the New York Times said "Another ugly incident mars Liverpool's good name, it is time for owners Henry and Tom Werner to state clearly the direction the team will take on this issue."
It goes to show, if the global image of your club is tarnished, if your shirt sponsors (Standard Chartered) discuss their concerns with you and if you get criticised by press in your own country; then owners are capable of reading the riot and act like a headmaster reprimanding a student. Less than 24 hours later contrite apologies were issued by the club, and by the previously unrepentant Suarez and Kenny Dalglish, amazing what a good scolding can do.
5. Away is the new home
Last weekend Manchester City, Arsenal, Norwich, West Bromwich Albion and Wigan all secured away wins. The percentage of away wins in the 2011-2012 Premier League season is now at 32.5%, higher than it's been in any of the previous 19 campaigns.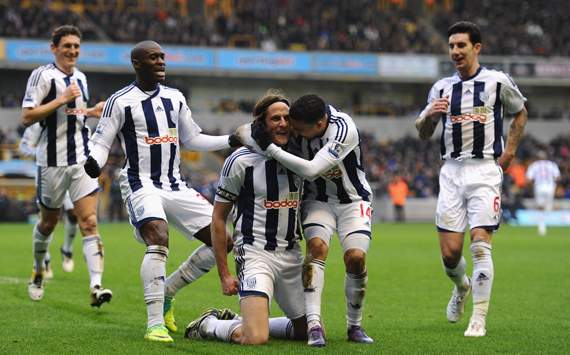 Good Visitors! | West Brom have been terrific away from home
Add to that, there are nine teams who have a difference of only 3 points or less between the amount of points they've picked up at home and on the road. The undoubted surprise team in this department are West Bromwich Albion, who have picked up 21 points away from home, only Manchester United have picked up more.
So what's the secret behind this phenomenon, well you could argue that from Norwich down in 8th place, that there is not too much separating the teams in the league, therefore on any given weekend an upset can happen. If anyone has any better suggestions, send them to Craven Cottage, Stevenage Road, London, SW6 6HH…as Fulham could still really do with some.