By Greg Stobart
The new
Premier League
season is just two weeks away and clubs are going into overdrive as they return from overseas pre-season tours flush with cash and preparing for the start of a bumper campaign.
But the start of August also signals one month until the close of the summer transfer window - so while attentions are turning to the big kick-off, chairmen, managers and a swathe of agents will have at least one eye on the market.
The leading Premier League sides have managed to conduct the bulk of their business very early this year, but there is sure to be a flurry of transfer activity towards the end of the month - there always is.
More big transfers are inevitable. The likes of Edinson Cavani, Marco Reus, Arturo Vidal and Mats Hummels will continue to be linked with the Premier League's top clubs as managers sign off moves for their dream targets - even if they cannot be lured from their countryside mansions or lavish city-centre apartments across mainland Europe.
It certainly appears the top teams have learned from past mistakes, when they desperately floundered around the transfer market trying to sign players on the final day of the window.
Even though they came out the other side with a club record signing, last year Arsenal fans were biting their fingernails hoping the deal for Mesut Ozil would be pushed over the line in time.
Manchester United, of course, did not fare so well; Marouane Fellaini was brought in for £4 million more than had been agreed earlier the same day, a group of mystery lawyers failed to complete a move for Ander Herrera, and then, 15 minutes past the deadline, it was revealed out of nowhere that a move for Fabio Coentrao had fallen through in the dying seconds of the window.
Ozil had to wait for Real Madrid to complete the Gareth Bale deal before he could move on, United paid more for Fellaini because Everton were buying James McCarthy and Wigan were holding firm, and the Coentrao move collapsed because
los Blancos
could not find cover of their own.
So many transfers are intrinsically linked to another, and that's why so many fall down.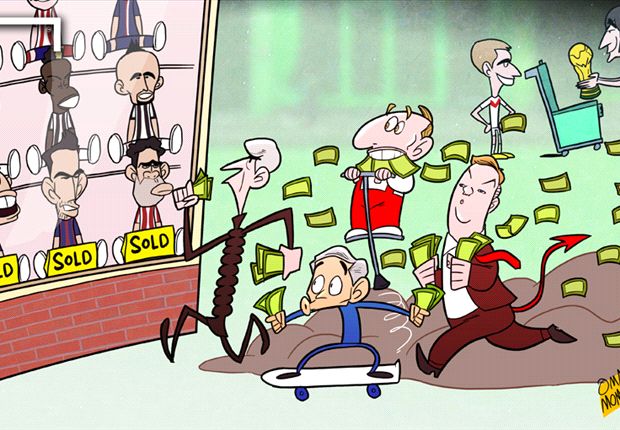 This is why Jose Mourinho can sit back with a grin on his face when he says
Chelsea
's business is done for the summer. His side is certainly ready to mount a serious title challenge following the arrivals of Diego Costa, Cesc Fabregas, Filipe Luis and Didier Drogba, with goalkeeper Thibaut Courtois returning from his loan spell.
Reigning champions
Manchester City
are waiting only to confirm the signing of Eliaquim Mangala before their squad is complete, too, with Fernando, Bacary Sagna and Willy Caballero already added to an impressive squad. Their financial muscle has been restricted by the transfer cap and the £49m fine they received from Uefa for failing to comply with Financial Fair Play regulations, but nobody can say they've not done as much as they can.
Arsenal
have signed four players to improve their first-team squad, adeqautely replacing Bacary Sagna with his France team-mate Mathieu Debuchy, while £35m forward Alexis Sanchez looks like the signing of the summer and the kind of top class player who could, they hope, inspire the Gunners to win the title for the first time in a decade.
Liverpool
are still extremely active in the market and Bredan Rodgers is working hard to bring in a new striker - possibly Swansea's Wilfried Bony - to fill the hole left by the sale of Luis Suarez to Barcelona. The Reds have already signed six new players following last season's second-placed finish as Rodgers reinforces his side ahead of a return to the Champions League.
The Anfield club has raided Southampton for three players to improve the depth of their squad, Divick Origi has been signed as a long-term option to lead the line, Lazar Markovic and Emre Can are young and exciting attacking additions,
and two Spanish full-backs are on their way to Anfield
.
TRANSFER LATEST

Manchester United
have spent the best part of £70m on Ander Herrera and Luke Shaw already but the sense is that the big story is around the corner. They are now focusing on defensive reinforcements to make up for the summer departures of Nemanja Vidic, Patrice Evra and Rio Ferdinand, and Borussia Dortmund defender Hummels would be the dream signing for new manager Louis Van Gaal. However, Thomas Vermaelen is a more realistic option as the club look to bounce back from a disastrous season under David Moyes.
The 20-time English champions have £80m left in their summer transfer budget but are unlikely to spend it all, with Van Gaal willing to wait until January to make a move for Roma midfielder Kevin Strootman as Juventus and Arturo Vidal play hard to get.
Tottenham
are eager to avoid another summer of upheaval but are hoping to sign Morgan Schneiderlin and Jay Rodriguez despite Southampton battening down the hatches, while
Everton
have smashed their transfer record with a £28m permanent move for Romelu Lukaku.
While of course there is still business to be done, the managers of the top seven teams - perhaps aside from Van Gaal - will all be happy enough with the state of their teams with just two weeks to go.
Southampton
, though, are in something of a race against time to splash the cash to make up for this summer's exodus which has completely gutted their promising team. They have brought in around £90m from the sales of five players, with potentially more to follow, and the club are constantly monitoring the market ahead of making their next moves.
With the market as volatile as it is, one more big transfer or even an injury can create a domino effect in England and across Europe, and the Premier League's £3 billion television deal with Sky and BT Sport means that every club has the cash to splash out on reinforcements.
The teams at the top are already looking in good shape to produce a season just as thrilling as the last, but expect plenty to happen in the final weeks of an already massive transfer window.