COMMENT
By Sam Lee
Arturo Vidal is looking ever likelier to stay at Juventus. Angel Di Maria is odds-on to elect for Paris St Germain over the Premier League. The likes of Arjen Robben and Bastian Schweinsteiger are perfectly happy where they are at Bayern Munich, thank you very much.
And yet, despite Manchester United finding suitable midfield targets hard to attract this summer, in Louis van Gaal they have found a manager supremely confident in making up for any shortfalls within his squad - an abundance of evidence for which has already been on display in the few short weeks he has been at the Red Devils helm.
SCOUTING REPORT: WAYNE ROONEY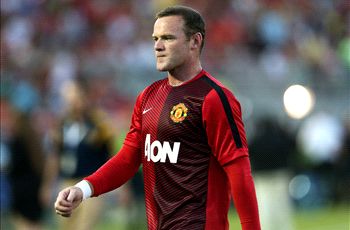 For Van Gaal is, first and foremost, a coach.
So while the prospect of the likes of Tom Cleverley filling a midfield role this season might fill some supporters with dread, already there is evidence from United's impressive US Tour so far to suggest that Van Gaal can do what his predecessor so spectacularly failed to; make this United squad more than just a sum of their parts.
If making United's players dine together with the youth team and coaches at Carrington, and redeveloping the Dutch squad's hotel to include a "family room" do not lay bare Van Gaal's ethos, then how he took the Netherlands to third place at the World Cup surely does.
Van Gaal's United squad is certainly "unbalanced" and maybe even "broken", as the man himself has said, but the confidence which was sapped out of the players by David Moyes's reign is being restored with interest.
Away from what is going on on the pitch, where United have registered three wins from their three matches this summer, Van Gaal is building up players who looked destroyed in the final months of last season.
By the end of Moyes's reign, the players, most of them playing in a completely different way to what they were used to, had clearly lost confidence in not just the manager but themselves. It looked as though there was no gameplan whatsoever.
But nobody can say they don't know what Van Gaal wants from them now. Both Moyes and Van Gaal wanted the players to adapt, but the Dutchman has the CV and conviction to make it work. Luke Shaw, for example, has been told he's not fit and, according to the manager at least, he has accepted that completely.
There is no confusion; it has been made clear to the youngster exactly what is expected of him and how he has to go about achieving it.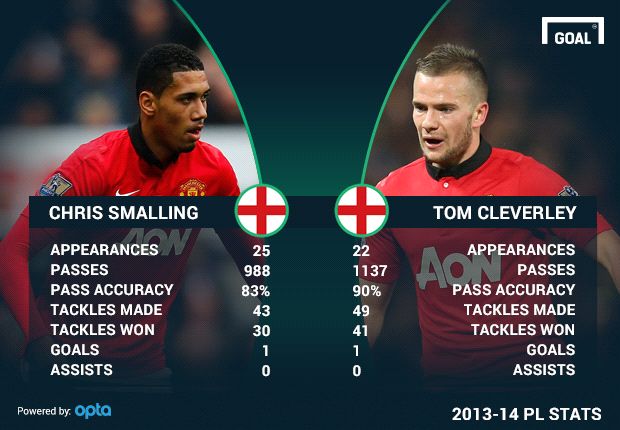 It's not just the new players who are having the philosophy, and a renewed sense of purpose, drilled into them. Two of last season's most maligned players, Cleverley and Chris Smalling, have been hand-picked by Van Gaal to sit alongside him at his media briefings. They have been seduced.
Ahead of the 3-2 win against Roma, Van Gaal joked with, praised and deferred to Cleverley, redirecting questions to the young midfielder, insisting he would know more about the subject.
Smalling, too, got the Van Gaal treatment ahead of the Inter clash. The central defender had a torrid time at right-back last season and looked completely destroyed by the end of it. But slowly but surely he is being built up this summer, with his new manager laughing and joking with him, putting the metaphorical and physical arm around his shoulder.
"The players under the direction of Moyes are a lot different to the players under the direction of Alex Ferguson, but also under the direction of me," Van Gaal has said.
"The team is unhappy and unsatisfied and without confidence and when you are like that you are broken. So now they have me, a new manager, so new chances for the players and they want to show themselves."
The importance of this approach cannot be overstated. These were players at a low ebb, in need of revitalising. But going to work every day with a new boss, one who believes in you, is friendly with you but leaves you in no uncertain terms regarding what is expected of you, is important even to millionaire footballers.
While Smalling and Cleverley may not be world beaters, they are exactly the type of players who will benefit from Van Gaal's outlook and they are certainly not as bad as what they displayed last season. There should be a huge leap in the quality of their performances.
Van Gaal's approach is designed to get the best out of the players at his disposal, and while there may be no room for Anderson, Nani, Wilfried Zaha, Shinji Kagawa and Marouane Fellaini, people like Darren Fletcher (captain against LA Galaxy and Inter), Phil Jones and Jonny Evans are set to benefit from the 3-5-2 formation and this renewed confidence.
Some may scoff, but who were the star names of Van Gaal's Netherlands squad? Arjen Robben, Wesley Sneijder and Robin van Persie. Against Spain, in particular, the squad worked to maximise the potential of their most clinical forwards. The plan is the same for Juan Mata, Wayne Rooney and Van Persie.
"That is one argument why I chose this system. I can play them all - that is important," Van Gaal has said.
It would be folly to suggest United can get by without doing any further business this summer - the defence is simply too light on numbers - but already this year Van Gaal has shown he is capable of forging a coherent defensive unit to serve his talented forwards.
Youth could be key. "When you use young players of the club they know the culture of the club and they want to defend that culture and wear that culture and transfer that culture," Van Gaal said. "When you buy a player from outside you have to wait and see and not every player will fulfil your expectation, it is much more difficult, also for the player."
Players who were so readily written off last season will be keen to show they can still cut the mustard at Old Trafford, and they may just get the opportunity.