PROFILE
By
Nick Poole
"You have seen a little glimpse of the future," said an emotional Ryan Giggs to the Old Trafford crowd after Manchester United's final home game of the season. This is what this club is about. We never stand still. We give youth a chance."
With the Premier League champions a fading force in the eyes of many, and a campaign full of ponderous, lethargic displays giving credence to the notion that this is an ageing side devoid of any spark in the post-Sir Alex Ferguson era, an injection of youthful energy and promise was exactly what was required. United fans got exactly that in the form of a dream debut for homegrown forward James Wilson.
WILSON ENJOYS DREAM DEBUT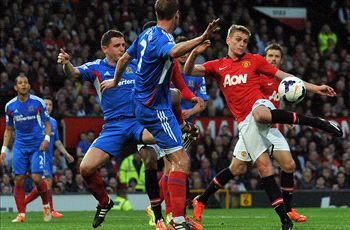 PLAYER RATING VS HULL CITY






Saw an effort blocked by Bruce but didn't let it deter him and opened the scoring with a thumping finish. Gained confidence thereafter as his movement caused problems and capped a magical night with his second goal before being substituted.
Born and bred in North Staffordshire, around 40 miles south of Manchester, Wilson was brought into the United fold at the age of just eight after being spotted playing for local side Biddulph Strikers and first started to draw buzz when a goal-a-game record in the club's youth ranks saw him included in Under-18 training camps aged just 14.
Despite a five-month layoff with a broken ankle, he established himself in the club's U-18 side whilst still in his last year at school and even notched a first Old Trafford goal - an extra-time winner in an FA Youth Cup quarter-final against Charlton Athletic.
The teenager's rapid progress continued with England schoolboy honours and a reserve debut whilst still just 16, and when he netted five goals in a Premier Academy League game away at Newcastle last term, notice was served that United had a player of real promise on their hands.
The current campaign has seen Wilson truly blossom, with the Under-18 captaincy and a rash of early-season goals giving him a confidence that has carried him through a goal-laden nine months. Five goals in the group stage of the inaugural Uefa Youth League were as good as anyone managed, whilst he typically marked his debut for England's Under-19s with the opening goal in a win over Estonia.
March saw Wilson take Wolves' U-21 side apart with a stunning second-half hat-trick at Molineux, and he later told United's official television channel: "I can relate to (Adnan) Januzaj and the stage he was at last year and hopefully I can follow in his footsteps", a statement that was to prove somewhat prophetic.
He was nearly handed a senior debut at Newcastle last month, David Moyes ultimately deciding against giving the young striker a run-out from the bench, but interim boss Ryan Giggs had no such qualms when picking his team to face Hull City. An hour later, Wilson was departing the Old Trafford stage having deposed Januzaj as the youngest-ever scorer of a brace for Manchester United.
That pair of clinical close-range finishes - his 23rd and 24th club goals of a season that has seen him score at U-18, U-19, U-21 and senior level - showed off the youngster's movement and predatory instincts, but there's an awful lot more to his game that, perhaps slightly hampered by a recent ankle injury, he was unable to display on his first-team bow.
Blessed with searing pace, the teenager has made latching onto through-balls and rounding goalkeepers something of a trademark, whilst his tenacity, work-rate and desire to get on the ball and run at defenders has prompted comparisons - purely stylistic at this stage - with Premier League aces Luis Suarez and Sergio Aguero. Throw in an increasing penchant for spectacular long-range strikes and you have a forward who can inflict damage in any number of ways.
There are undoubtedly still a number of areas in which Wilson can - and will need to - develop, with improving his contribution to general play foremost in the minds of the United coaching staff - the 18-year-old's technical ability and intelligence certainly suggest that they have the raw material to work with on that score.
Seemingly now fully-grown in terms of height at 5ft 11, Wilson will need time to grow into his frame and learn to cope with the physical demands of senior football, especially having been frequently troubled by niggling injuries in his formative years.
Like almost everyone else at Old Trafford, Wilson's future will to a large extent depend on the identity and indeed philosophy of the next occupant of the United hotseat.
If, as expected, Louis van Gaal gets the nod
, United's latest young hero can be encouraged by the appointment of a coach with a proven track record of giving youngsters a chance, in keeping with the long-standing United ethos described by Giggs in last night's post-match address to the crowd.
With the club's senior strikers all set to feature in this summer's World Cup and thus sit out the Reds' pre-season tour of the USA, Wilson will have an outstanding chance to make an early impression on his new manager and,
with Javier Hernandez likely to move on
, to try to convince the Dutchman that the vast transfer kitty at his disposal can be better spent addressing other areas of the team.
All the evidence so far suggests he'll take that chance with every bit the aplomb displayed as he illuminated United's season to forget with a night to remember.