Sir Alex Ferguson
coined the phrase for the business end of the season, but
David Moyes
'
Manchester United
are bringing an entirely different meaning to 'squeaky-bum time'.
Having endured a spell of three matches without a win, United embarked on a run of six victories on the bounce to finish 2013. Things were looking so rosy, the club's official TV station even broadcast 'David Moyes: The First Six Months'. 2014, however, has been a completely different story.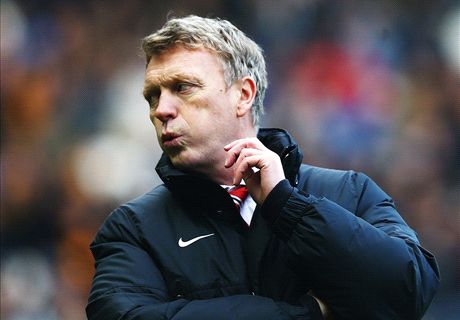 Squeaky-bum time | Manchester United have lost all three matches so far in 2014
Defeats at home to Tottenham, Swansea and the midweek loss at Sunderland have seen the club vanquished from the FA Cup, drop further down the Premier League, and with it all to do to turn their Capital One Cup semi-final around.
Up next, another visit from Michael Laudrup's men, and the in-form Wilfried Bony.
Never mind, David. It could be worse… you could be Sam Allardyce right now.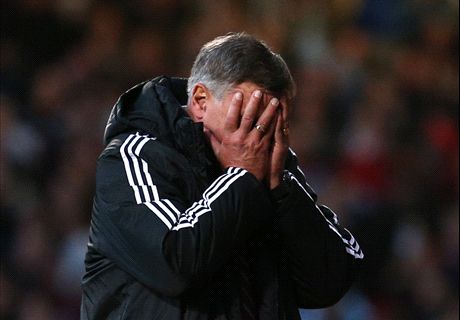 Is it over yet? | West Ham were hit for six at the Etihad, days after conceding five at Forest
Big Sam has been on the receiving end of some MASSIVE hidings of late. Conceding six goals away to Manchester City is almost an accepted punishment nowadays, but having rested players the previous Sunday - and being demolished 5-0 by Championship side Nottingham Forest – that for some fans is a little too much to accept.
Those defeats came after losing at Fulham, and up next for the Hammers, another 'must-win' clash away to Cardiff City.
The match will mark Ole Gunnar Solskjaer's home debut, as the Manchester United hero takes the bench at Cardiff following their 2-1 FA Cup victory away to Newcastle.
For all of this weekend's fixtures and predictions, not to mention where we see the matches being won and lost, check out the video at the top of the page!