PROFILE
By Kingsley Kobo | Assistant Editor, Africa
The news of
Bertrand Traore
joining
Chelsea
was the talk of the town across Burkina Faso as far back as August 2010. Then, he looked on the brink of becoming the first son of the soil to sign for a top European side.
Locals expected to see the highly promising attacker playing alongside other African stars in the team like Didier Drogba, Michael Essien and John Obi Mikel - only to then see that hope erased when Chelsea management announced soon after that the 16-year-old had not done enough to earn a deal at Stamford Bridge.
FACTFILE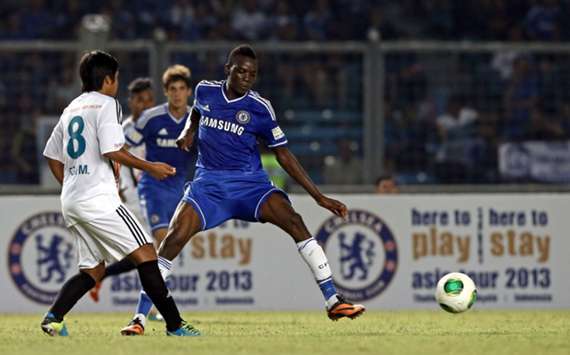 Born: Setember 6, 1995 in Bobo-Dioulasso

Postion: Midfield

Foot: Left

Int. debut: October 25, 2009 v Turkey

Senior int. debut: September 3, 2011, v Equatorial Guinea

Int. caps: 10
Traore went into oblivion, with focus shifting onto his elder brother Alain, who had previously trialled at Manchester United and whose brilliance at Auxerre was now gaining traction in Ligue 1.
In fact, Traore only re-emerged from the doldrums when he was called up by then-Burkina Faso coach Paolo Duarte for a friendly game against Equatorial Guinea in 2011. Even so, local supporters would much preferred to have seen him wearing Chelsea colours in order to inspire other younger talents.
Son of former footballer Isai, Traore began his youth career at ASF Bobo-Dioulasso in Burkina Faso, the same city where his late father also took his first steps in football, but would soon join his brother Alain at Auxerre - where he was first spotted by Chelsea's scouts.
"Chelsea say you are not their player but the national team of Burkina Faso put your club as Chelsea," a local journalist once asked Traore.
"Be patient, you will soon see me at Stamford Bridge," Traore replied with a smile.
And here he is. After more than two years of unending trials resulting in frustration and anger back home.
Many pundits had questioned the reasons for his regular call-ups to the national team when other active players could have filled his place.
Indeed, although he has won eight caps with the Stallions since 2011 and participated in Chelsea's recent pre-season tour of Asia - playing three times, scoring twice and registering two assists - very few people have actually seen Traore play football.
He is a tactical midfielder who can hold and distribute the ball. He is much more in the mould of Frank Lampard than African counterpart Mikel and has an ability to shoot from range - as shown by his goal against Indonesia during pre-season.
However, former Burkina Faso coach Duarte has claimed that Traore must improve his fitness to succeed in the arduous Premier League.
And at the age of 18, Traore joins the queue of those waiting to step into the shoes of Chelsea's reigning stars and hopefully be a part of the Blues' future empire.
Jose Mourinho might not turn to the young Burkinabe for now until he is fine-tuned and he adapts to the new English culture - but he is set to earn more caps at international level and his potential is good enough for the Chelsea starting XI.
Hard work could take him there but he must ensure that he is not overwhelmed by his opportunity, as could be argued has happened to other young African hopefuls such as Abdul Razak, who was signed and dumped by Manchester City, and Tottenham's Souleymane Coulibaly.
Both Ivorian starlets couldn't survive the Premier League - but we hope Traore does.