Greg Stobart




Goal UK Correspondent




MOYES MUST PROVE HE CAN HANDLE MOURINHO MISCHIEF
Jose Mourinho understands psychology, tending to take the spotlight off his players and put it on himself in the build-up to big games. This time, as he prepares for Chelsea trip to Manchester United on Monday night, he has made sure the attention is focussed on David Moyes.
The Portuguese was in mischievous form as he suggested that "of course" Moyes is to blame for Wayne Rooney's desire to move to Stamford Bridge before the transfer window closes next week.
MOYES VS MOURINHO


MOYES

MOURINHO

8

PLAYED

8
0

WON

5
5

LOST

0
3

DRAWN

3
Forget that Rooney had already expressed his desire for a transfer when Sir Alex Ferguson was still in charge. No, according the Mourinho, it was Moyes who messed up by suggesting the striker would be understudy to Robin van Persie.
Mourinho wants to put Moyes under pressure; hopes that the new United boss feels the strain as he takes Ferguson's seat in the Old Trafford dugout for the first time.
Twenty-seven years and 49 trophies after his compatriot took over at Old Trafford, Moyes needs to find immediate answers to the questions being asked of him, especially following a difficult and frustrating summer in the transfer market.
Would Mourinho have pursued Rooney so aggressively if Ferguson was still Manchester United manager? Would he have criticised his opposite number's man-management and blamed him for the striker's desire to leave?
Mourinho knows full well that Moyes has something to prove.
In the first major clash of the Premier League campaign and Moyes will be looking for his first win against Mourinho having failed in eight attempts when he was in charge of Everton.
Moyes' terrible away record against the old 'big four' - United, Liverpool, Arsenal and Chelsea - is well documented. Zero wins in 11 years and 45 attempts, but he has been more successful in home fixtures where he is usually more ambitious in the way he sets his teams out.
Behind it all may be resentment on Mourinho's part that he was overlooked for the United job having made little effort to hide his desire to replace Ferguson.
Moyes' CV is certainly barely worth comparison, but on Monday night he gets the chance to show that he is ready to step up, that he can respond to the pressure and expectation.
One of his major dilemmas will be whether to play Rooney against the team that want so desperately to sign him.
However Moyes does it, the best psychological counterpunch to Mourinho's barbs would be to claim the three points.
BROKEN HART NEEDS CITY COMPETITION
Manchester City have spent around £90 million this summer building a squad to reclaim the title under new manager Manuel Pellegrini, but they could be tempted to find some more cash to sign a goalkeeper in the final week of the transfer window.
Joe Hart has been in poor form for a year now, making a series of errors last season and continuing in the same vain at the start of this campaign.
HART-ACHE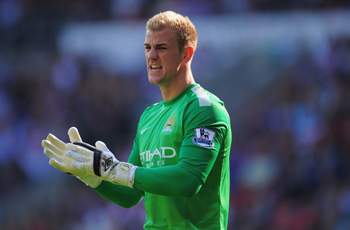 PLAYER RATING VS CARDIFF



Had such a good game up until Cardiff's second. Denied Campbell twice with fantastic point-blank saves but let himself down flapping at a deep corner that Campbell converted.
FROM OUR LIVE! COMMENTARY


CAMPBELL SCORES!!! CARDIFF ARE IN FRONT!!! Incredible scenes in Wales! Whittingham's corner is perfect and Hart misses the ball, allowing Campbell to dash in at the far post and use his shoulder to force it in. Unbelievable!
On Sunday, the England goalkeeper froze on his line, flapped at a corner and allowed Fraizer Campbell to head Cardiff 2-1 up on their way to a 3-2 victory.
It came on the back of allowing James Morrison's shot to squirm through his arms in England's friendly victory over Scotland, after which Roy Hodgson suggested Hart is coming under pressure from the likes of Ben Foster.
The 26-year-old does need some competition. He has become complacent, bought in too much to his own hype.
His best performances came during his loan spell at Birmingham when he had a point to prove and when he had Shay Given breathing down his neck at City.
There are goalkeepers available in the transfer market and someone needs to tell Hart he is not untouchable.
Stoke are expecting offers for Asmir Begovic and, on current form, he would be a very sensible addition for around £10m, while speculation in Spain is rife that Iker Casillas could be looking for a way out of Real Madrid.
Someone at City needs to make it clear to Hart that he is not untouchable.
FAREWELL GARETH BALE: THE NEXT GREAT GALACTICO
As a journalist, Gareth Bale's imminent £86m move to Real Madrid comes as a relief following a protracted and sometimes tedious summer transfer saga spanning the best part of two months.
Madrid has always looked like the 24-year-old's next step, ever since the Spanish giants tried to sign him in 2010 - even before the Welshman really burst onto the the scene with stunning performances against Inter Milan that year.
ALL SET FOR MADRID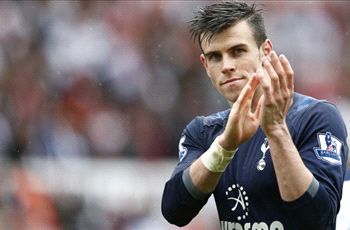 Alberto Pinero | Goal Spain

Bale isn't officially a Real Madrid player yet - but you wouldn't of thought that by the way he is being paraded in Madrid. He is all over the sports newspapers, radio stations and TV sports news channels. And let's not forget he's been the talk of the Real Madrid, and even Barcelona, press conferences.

And it has been this way for several weeks now. Even at the Santiago Bernabeu as early as last Thursday there were people wearing the Madrid shirt with 'Bale 11' emblazoned on the back.
Bale has come a long way from the spindly, injury prone young left-back who played a record 24 league matches for Spurs without being on the winning side.
The natural talent was always there, though. Ever since he made his debut on the left-wing away at Manchester United, he had something about him: startling pace, confidence on the ball, a pure left foot.
He outgrew Spurs, few could argue with that. A player of his quality - for my money one of the five best players in the world - has to play in the Champions League and win trophies.
Anyone who saw him ripping teams apart last season would agree. He scored 31 goals in all competitions - including several crucial late winners - and was named double player of the year after turning himself into a bona fide forward.
How a traditional "homeboy" copes with the move to Madrid and the expectation of a world record pricetag remains to be seen, but he has all of the tools to shine and, maybe one day, match Cristiano Ronaldo's record at the Santiago Bernabeu.
Yes, he's that good.