COMMENT
By Ewan Roberts
Tottenham
go into their match against
Norwich
on Wednesday night in the midst of a striker crisis.
Jermain Defoe
missed the FA Cup trip to Leeds with a pelvic injury, while
Emmanuel Adebayor
remains on Africa Cup of Nations duty with Togo.
As such, Clint Dempsey was selected to lead the line against Leeds, while Jonathan Obika – Spurs' 22-year-old academy product who has spent the majority of his career on loan at Yeovil Town – came off the bench against Neil Warnock's side. Spurs' already ailing strikeforce is down to the bare bones, as they say.
BRILLIANT BALE DOWNS THE CANARIES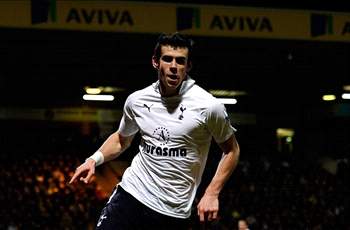 PLAYER RATING VS NORWICH (2011)






Norwich had little answer for the Welshman, who was rampant at times. Received more than his fair share of stick from the home fans, but responded with his football. Missed a brilliant chance on the half-hour mark as he missed the target from seven yards out, but he made amends, scoring with an easy finish 10 minutes into the second half then added a second with 25 minutes to go with a cleverly taken chip over the onrushing Ruddy. Marvellous performance.
FROM OUR LIVE! COMMENTARY


GOAALLL!!! Spurs make it 2-0 and it's Bale again! To borrow Ray Wilkins' catchphrase - my word! Bale was played through the middle of the home side's defence and simply propelled himself through the gears and into Ruddy's box. As the keeper advanced, a little dink was all that was needed to double Spurs' lead.
But the trip to Carrow Road will rekindle memories of Gareth Bale announcing his arrival as a central threat; the Welshman, deployed through the middle by then manager Harry Redknapp, bagged two goals against the Canaries in December 2011 – the first time he had delivered a Premier League performance as devastating as his star turn against Inter and Maicon in the Champions League.
That match supposedly marked an evolution to Bale's play. Once easily tamed by the likes of Phil Neville and Rafael, who simply forced Bale inside onto his weaker right foot and into a crowded, congested midfield, the Welshman's man of the match performance in Norfolk suggested something new had, finally, clicked.
"I've never really thought about playing through the middle but since people have been double marking me, it is something I have had to bring into my game," Bale said after the match.
"I have always played out wide previously. But, especially with the team being the way it is, it is great to be in there and I'm enjoying it. Over the last 12 months I have had to mix my game up. I am improving all the time, especially in the free role."
In many respects Bale has an ideal build to play as a number nine; he's tall (and has posted a healthy aerial duel win rate of 44% this year), athletic and powerful. He can run the channels and worry defences with his pace in behind. Against Norwich, he also showed an increase in precision on the ball, with a pass completion rate of 85.5% (up almost 20% on his season average), while 51% of his passes were forwards.
But, a year on from that night, Bale has yet to replicate the impact he had through the middle against Norwich, while his every foray away from the left wing is greeted with the Tottenham faithful's own reincarnation of Sloop John B: "He plays on the left, he plays on the left, Gareth Bale: he plays on the left."
Redknapp's tinkering to accommodate Bale in a freer role was partly to blame for Spurs' post-January slump last season (among a smorgasbord of other causes), with his absence on the left leaving the north London club bereft of width and decidedly lop-sided – a problem that would rear its head once more should Andre Villas-Boas deploy Bale through the middle, especially with the right-footed Kyle Naughton at left-back.
It is imperative that Bale continues to develop other strings to his bow, such as being able to play as an inverted winger on the right of midfield, but it would be counterproductive to start him up front, on his own, from the first whistle against Norwich.
BALE V DEMPSEY


BALE

DEMPSEY

GOALS IN LAST FIVE MATCHES

1
5
SHOOTING ACCURACY THIS SEASON

55%
62%
CHANCE CONVERSION RATE THIS SEASON
14%
19%
Bale is at his most devastating when rampaging down the touchline, galloping into space and firing crosses into the box. In tight, cramped spaces, the sort more regularly found in the centre of the pitch, he is routinely peripheral; but when occasionally drifting inside, darting into the gaps created by the movement of the strikers ahead of him, Bale is hugely effective, as his hat-trick against Aston Villa highlighted.
The 23-year-old may have scored twice against Norwich, but his influence as a creative node was greatly reduced. He successfully completed just two dribbles (he managed three times as many against the Villains), attempted four crosses with 0% accuracy (this season he's attempted a cross every nine minutes with 22% accuracy) and created a chance every 45 minutes – down on his season average (for the sake of comparison, while playing on the left wing against Villa, he created a chance every 21.3 minutes).
Playing Bale through the middle would also risk bursting the confidence and hampering the effectiveness of Clint Dempsey. The Texan has arguably been Spurs' best performer in recent weeks, bagging five goals in his last five games.
In terms of suitability, the 29-year-old is a better fit for the striker berth. He boasts a shooting accuracy of 62% compared to Bale's 55%, has a chance conversion rate of 19% compared to the Welshman's 14% and has a greater spread of shots than Bale, with 81.25% of the latter's efforts on goal coming via his trusty left peg.
As such, Villas-Boas must resist the urge to play Bale through the middle on the ground where he marked his potential there, regardless of the dearth of striking options available to him. If not, the Portuguese risks unbalancing an increasingly finely tuned machine (both the team and Bale himself), just as Redknapp did this time last year. Gareth Bale: he plays on the left.
Follow Ewan Roberts on