Martin Jol
admits that summer signing
Dimitar Berbatov
has found it hard to adjust to the quality at
Fulham
and accept that the club are not
Premier League
title challengers.
THE CULT OF BERBATOV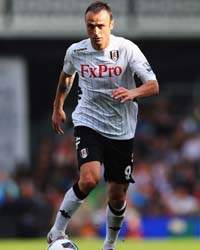 COMMENT: Despite leaving Manchester United for smaller pastures, the Bulgarian's popularity as an entertainer continues


The Bulgarian joined the London outfit in August after falling out of favour at Manchester United following the arrival of fellow striker Robin van Persie.
While Berbatov's trophy collection was bolstered at Old Trafford, Jol believes that the striker is now focused on increasing Fulham's stature and improving his own personal record.
"Berbatov's not 18 or 19 so I don't have to protect him or talk about going back to Manchester United," Jol told reporters.
"He won all the prizes there. That is why he went there.
"He came to Spurs and he went to United, so he was always playing for clubs who could win things. Here it's different.
"That was probably quite a change for him, so I'm still trying to get that in his mind. We've got different targets.
"He is good. But he will still show [frustration] if you don't give him a good ball or the final ball's not good enough."