With the UK being hit with snowy conditions, the glove may become a valuable accessory for some footballers from the warmer parts of the world.
However, Newcastle duo Tim Krul and Sammy Ameobi, as well as Liverpool pair Jonjo Shelvey and Jose Enrique, were all glad to see away fixtures in the Europa League this week, allowing them to get away from the bitterness.
For those stuck at home, Manchester United defender Rio Ferdinand had some welcome advice, while Juventus' Nicklas Bendtner extended an un-refusable offer to anyone looking for some cheer - free pizza!!!
Elsewhere, Stan Collymore saw the white weather as an opportunity to deliver a wintery pun, while Gary Lineker preferred to stay in and watch some T.V. It's all here, in the
Word on the Tweet
...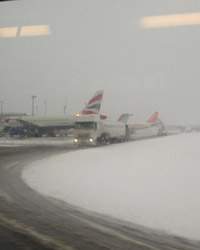 "Do not underestimate the weather 2day!! Sunny but baltic out there! Brrrr!"
Weatherman
Rio
Ferdinand
warns his followers to wrap up warm and to not be fooled by the clear skies. Sensible advice from the
Manchester
United
man.
"Off to Bordeaux...hope it's a lot warmer than it is here! ‪#baltic‬"
Carrying on with our #Baltic theme,
Newcastle
forward
Sammy
Ameobi
has an even better idea than
Ferdinand
as to stay warm - escape the country.
"On our way to Bordeaux .. All the best taking off in this weather .. #wow . #nufc"
However,
Newcastle
keeper
Tim
Krul
raises some doubts as to whether the Magpies will make it to France, tweeting the picture on the right.
"Flight time to Italy .. See use in a few hours peace!"
It seems that
Ameobi
isn't the only one aiming to get away from the sub-zero temperatures, with
Jonjo
Shelvey
also seeking refuge. Though maybe that
Europa
League
thing may have something to do with it.
"In the way to the hotel... Then some food and go for training. Cant wait for tomorrow game. We have to win !!"
His
Liverpool
team-mate
Jose
Enrique
indeed confirms that the the Reds have a game to prepare for, with a clash with
Udinese
on Thursday evening.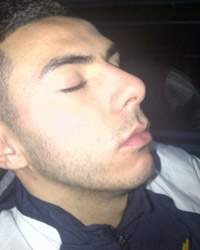 "Osama resting in the bus......"
Before the left-back names as shames
Osama
Assaidi
for being the one that falls asleep (pictured left).
"How does a snowman get to work? By icicle."
Former
Liverpool
and
Aston
Villa
forward (among others)
Stan
Collymore
contributes this effort.
WOTT
has 'snow' idea why anyone would find that funny. Anyone? No...? Sorry.
"In the dressing room and ‪#JeremyKyleshow‬ is on. Truly unbelievable story."
MOTD
presenter
Gary Lineker
gets his fix of trashy T.V.
"come cheer on our team tonite with me and see us go thru and when we do pizza is on me.. On the corner next to the american place"
Juventus
forward
Nicklas
Bendtner
makes a rather large promise of free pizza to the inhabitants of Turin and beyond, ahead of their final
Champions
League
group game with
Shakhtar
Donetsk
.
WOTT
will see you there!