Rafael Benitez's
reign at
Chelsea
got off to a negative start ahead of Sunday's clash with Manchester City, with the new manager being booed by the crowd at Stamford Bridge before a ball had even been kicked.
RAFA OUT!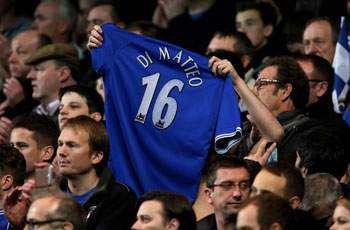 By Wayne Veysey at Stamford Bridge

"We were expecting a negative response to Benitez's entrance but perhaps not quite on the scale experienced when he was introduced as Chelsea manager for the first time. The former Liverpool boss was roundly jeered by all sections of the home support, not just a few thousand fans. They were only silenced by the pitch announcer passing on the recent news that former Chelsea boss Dave Sexton has died, aged 82."
The former Liverpool boss replaced Roberto Di Matteo at the helm this week after the Italian was dismissed following a run of just two wins in eight, but his arrival in West London was met with dismay by many Blues fans.
Benitez had a fractious relationship with Chelsea when his Liverpool team sparred with the Stamford Bridge club in the Champions League in the 2000s, and it appears the supporters of the London club are not willing to forget the bitter clashes the two sides engaged in.
Chelsea fans also offered a tribute to their former player and manager Di Matteo, with a round of applause and chanting throughout the 16th minute of the game - the Italian wore that shirt number during his four years as a player at the club.
Chants in favour of Di Matteo were also audible from all corners of the ground before kick-off, which subsequently turned to boos when the new manager of the club appeared out of the Stamford Bridge tunnel.
That reaction soon changed to a sombre mood, however, as the Chelsea fans paid tribute to their former manager Dave Sexton, who died on Sunday aged 82.