Chelsea manager Roberto Di Matteo has condemned social media abuse of midfielder John Obi Mikel.
The Nigeria international attracted criticism for his performance in the 2-2 draw with Juventus in the Champions League, including abuse on Twitter which forced him to close his account and the Blues to report the alleged racism to police.
"Our fans are brilliant. They always support the team," Di Matteo told reporters. "But we condemn any kind of discrimination or any sort of racist abuse.
"It was the intention to close the account anyway. There was good reason to close it.
"In general, social media, because it's anonymous, is a dangerous vehicle to express yourself. If you are going to express opinion you should put your face to it."
Di Matteo acknowledged that Mikel may not get as much fan adoration as more attacking and eye-catching players but defended the 25-year-old's contribution to the team, observing: "Fans fall more in love with more exciting and creative players, or goalscoring players.
"He doesn't get recognition because he does a dirty job. He has to try to break up the opponents' play. It's normal in football. You don't always get recognised with the right credit.
"I think he does extremely well for us but we all make mistakes sometimes and other players have made mistakes in the past. Collectively we will go forward and go together and we'll be fine."
TORRES MUST GET IN THE GOALS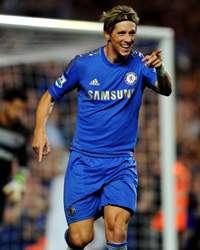 The Spain star is finally the main man at Chelsea and needs to dispel once and for all the demons that blighted his 2011-12 campaign


Di Matteo also revealed that Chelsea are pleased with the recent performances of striker Fernando Torres.
"We're very happy with him," the coach continued. "Even when he doesn't score he provides and works hard for the team and he's always an outlet for us.
"He scored goals from the first games he played this season, against [Manchester] City and in the league.
"He's always busy, keeping defenders busy and moving and doing the right stuff. I don't see any problems. If you see the chance we had with Juan Mata against Juventus he was in the middle on the penalty spot.
"He is full of confidence and playing well and scoring goals. Not in the last couple but he's scored. At the moment I have no issues."