It seems that one of the summer's early transfer sagas has finally drawn to a close, as long-term
Manchester United
target
Shinji Kagawa
signs on the dotted line at Old Trafford – much to the delight of
Rio Ferdinand
.
The veteran Red Devils defender expressed his pleasure at the Japanese star's imminent arrival from Borussia Dortmund, although he may have to explain the finer points of the 23-year-old's positioning to perplexed Everton skipper Phil Neville.
Ferdinand also took time to stress his commitment to England's Euro 2012 campaign, despite the near-farcical nature of his continuing exclusion from Roy Hodgson's squad.
Gary Lineker getting tetchy, Michael Owen horsing around and Wayne Rooney sharing the love with tennis star Andy Murray also feature in our latest round-up of the day's tweeting…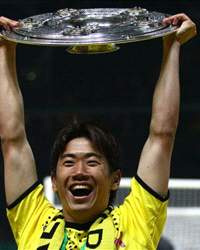 "Welcome to Shinji Kagawa for his transfer to Man Utd. heres to a succesful time here bro!"
United
defender
Rio Ferdinand
welcomes Old Trafford's latest arrival,
Japan
star
Shinji Kagawa
.
"What position does Kagawa play utd's new signing?"
Phil Neville
, however, needs a little guidance as to where the attacker will be playing in
Sir Alex Ferguson
's side.
Do your research, Phil!
"For those saying i should be impartial working for BBC, i have nothing in my contract saying this. It's football, not politics"
England
legend and stalwart pundit
Gary Lineker
responds to critics over claims he is just a tad biased when it comes to Euro 2012.
You tell 'em, Gary!
"Just so we dont get it twisted ere....i'll be in a pub somewhere supporting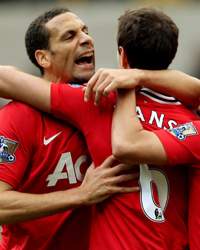 England this summer! Love the lads!"
More from
Rio
now, with the 33-year-old this time stressing he will be backing the Three Lions all the way this summer despite the continued furore over his exclusion from
Roy Hodsgon
's squad.
"Yeeees!!! The lads horse just won. Take a bow J.Kington. Winning owners: O'Shea, Giggs, Scholes, Butt, Carrick, W.Brown, G.Nev and Me!"
Former
United
front man
Michael Owen
might be out of luck with finding a new club as yet, but his fortunes on the gee-gees continue to pay dividends.
"@andy_murray was unreal today. Com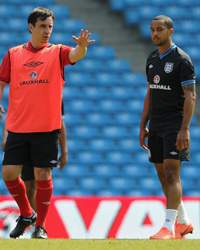 posed and class."
England
star
Wayne Rooney
was full of praise for British number one
Andy Murray
, after he successfully navigated his 4th-round match at the French Open.
"@WayneRooney thanks for the support, all the best for the euros looking forward to it!"
And the Scot was keen to repay the compliment, wishing
Wayne
all the best for the Euros.
Bless them!
"Morning all good luck @GNev2 flying out to euros today bring that trophy home brother!"
Finally,
Phil Neville
wishes brother
Gary
all the best in his new coaching role as he flies East with the rest of the
England
squad.