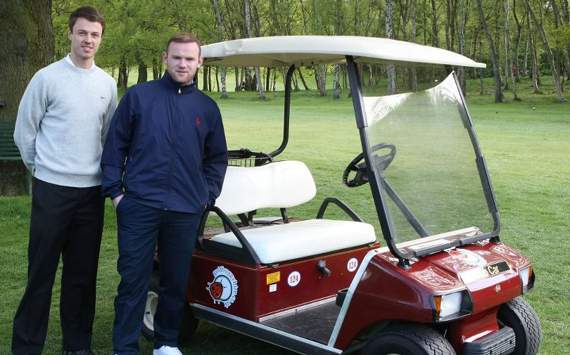 That's right,
Wayne Rooney
has bagged another trophy for his cabinet. Unfortunately for
Manchester United
fans, it's nothing of the football variety, but rather the annual Charity Golf Day silverware.
The event, hosted at Dunham Forest Golf and Country Club, saw Rooney claim his second consecutive winners trophy as he led his group to the team award as well as claiming the individual title as defending champion.
Those with eagle eyes will notice Jonny Evans in the photo too. Correct - Rooney's Manchester United player of the year vote went to the Northern Irish centre-back but such camaraderie was reserved just for awards dinners as the striker took to the course as one of many team captains.
Other teams were led by the likes of Ryan Giggs, Gary Neville, Dennis Irwin, Paul Scholes and Bryan Robson - a star-studded line-up.
Of course with charity events, the essence of competition is the taking part and not the winning. But following a barren year with United, Rooney will surely have been comforted by getting his mitts on silverware. The event helped raise over £18,000 for the Manchester United Foundation which helps change the lives of young people across Greater Manchester.