By Wayne Veysey | Chief Correspondent
With its smooth driveways, gleaming walls and state-of-the-art equipment, St George's Park radiates modernity and opportunity.
From the Nasa-designed £250,000 underwater treadmill to the indoor pitch the size of Wembley, little expense has been spared in providing the tools for footballers and coaches to flourish.
"Cutting edge" is how St George's Park chairman David Sheepshanks describes the sleek, stylish home of English football.
But, as England step up their World Cup preparations with Wednesday night's friendly against Denmark, to what extent can it aid English football and, more specifically, the England national team? Can it make a difference in international tournaments? At what point will it help England graduate from rank outsiders to genuine trophy contenders?
St George's Park was designed as a training base for England but, more importantly, as the university of coaching.
The "game plan", explains Sheepshanks, is to nurture world-class footballers by providing a finishing school for elite coaches.
"In terms of affecting the whole game in this country, our job is to coach the coaches," he said. "That is the real benefit of St George's Park."
THE GOALS OF ST GEORGE'S PARK
ON CLUB VS COUNTRY...

EVERY: "I don't think it's an issue. Top performing sides want really good, technical, creative players, and we want the same thing. We're really aligned with the EPPP and are working with the Premier League and Football League. People might have different names for it – the Future Game, the Manchester United way, the Liverpool way – but the fundamental aspects of creating better footballers are consistent."

SWAIN: "There's no more cosmopolitan league in the world, so it's natural that the programmes and styles are going to be quite different. We need to nurture English players to play in an English way for the national team. We know we play in a different style to Chelsea or Manchester United. Our quest is not to develop a style of play but nurture one and own it through the experiences you get during the youth development process."

ON GREG DYKE'S 2022 TARGET...

SWAIN: "It's ok setting those kind of targets. There's no reason why you shouldn't be aiming for the stars, though you have to temper that with a little realism. For me, England has been and will be in people's minds when talking about World Cups and European Championships, but a realistic status for us to achieve is to be a top four nation in Europe consistently, and in the top eight in the world."

ON ENGLAND'S PHILOSOPHY...

EVERY: "We want to develop coaches who understand the principles of the Future Game but who can be creative around that, so we're not just creating copycat coaches, which is perhaps something that could have been improved on in the past."

SWAIN: "We're loosely calling it 'DNA' but for me, 'DNA' refers to what's inherent. I think the push is more towards a style or way of playing – not a system, but a way of playing, just as the Spanish have. Our culture has always been one of endeavour and being difficult to break down, but the push is towards greater technical ability and game strategy."

ON THE FUTURE...

EVERY: "In five years it would be great to see more British coaches working at the highest level, and also working abroad. Five years may be too soon to see the products of our work come through internationally, but one of the targets for us has to be seeing more players coming through as well."

SWAIN: "Over the next few years I know we've got some really talented players coming through. You've already seen the likes of Sturridge, Welbeck, Sterling, Shelvey, Barkley, Rooney, who came through the under-16s, and we've got more coming in the next three to four years. I think we're in for a real blossoming period of football for England at senior level, because they started on this path four, five, six years ago."

Sheepshanks has great faith in the team being assembled by the Football Association's head of elite development Dan Ashworth, the highly-regarded former West Brom director of football. Dave Reddin, a key figure in Great Britain's Olympic success, joined last month as head of performance.
Former Southampton academy manager Matt Crocker is the FA's new head of player and coach development, while Mike Rigg, the man once charged with using Sheikh Mansour's riches to bring the world's best players to Manchester City, is the head of talent identification.
"This is the new generation, who are leading a revolution in coaching," observed Sheepshanks. "You improve by recruiting the best people who are never satisfied and always want better."
Can England produce their very own Jose Mourinhos and Pep Guardiolas, in-demand coaches hired for the top jobs at the world's elite clubs, as well as for the senior national team?
"That's the intention," said Sheepshanks. "I'm very confident that will happen. Howard Wilkinson [the former FA technical director] had this splendid vision, which was to create the Oxbridge of football education.
"Our job is to have the very best standards of coach education in the country, befitting of the wealth and demands of the Manchester clubs, Chelsea, Arsenal, Liverpool et al. Those teams are used to being able to afford the best that money can buy. It follows that they want the best that money can buy in terms of coaches. Our job is to educate our coaches to the standard that meets their demands.
"In terms of successful outcomes, if we are sitting here in 2025-2026, yes we hope England have done something remarkable in a World Cup or a European Championship, but we also hope that we are training managers and coaches to a high level where, not only are they taking most positions in the Premier League, but they are featuring in the major leagues overseas.
"We hope the reason people come to St George's Park for coaching education is the same reason people go to Oxford, Cambridge or Harvard. You know you will get the best jobs."
It is 16 months since the FA's £105 million coaching hub and skill-enhancement factory opened to a fanfare and royal approval.
It is a high-tech, all-purpose commitment to the future of the national team. The aim is to end all the years of hurt by accentuating players' preparation and also training the coaches who will enhance the skills of the next generation.
On the February day that
Goal
visits the England training base in the rolling Staffordshire countryside, rain lashes down on the immaculate outdoor pitches. Inside, where the whitewashed walls are dotted with the motivational words of sporting legends like Muhammad Ali and Daley Thompson, areas promoting the pursuit of excellence are everywhere.
There is a three-lane sprint track, a vast strength conditioning gym, one of only eight underwater treadmills in the country and a reflex machine with lights to be touched when they flash. Didier Drogba and Radamel Falcao are among the players who have tested their vision on it.
"It's a fantastic facility in terms of the number and standard of pitches, the indoor hall, the whole base to operate from," said England Under-16s manager Kenny Swain. "It's an ideal location in the centre of the country so the London clubs, the north east clubs and the north west clubs can all get here in two-and-a-half hours.
"Even when the England teams are not here you get Premier League and Championship club sides coming here on the Thursday or Friday before a weekend game, particularly the Midlands clubs. And that's just in the football sphere. It creates a lovely atmosphere when you've got that kind of mixture. It's been a vibrant, active and inspirational place, not just for us but for other sports."
Indeed, Stuart Lancaster's England rugby squad were training at St George's Park during Goal's three-hour tour of the facility as they made their final Six Nations preparations. The 22 Premier League referees had been in the previous day for a series of physical tests.
During the decade-long dithering over building the national football centre at Burton-on-Trent, ex-players and aspiring managers were forced to take their coaching badges at locations dotted across the country, sometimes even overseas.
The process is being reversed. St George's Park is now a one-stop shop for assorted managers, first-team coaches, youth-development coaches and academy managers to take their badges and brush up on their skills. Gary Neville and Ryan Giggs, who chose the FA's course over the one in his native Wales, are among those who have been in the classroom dedicating long hours to their new profession.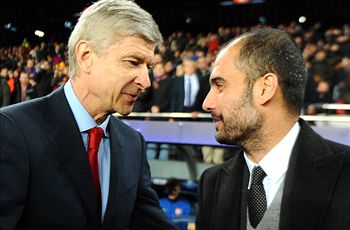 "We hope the reason people come to St George's Park for coaching education is the same reason people go to Oxford, Cambridge or Harvard. You know you will get the best jobs."

Sheepshanks expects even more dugouts of the future to be filled by men, like Jose Mourinho and Brendan Rodgers, who did not have stellar playing careers.
"You will get the odd famous player who commits to coaching but the biggest managerial names in 10-20 years ahead will not be the most famous players, necessarily," he explained. "The most successful players have made so much money from playing, they are not inclined to make the sacrifices all over again to be top coaches. That will be a pattern that will grow."
Swain sees a clear pathway for aspiring coaches. "What we hope we do is influence greatly the younger coaches who are trying to get a foothold on the ladder at football clubs. We've got loads of young English coaches, so our hope and expectation is that we're influencing them to produce better technical players."
With more than 2,000 coaching positions in England's professional clubs, there are more opportunities than ever before for fully educated and qualified coaches.
Danielle Every, a director in the Football development division at The FA alongside Sir Trevor Brooking, says one of the objectives is to create "a world-class fraternity of youth coaches".
The knock-on effect should be clear. Every said: "If you've got great coaches you should be able to develop great players, so are the players getting better? Are there more English players in the Premier League? Those targets are less direct but these are the results we'd expect to see over time.
"In five years it would be great to see more British coaches working at the highest level, and also working abroad. But one of the targets for us has to be seeing more players coming through as well."
St George's Park is already helping to professionalise coaching in England, as the nation that gave the game to the world tries to catch up with the likes of Spain, Germany, Italy and Holland, where qualifications are regarded as a minimum requirement.
"We have to set new standards," added Sheepshanks. "In the beginning, it is about benchmarking, such as what Germany are doing at their sports university in Cologne, what Spain, France, Belgium, Denmark, Sweden are doing. Not trying to copy, but listen and learn. That is how you improve.
"Ultimately, we take the best bits and turn it into what is best for English football. Build on our own strengths and get us to a point where we are on the front foot and other people might start to think, 'hang on, have you seen what the English are doing'?"
The Oxbridge of coaching is ready to show it has been worth the very long wait.
*
Additional reporting by Liam Twomey
Follow Wayne Veysey on