By
George

Ankers
Mancin-up

It was a great weekend for fitting sends-off. At Old Trafford, Sir Alex Ferguson crowned his Manchester United career by lifting a trophy after a late winner. At Wembley, Roberto Mancini put a cap on his Manchester City tenure by fielding an uninspired team without a plan, followed by an awkward press conference.
GOOD WEEKEND


Frank Lampard
Playing in a new Chelsea system that fits him like a glove over his foot, the midfielder has still fired in 17 goals and broken a remarkable record. Not bad going.

Emmanuel Adebayor
After a stupefying midweek vision of what he can do with even a moment's application, the Tottenham striker ingratiated himself for life to the Spurs faithful by vowing to "kill" Arsenal. If only his Stoke City-downing winner had done the same to the hosts' survival hopes, he would have ingratiated himself to many more people besides.



Daniel Sturridge


A hat-trick as his renaissance at Liverpool continues to dumbfound those who claimed that he lacked anywhere near the decision-making to be an effective striker. MTW, of course, always had faith. *ahem*

At time of writing, Mancini's sacking has not yet been made official. It is merely the bucket of gunge placed on top of his office door. A door through which the Italian has just walked before standing underneath the slowly tipping mess-to-be and declaring himself too handsome to be splashed.
Mancini comes across as a lovely and intelligent man, who would be given greater credit as one of the funniest bosses in the league had he yet landed his trailing leg from his hurdle over the language barrier. He does not come across as much of a manager.
Indeed, only the mercy of Steve Bruce's promotion may spare him from being, pound for pound, the least effective manager in the Premier League.
Domestically, he has been like a Fantasy Football boss with no upper spending limits, picking the big names in the assumption that enough of them on the same pitch will deliver – sometimes this will be enough; often it will not. Meanwhile, his campaigns into Europe have gone about as well as Napoleon's into Russia.
If the rumours are true, Mancini could be in line to nudge Claudio Ranieri out of his seat at similarly spending Monaco.
MTW
encourages this; it would be a great opportunity to finally transition into the career as a motor-racing driver that his glossy hair and suave face always seemed to promise.
Meanwhile, City fans can look forward to Manuel Pellegrini, who by comparison conjures the image of an exotic, probably poisonous but amiable frog. And money. Lots more money. It probably won't be so bad.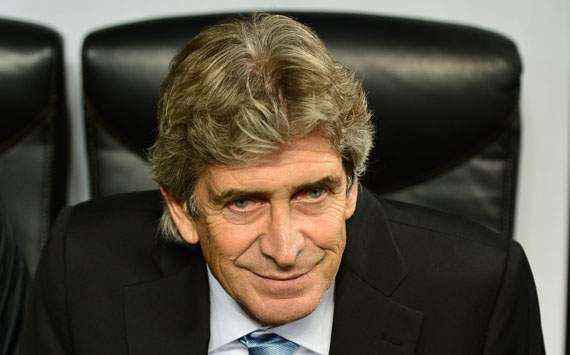 "Ribbit"

Quality control, with Harry Redknapp

"There's no doubt there's a lot of ability in the squad"
- Harry Redknapp, November 24, 2012

"We are short of quality. That team today wouldn't finish in the top half of the Championship"
- Harry Redknapp, May 12, 2013

Wigan's great-ish weekend
"Yes!" shouted
MTW
, high-fiving the cat sitting next to it, as Ben Watson headed in the FA Cup final-winning goal at Wembley. This column does not own a cat; the wandering feline had stopped on its way past the TV, the famously self-obsessed creature unable to tear its eyes away from the extraordinary tale that had been threatening to unfold all day.
And who could blame it? The Latics provided a quite wonderful underdog story, with no-one prouder than owner Dave Whelan, who had broken his leg in the cup final 53 years ago (approximately six months after
ESPN
began its build-up coverage to Saturday's game).
BAD WEEKEND


Wayne Rooney
Grumped his way though Manchester United's big day in an executive box. Caught on camera struggling to assemble a plastic flag. Got well and truly served by Sir Alex Ferguson in his victory lap of a post-match interview. You've been a very silly boy, Wayne.

Haute couture
For centuries, France has been a beacon of style to our scruffy islands. Now Marseille have unveiled a denim away kit for next season. Cultural surrender.

Pitch invasions
Running onto the pitch is supposed to be for joyous occasions, QPR fans. If you insist on doing it when your team have been relegated then you'll spoil it for everybody else.

Try to ignore that Whelan outspent Wigan's rivals during their ascent through Leagues One and Two by a magnitude of roughly 7000. Try to ignore that Norwich City, Newcastle and Sunderland all tried their best to sour the Latics' weekend the very next day, with none of the players even permitted to watch the goals go in with the numbing distance of a celebratory hangover.
Try to ignore that the trophy had advertising on the ribbons rather than their colours and that the stadium was not full because the trains would not run late enough. If you can ignore all that, it was ruddy brilliant, wasn't it?
Are penalties getting harder to score?
This column may wax lyrical about the Football League but, at some point, somebody in the lower divisions is going to have to stop missing vital stoppage-time penalties.
First Marcello Trotta slammed Brentford's automatic promotion hopes against the bar, to be undone by Doncaster at the other end. How we marvelled. Then Hull City's Nick Proschwitz messed up from the spot and prompted Cardiff City to win a penalty of their own that nearly delayed the Tigers' return to the Premier League.
Now, perhaps even more dramatic than those, we get Anthony Knockaert's failure to beat Manuel Almunia in the last moments of Leicester City's play-off semi-final, Watford running up to the other end and nicking it. Are penalties getting harder to score? Perhaps, if Mario Balotelli really wanted to prove himself as the world's current best 12-yard marksman, he would have joined Yeovil Town rather than AC Milan.
Follow George Ankers on