By
George

Ankers
Springwatch
MTW
invites guest writer Oyvind Attenborough, second cousin of David, to take a look at the Premier League wildlife on show to nature spotters.
Ah, the joys of spring. Students of the English ecosystem will recognise from the blooming of the flowers and the smell in the air that Wigan season is finally upon us.
GOOD WEEKEND


Alfredo Di Stefano
At age 86, the former Real Madrid hero has got engaged to a 36-year-old. Fair play.

Paul Lambert
Not content with taking monetary compensation from former club Norwich City after his acrimonious departure last summer, the Aston Villa boss came back to Carrow Road to ransack the Canaries' points bank as well.



Reading (and therefore everyone)


Inevitable relegation confirmed, pressure off, chance for relief against a team already on the beach - the Royals put a smile back on Nigel Adkins' face. And a smiling Adkins just makes the world a happier place for all of us.

The unusually long winter has seen the Latics' hibernation last further into the year than is typical but naturalists have reported hearing the unmistakeable calls of "staying up!" across the land over the past week or so. These reports were followed on Saturday by the first confirmed sightings of the year; always a real treat for the animal lovers among us.
If you had your binoculars out in the Midlands this weekend, you were rewarded with a fleeting glimpse of the lesser spotted Shaun Maloney. In early May, this remarkable creature shows off its delightful plumage.
In a dance as old as time, the Maloney cavorts and sparkles when it spots a relegation wage-drop clause in its contract with which it would not like to mate.
Witnessing the survival instincts of the Wigan in spring is one of the most enjoyable experiences in the natural world of English football but, increasingly, its future is under threat. In the summer months, poachers hound the most capable of the species, while the ever-growing number of Premier League predators always seem on the verge of forcing the Latics out of their natural habitat.
Even now, however, we can see Mother Nature's hand at work as the Wigan continues to adapt in order to best survive its changing surroundings. Like the more elusive Cardiff City, of the same
smallus clubbus
genus, the Latics have been sighted with the colour of their skin changed to a reddish hue upon emerging from their winter cocoons.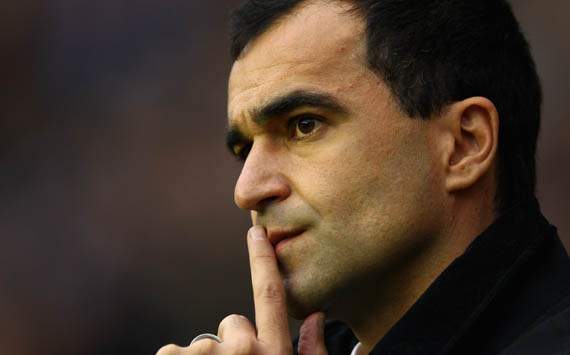 "We must stay very quiet," whispers Wigan-spotting expert Roberto Martinez. "The slightest movement could disturb these incredible creatures. We are so privileged to see them so up-close and personal"

Quote of the weekend

"There's only one Romelu Lukaku"
- Sorry, Romelu Lukaku; that chant just does not scan

Championship by name...
When Division One (which had been the Second Division) became the Championship,
MTW
thought that the rebranding was barmier than a wheelbarrow full of clowns. Now this column understands; the Premier League has an impressive name just to sell itself but the real toast of England is its crazy second tier.
BAD WEEKEND


Southampton
Gareth Bale's burst of superlative destruction at the last will only serve as a chilling reminder to his old club of the destiny of their best home-grown talent. Put Luke Shaw into witness protection NOW.



QPR


The Rs received an uncomfortable haunting from the Ghost of Championship Yet To Come as they watched Wolves tumble limply into League One.

Newcastle
Bailed out by their keeper on Saturday, the Magpies presumably spent all of Sunday in the foetal position, mumbling in catatonic fright ahead of Sunderland's relegataclysmic Monday game against Stoke City.

Every year, the final day of the Championship season is unpredictable and thrilling. Every year, we marvel; you couldn't write this stuff! Then it goes and gets even better the next year – frankly,
MTW
is starting to suspect that someone
is
, indeed, writing it.
Well, whoever it was slaving away at their keyboard in a Red Bull-fuelled frenzy on Friday night, congratulations. You scripted an absolute belter. The battles for automatic promotion, play-off places and relegation were twistier than a gymnast rolling 'left foot red'.
From the injuries to consecutive goalkeepers forcing Watford to employ the kitman's hapless nephew between the sticks to Hull City supporters' extraordinary premature euphoriation, running onto the pitch upon being awarded a stoppage-time penalty, every minute was sensational.
Despite missing that spot kick and conceding a karmic penalty of their own, Steve Bruce's Hull hung on to secure promotion after three years away.
MTW
offers its congratulations to the Tigers, who go up just in time for Sir Alex Ferguson to ship out Anderson, Federico Macheda and Alexander Buttner (the latter on loan) to his old pal this summer.
'Super'
Contrast that, meanwhile, to Sunday's Premier League action. Billed brand-fatiguingly by
Sky Sports
as 'Super Sunday', Liverpool 0-0 Everton and Manchester United 0-1 Chelsea were the kind of not-so-super games that are inevitably on TV when you try to convert one of your non-supporting friends to the delights of football.
Often this sport can be a fireworks display of delirious achievement, an epic comment on the human condition itself. Very occasionally, however, it is just 22 people kicking a ball around. 'Pooper Sunday' indeed, Twitter.
Follow George

Ankers

on