This week, sports presenters and journalists alike were quick to tweet their tributes to former journalist and sports commentator Tony Gubba who sadly passed away on March 11 at the age of 69.
Elsewhere, Stan Collymore talks about Alan Pardew's beard, Carlton Cole praises his 'mummy', and QPR co-owner and vice chairman Amit Bhatia shares his opinions on the role of hair in the modern game.
There's all that and more in today's
Word on the Tweet
...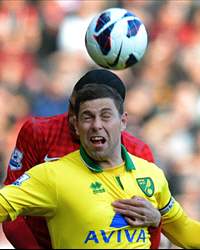 "

Deeply saddened to hear that Tony Gubba has passed away. One of the great voices of football who graced MOTD for so many years. #RIPTONY

"

Gary Lineker
tweets his tribute to journalist and sports commentator
Tony Gubba
who passed away.
"Very sad to hear of the passing of Tony Gubba. One of the great sports commentary voices."

Stan Collymore
echoes
Gary Lineker
's sentiments regarding the very sad passing of
Tony Gubba
. From everyone here at
Goal.com
, RIP Tony.
"Makes me laugh so many Norwich fans saying I should practice pens or someone else should of took it sat 1 miss in the league since I arrived"

Grant Holt
(pictured) hits back at
Norwich
fans who have been criticising him since his last-minute penalty miss against
Southampton
at the weekend. In fairness to the big man, his penalty taking skills are significantly better than his punctuation...
"Hey lady that's holding up traffic taking 3 try's to parallel park. Maybe you should take your golden retriever off your lap!! #notkidding"

Jay
DeMerit
, centre-back for MLS side
Vancouver Whitecaps
, gives us a glimpse into the weird world of driving around the streets of Canada...
"

Only on twitter can there be an argument between 3 people claiming to be Pardew's beard. I love this.

"

Stan Collymore
sums up the sole reason why we - and, let's face it, all of you - are on Twitter. Come on, who doesn't want to witness an argument between three beards all battling it out to be the one true beard? Oh? All of you? Really? #onebeardtorulethemall
"

Cheltenham Eve! I'm pretty certain I have found the winner of every race bar 1!!! I will Tweet my fancies before Racing each day.

"
Surprise, surprise,
Michael Owen
is tweeting about horse racing again. Didn't he used to spend his time playing football, or something?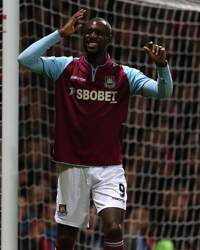 "Mummy I love you with all my heart, you are the mum of all mums! Love you mummy! Somehow,Hopefully u read this, although u R not on twitter"

Carlton Cole
(pictured) brings us all to tears with a beautiful Mother's Day message to his 'mummy'. Although, the clear lack of understanding at how Twitter works in the last sentence sort of ruined his heartfelt, poetic flow.
"Have a lovely Mothering Sunday people. Inspire those you love. As Gandhi said, 'We must be the change we wish to see.' xx"
Our favourite footballing philosopher
Joey Barton
tries his hardest to 'out-inspire'
Carlton Cole
on Mother's Day by using his secret weapon, Gandhi. However, as good as Gandhi was, did he ever refer to his 'mummy' as "the mum of all mums" via Twitter? No, I didn't think so.


"

Footballers (and even referees) now, more than ever before, seem to care about their hairstyles while playing. #nomoremullets

"

QPR
co-owner and vice chairman
Amit Bhatia
gives his opinion on the state of modern football. I'm sure Howard Webb has something to say about this...
"

Neyo is in fine voice this morning, album of the week...Neyo-R.E.D

"

Wolves
defender
George Elokobi
is seemingly using his time out to try his hand at music journalism. Thanks for the recommendation, George, we'll be sure to check that one out.