By
George Ankers
Arise, Sir Jack
Football has not had a knight since Sir Dave Richards took a sword to the shoulder in 2006 – but it need wait no longer.
To earn a knighthood, one must perform astonishing feats in one's chosen field. This is known. But all achievements are defined by their context. So, when someone asks
WWLTW
why a good performance in a friendly victory against the world's 18th-ranked side merits the honour,
WWLTW
replies: Have you seen England lately?
Football folk find it impossible to discuss Brazil without mentioning samba. Each is inexorably tied to the other, the
Selecao
's all-conquering really-good-at-sport-ishness stemming from their innate rhythm or whatever it is that these people would have you believe.
What we forgot this week...


...Jamie Carragher was only noteworthily good for about four or five years and, y'know, pretty okay for the rest. A committed and deservedly admired figure at Liverpool, sure, but let's not go acting like he was Bobby Moore or Chris Riggott or anything like that just because the man's retiring.
Well, Brazil, this column has news for you: English people have been dancing the samba on 'Strictly Come Dancing' since 2004. We have adapted. Is that all you got?
Wilshere is barely old enough to remember 2004. He has grown up with the antidote to yellow shirts and proved it at Wembley.
The Arsenal starlet even played so well that Ronaldinho, the mighty Ronaldinho, recalled to the national side on merit and definitely not fan-pleasing sentiment, was made to look like some kind of past-it plodder. Surely not!
So the Three Lions have finally beaten Brazil for the first time in 23 years and inflicted such a great shame upon the found-out
Selecao
that the whole nation might as well disband and meekly become the 49th county of England.
Now, of course, World Cup 2014 is sure to be such a doddle that we had better hurry up and knight Sir Jack now just in case he and his colleagues phone in a quarter-final exit out of boredom. You know ... just to be safe.
Photo of the week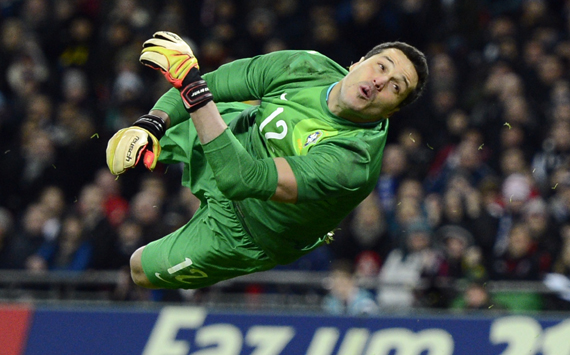 Julio Cesar's 'cannonball' needs some work

It's what Robin Hood would have wanted
A once-great club in turmoil after the deeply unpopular reign of Alex McLeish, their hopes of Premier League participation next year in tatters ... but enough about Aston Villa, let's talk Nottingham Forest.
As years featuring unfathomable managerial hirings and firings go, 2012-13 already looked set to be on the podium but might now take the crown for the weirdest yet. After the Rafa Benitez, Nigel Adkins and, er, Sean O'Driscoll episodes, Forest have opted for former boss Billy Davies to take back the reins.
Surely it can't go wrong. A manager already resented by some fans for his prickly style – oh, and the association with Derby County – Davies last exited the City Ground because he couldn't get on with the owners. Now he's signing up to a job that McLeish was driven to jack in after just 40 days. Sounds great.
What we will learn this weekend...


The Chelsea team walk out to face Wigan at Stamford Bridge - save one. Ashley Cole hides in the tunnel. "They'll boo me," he mutters, panicked, to a concerned Marko Marin. "They cheered me for my 100th England cap as if they liked me. I didn't understand then - but now I do. They're trying to lull me into a false sense of security. Well, you can't boo me if I'm not there!" He pegs it to his car and drives away, almost swerving off the road out of habit on the way.
At least the Al Hasawi family have grasped half of the Robin Hood philosophy at the heart of the fine city of Nottingham, robbing from the club's rich history and giving to the crazy.
Everything we know is wrong
Strap in, everybody. From match-fixing allegations to Lance Armstrong-inspired mutterings of suspicion about doping, things could be about to get rockier than Sylvester Stallone's retirement fund.
Given that it took football 12 whole months to determine whether or not saying bad words to fellow humans was a bad thing, these latest worries are unlikely to be resolved any time soon, either.
The next time that a big club thrashes an underdog 8-0, we'll all be wondering if the keeper was on the take. And the next time that Liverpool win 1-0, we'll all be wondering if they ruined it again by not shooting straight enough.
As noted by those more serious and wise
, it is hard to imagine that doping does not exist in football. Can the level of tedium produced by Sunderland on a regular basis really be within in the bounds of human possibility?
Everyone must be under scrutiny. Everyone. And, if lunchbox-sized cartons of apple juice are performance-enhancing, then lock
WWLTW
up and throw away the key – this column is doped up to the eyeballs.
Follow George Ankers on