By
George Ankers
The greatest one-horse race in the world
Come one, come all! Tune in in your droves to witness the most exciting league that the world has ever known! The Premier League – where nothing is certain, except that Manchester United will win the title!
Even before the season started, most people seemed to acknowledge that it would be, realistically, a two-horse race. Chelsea flirted with glory before The Troubles but there was no serious expectation that it would be anything other than a Manchester-off.
Now, thanks to Manchester City's neglectful slide into a worse team than they were 12 months previously, we are down to a one-horse race. They will not be coming back. They are gone. Done. Finito. The stewards are out with tarpaulins and shotguns to do the humane thing.
GOOD WEEKEND


Roberto Mancini
It looks like the Manchester City boss has finally cracked how to motivate Mario Balotelli: Sell him to AC Milan. The striker looks refreshed and ready to be recalled for the Southampton game.

Arsenal
If the Gunners needed to prove to the world that they could win ugly, they certainly did so. Saturday's 1-0 "triumph" over Stoke City was a real Sylvester Stallone.

Aston Villa
Or, more specifically, Christian Benteke, although the two things are more or less the same these days. Four of their 21 points this season have come on Merseyside now; they may as well be honourary Scousers. Boss.
Given that the only reason why horse-racing is still generally accepted as a practice, as far as
MTW
can tell, is because nobody wants to upset Clare Balding. So why has the Premier League modelled itself on a horse race, much less one with only one rider?
It could be worse, of course; it could have taken after Formula 1 – get all the spectacular crashes out of the way right at the start, then whoever is in front when the first lap is over wins at the end.
The greatest worry is the one closest to the truth – that football will become the NFL. Interminable matches punctuated by adverts every time that the ball goes out of play, farming out regular-season games to foreign countries for an exploitative dollar and probably renaming all the 'franchises' to things like the Liverpool Red Sox, Swansea Heat and the Birmingham Breezeblocks, too.
While we all cross our fingers and continue to fork over the extortionate ticket prices that encourage precisely such a conversion, though, we can try to enjoy the horses.
Perhaps one way in which the Premier League could use the theme would be to adopt a comprehensive match-fixing programme to conjure an illusion of competitiveness. Force-feed Pegasus pills down City's throats while they quaff their morning sugarcubes; then we might be able to spark a title chase worthy of the hype.
As it is, Roberto Mancini will be glue by March.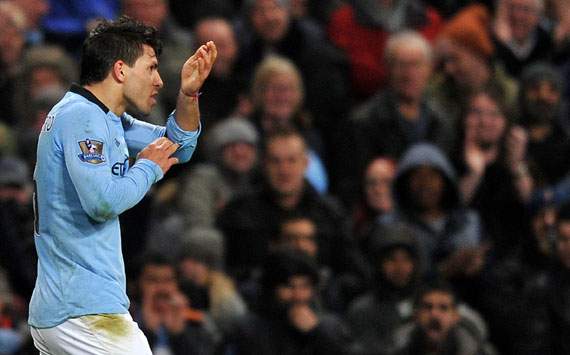 "Smells like trouble..."

Quote of the weekend

"It's like comparing a Ferrari with a Porsche. Both are very good, very experienced and both like to win"
- Er, didn't Cristiano Ronaldo crash his Ferrari?
England Player of the Year 2012
Steven Gerrard

Andy Carroll
As part of its 150th birthday celebrations, the Football Association decided to hand out its first England Player of the Year award on Sunday.
Of course, this seems like a pretty terrible idea for a birthday party and some pretty dull company to invite. Surely they must at least have had a board game or two (
MTW
hears that Joleon Lescott loves Risk!).
And then there's the fact that giving out an award for the best England player is like crowning the tallest Smurf or funniest Wayans brother.
BAD WEEKEND


Pepe Reina
The Liverpool goalkeeper rushed out of his net with worse judgement than a jury full of drugged chimpanzees. That Sergio Aguero then highlighted his error with a finish sculpted by the hand of Almighty Zeus himself only rubbed salt in the wound.

Rafa Benitez
Not even the most die-hard Chelsea man is willing to lend the interim boss a hand, it seems; Didier Drogba simply stood by and allowed his Ivory Coast team to exit the Afcon and keep the alarmingly, unexpectedly vital John Obi Mikel and Victor Moses out of club action for even longer.

Diego Lopez
Not even literally joining Real Madrid can stop you conceding to Cristiano Ronaldo. The man must feel haunted.
But if you have to hand somebody the prize, Steven Gerrard is surely the wrong choice. If the Player of the Year award is about rewarding the traits most desired in an England footballer, the captain does not fit the criteria.
Gerrard lifted a resoundingly average year of club form to acceptably above-average performances at Euro 2012. Well, big whoop! We love an underdog in England and our footballers are no different – so
MTW
nominates Andy Carroll, the little giant who could.
Wor Andy's header against Sweden was seven times better than everything else that he did at club level in 2012 put together. Clearly, the privilege of playing for England was so profound that it inspired him to incredible heights – an effect that he later tried to replicate in signing for West Ham, who of course won the World Cup in 1966. That kind of national pride deserves a medal.
Bale and hearty
Chinese New Year begins on Sunday when the Year of the Snake is welcomed by a festival of lights and tradition. In Britain, though, it looks like being the Year of Gareth Bale. Until May, anyway.
After a dribbletacular sprintertainment goal in midweek, the winger followed it up with a verifiable powerhonk of a shot to down West Brom on Sunday. Two more increditastic strikes you could hardly wish to see.
Indeed, considering the team's disastrous domestic performances, Bale may have a claim to be Real Madrid's best player so far this season. Oh! Whoops? Did MTW say that out loud?
Follow George Ankers on