By
George Ankers
Worst flop ever
Olivier Giroud (Arsenal)
Dear oh dear. Can Arsenal do anything properly?
Arsene Wenger's side have decayed to bipolar flat-track bullies in the Premier League, flopped hilariously out of the Capital One Cup to Bradford City and remain "not close" to signing anyone this January despite needing a new ... well, a new team.
GOOD WEEKEND

Luton and pillaging
In recent years there have been fewer smiles at Luton than in a Lars von Trier movie - so their surprise victory at Carrow Road definitely counts as the weekend's biggest heartwarmer.

Fernando Torres
If scraping a draw with Brentford featured in Roman Abramovich's dreams of the Spaniard's future at Chelsea, the Russian must have been eating too much cheese before bedtime. But a goal is a goal is a goal and now the Blues have their excuse to stick him up front for the next month. Imagine if he had bothered to turn up in the preceding 82 minutes!

Glenn Whelan
Chopping Javi Garcia near in half in plain sight and getting away with it. The Irish ninja.
Last summer they sold their best player to their most potent rivals and replaced him with a one-season wonder from a worse league, an old-fashioned target man who suits their style like a sombrero suits a fish.
But they cannot even destroy their own forward line properly. It does not make sense for Olivier Giroud to be doing as well as he is.
"What a flop!" the sufferers' support group on Twitter wail after any game in which the Frenchman fails to score.
But there he is again! Two more goals, taken with a wallop and caress, instrumental in winning against Brighton, the sort of team against whom Arsenal are only too willing to embarrass themselves these days.
Thirteen goals and nine assists is far too good a record for an acquisition so misguided that Gervinho has sometimes been preferred at centre forward.
The ease with which his combination with Theo Walcott proves the Englishman's insistence that he is a striker at heart serves as a hat-eating embarrassment to Wenger's years of wasting him on the wing. And Giroud does this all while working with the sort of service that one must expect from a team who have spent several seasons denying the very existence of crossing.
Is it just that Gunners fans are too afraid to love again after being burned by Robin van Persie? Put the Dutch George Clooney out of your mind, Londoners, and appreciate the Gallic Justin Timberlake in front of you. And do not pretend that you have not seen and enjoyed that gif of Petit Olivier.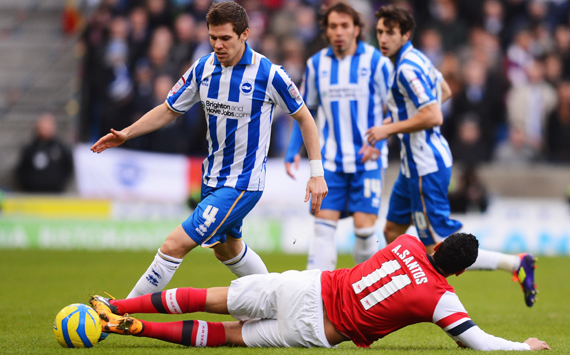 Andre Santos: The Arsenal flop whom Olivier Giroud can only dream of being

Quote of the weekend

"If we all do well, we will finish as high as possible"
- Newcastle man Moussa Sissoko carefully avoids specifying just how high that actually is
Red faces again
MTW
was disgusted to see Liverpool let down once again by the actions of Luis Sua- ... oh, sorry.
MTW
started typing that one out of habit.
No, this time it was the Reds' skittish back line who must take the biggest rollicking for their team's latest mishap. Brad Jones and the gaggle of boys in front of him looked so naive that one assumes that they still believe in the tooth fairy.
One might have thought that Brendan Rodgers would have taken heed of his side's handball-fuelled scraping past Mansfield Town in the last round of the FA Cup. But no – fresh from their now-traditional ritual humiliation of Norwich City, the Reds got overconfident and threw all the kids out in defence.
BAD WEEKEND

Peter Odemwingie
Whether infuriated by Shane Long and Romelu Lukaku being consistently better or because Steve Clarke refused to let him wear a tutu on Casual Friday, the cranky Nigerian appears to have finally snapped. And you know things must be bad when you are trying to force through a move to QPR.

Tottenham
Tempted fate by letting Emmanuel Adebayor's Afcon diversion leave Jermain Defoe as their only striker and duly saw him injured for a doomed visit to Leeds. If it were possible for fewer than zero people to be surprised, this is when it would happen.

Fulham
Being taken apart by a rampant Manchester United is likely a humbling experience at the best of times but doing so while knowing that the exact same fate awaits you in your next match? MTW feels sick just thinking about it.
As a big scalp suffering well-publicised problems and playing away from home against a lower-league team sensing an opportunity, adding extra vulnerability does not strike
MTW
as a clever idea. The only Wisdom in the selection was by the right-back's name only.
Rattled, they found themselves in a position where the introduction of Stewart Downing was desperately needed – is such a thing a success for Rodgers or a damning indictment?
The window closeth
Can you smell it in the air? Can you feel the tingling of destiny as it stands your hairs on end, hear the faint drone of a funeral march approaching from far away? The growing sense of finality falling over all things like a doom cloud?
No,
MTW
is not talking about the all-consuming fireball that will roast every living thing on Earth to a cinder this coming Sunday (
EXCLUSIVE!
) but the shutting of the transfer window.
Obviously, there are all sorts of reasons to want to be rid of the wretched window – not least because, Newcastle's panic-purchase of every single Ligue 1 player aside, not all that much is actually happening.
Demba Ba got his move to Chelsea out of the way with quicker than anyone could say "bench Fernando Torres", Daniel Sturridge jumping ship to Liverpool even more promptly.
But Tottenham are seemingly happier to have no strikers than go out and buy one while Manchester City boss Roberto Mancini trotted out the old "I still need more players" line with the resignation of a man who has yet to win back the right to buy people after spunking his last warchest on Scott Sinclair.
For
MTW
, the countdown until midnight on Thursday is only about one thing now: the desperate, tearful hope that Mario Balotelli will not leave the Premier League. If needs be, City should let him take a few months off to play golf (it seems to do the trick) but the loss of the country's greatest showman would be too much for this column to bear. Keep your fingers crossed.
Follow George Ankers on