Racism once again reared its ugly head on football this week as
AC Milan
's mid-season friendly with Pro Patria was called off due to abuse suffered by
Rossoneri
stars
Kevin-Prince Boateng
and
Sulley Muntari
.
The footballing world has stood up and castigated those responsible as the beautiful game looks to improve its reputation for racial abuse.
Elsewhere, Roberto Mancini and Mario Balotelli's training ground bust-up has plenty of people talking in Thursday's
Word on the Tweet
...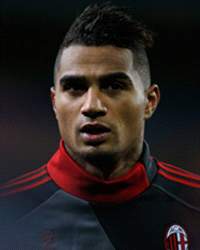 "Act of racism against Boateng during Milan's friendly. How about becoming extremely intolerant towards racist idiots? They need to be told."
Vincent Kompany
demands a solution to racism in football after the awful scenes in AC Milan's game with Pro Patria.
"Shame that these things still happen... #StopRacismforever"
The player who prompted the game's abandonment,
Kevin Prince Boateng
, also speaks out.
"That still this kind of things can happen anno 2013.. What a shame!!!!! #StopRacism"
Boateng's
Rossoneri
colleague
Urby Emanuelson
sticks up for his team-mates.
"That Prince Boatang footage from the Milan game is shocking. Shame it takes a player to do that instead of the authorities being proactive. "
Stoke striker
Michael Owen
praises the former Tottenham man, but insists players should not be the ones making such decisions.
"Wow that was so bad what happened to @KPBofficial earlier... It needs to stop! "
And
Wayne Routledge
is another of the numerous figures in and around the game appalled by the scenes.
"Haha balotelli and mancini had another fight in training today!"
Another of Thursday's headlines, Roberto Mancini and Mario Balotelli's scrap, tickles Tottenham starlet
Andros Townsend
.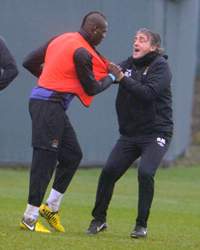 "Pics of RM and MB not great but these things may happen from time to time. I just don't get the lack of privacy. That does need sorting. "
Gary Neville
finds someone else to blame - the pesky media for being able to see things as they happened.
"No Mariooo. No Mariooo. Noooo #balotelli"
Noooooooooooo!
Louis Saha
must be a Mario man.
"Shocking decision 7th worst dressed men in Britain ,, haha ! Can't believe I wasn't first !! "
Robbie Savage
discusses his favourite thing...
Robbie Savage
.
"8 stitches in head this morning gary didnt go down tho dad would've been proud!"
Phil Neville
hits back at those acussing him of diving a few weeks back. Eight stitches? NAILS.