By
George Ankers
In the shop window
December is well and truly here, which can mean only one thing: The bombardment of Christmas adverts on TV has been cranked up from "nagging" to "Stalingrad".
Football, being the money-loving commerciosaurus that it is, is finally waking up to the cash-raking potential offered by its primetime weekend broadcast hours and this Saturday trialled an in-match advert for the first time.
Fans tuning in to watch a perfectly normal game between Reading and Manchester United were instead arrested by a massive sales pitch for this year's must-have gift for the busy human being: Bitesize Football, new from Madejski Industries.
GOOD WEEKEND


Darren Bent
There's plenty of talk around Aston Villa that this young lad might have what it takes and the promising striker proudly made the bench against QPR. A real step forward.

Mohamed Diame
Just by walking on the pitch, the midfielder instantly transformed a lucky-to-get-nil-and-dirty-kit performance into Blues-slaying world-beaters. Forget Michu, here's your signing of the season.

AFC Wimbledon
Given that most fans refuse to recognise the existence of MK Dons, they must have been delighted with their team's 1-0 victory in the FA Cup second round.
"Are you pressed for time in this high-stress modern era?" shout-talked Barry Scott while the ball pinged around the pitch at rocket pace. "Do you just have too much to do?"
"We all love football but we know it's so hard to fit in all these games into one weekend. There's dinner to make, kids to play with and taxes to evade.
"That's why we've developed Bitesize Football. All the excitement of a normal football match, compressed into just half an hour for a bitesize burst of sporting thrills. It even comes with Fergie Time incorporated as standard – groan as Robin van Persie steals an inexplicable 34th-minute winner yet again!"
It's an ingenious marketing ploy, one sure to rake in millions over this festive season. The invention appeals to every demographic – soulless maniacs who hate sport and want it to be over faster, young children bored when five minutes pass without a goal and Sunderland fans desperate to sit through as little of their god-awful team's "play" as possible.
Like most Yuletide crazes, however,
MTW
expects Bitesize Football fever to cool pretty sharpish once the wrapping has been ripped off - if only because it simply isn't feasible for one Luis Suarez dive to last for an entire match.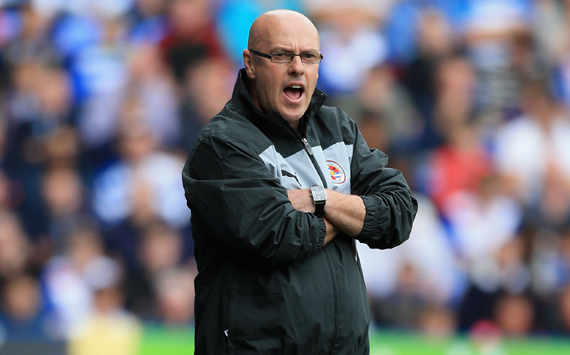 "Come on lads, it's a game of two-thirds of a half!"
Quote of the weekend

"We need to get a win, simple..."
- So far, so good, Rafa Benitez...

"...we will keep working in the same way"
- That's ... not the obvious solution.
MTW Mailbag
Dear
MTW
,

...
BAD WEEKEND

Martin O'Neill
The jig must surely soon be up. After a textbook dead-cat bounce when he took over last season, O'Neill's Sunderland are almost as bad as Steve Bruce's nihilist "team".

Fulham
Everyone's distracted by Berbamania - and he is brilliant, isn't he - but it's very easy to forget that the Cottagers haven't actually, y'know, WON a game since October 20. Yes, really. When do we start getting worried?

Chelsea
AVRAM IS COMING (reportedly).
...

M. Ichu, Swansea

P.S. BOO! HAHAHAHAHAHA


Where now for Becks?

Cards on the table:
MTW
is a massive David Beckham fan. Questionable hair and tattoo decisions aside, the transglobal free-kicks-and-money specialist is a verifiable Good Thing.
But what now? Having two-peated the Major NFL Soccerbowl Cup and departed Real Los Angeles Lakers United, the four-time Terrible Baby Names Monthly magazine Man of the Year is at a loose end.
There are a few options but none look ideal. China? Unsafe. Beckham could certainly develop the sport in that econobehemoth but sustained exposure to an alphabet that he doesn't understand would spell only doom for the inevitable Child Five.
Australia?
There's no room in the public's hearts for a player below the truly elite level
. France? Punishing top-tier tax regimes recently introduced by President Francois Hollande would make Goldenballs' nadgers turn positively copper.
MTW
recommends Greece. Beckham already owes them after his last-gasp free kick in 2001 and could indulge his 'soccer saviour' persona by single-handedly bringing in the revenue to bail out the entire county. Go on, David. Skoda Xanthi needs you.
Follow George Ankers on