By
George Ankers
Chelsea are taking the Mikel out of themselves
Having distributed like a drunk postman all game, the only thing less surprising than seeing John Obi Mikel misplace a pass to prompt a Juventus equaliser on Wednesday was the flood of Oscar puns in the following morning's headlines.
Ever since Chelsea signed the Nigerian from deepest, darkest Norway in his infancy, used a system of mirrors to divert Manchester United away from their quarry and brought him back to Stamford Bridge to play midfield, there's been a stubborn insistence that he will, eventually, come vaguely good.
The match against Juventus was Mikel's 246th in a Blues shirt. A wise man once said that madness is doing the same thing over and over again and expecting different results. He had to say it loads of times before anybody listened, disproving his own point*, but is anyone at Stamford Bridge really expecting something new in game 247?
At some point, Roman Abramovich is going to have to stop getting drunk on silverware and realise that exclusively buying attacking midfield flairmeisters might not be the best policy.
What Nani learned this week...


How to walk, apparently, live on television, as the Manchester United man provided the world's loosest-ever definition of the term "run-up". Before, naturally, feathering his penalty into the waiting goalkeeper's arms.
Perhaps, instead of snapping up that 17,000th skillful trickster, it might have been more sensible to pick up a defensive midfielder who can both tackle and pass as if they are not on some kind of tranquiliser. For a completely random example... oh, hey, maybe someone like Arturo Vidal, the difference for Juve in that game?
None of this, of course, would be a problem, if Oriol Romeu hadn't eaten Roberto Di Matteo's last Rolo last winter or whatever it was that he did to get himself frozen out of the Chelsea picture.
Whether it means promoting Romeu or splashing £60 million on a ready-made replacement, though, it really is time for Chelsea to take the Mickey out of themselves and foist him on inevitable suitors QPR instead.
*
WWLTW
has made this up but the point stands.
Photo of the week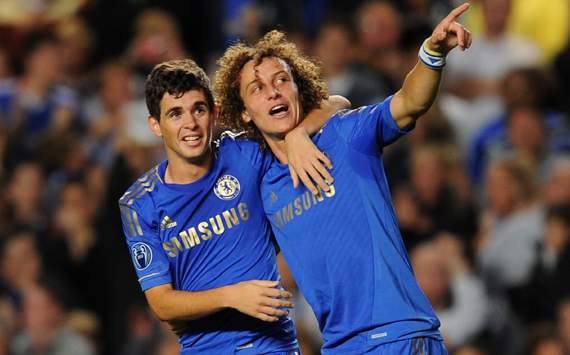 "Look, Oscar, I can see all the 'Award-winner'/'Crowd goes Wilde' jokes coming from a mile off!"

Manchester City do unto others...
...Precisely what they can expect to have done to them.
At some point, football being football, Manchester City must have known that they would lead a game 2-1 before slipping to a 3-2 defeat right at the death. This is how this bizarre sport has always worked and always will.
Such karmic retribution for notable events is as much a part of football as goalposts, half-time pies and idiotic TV commentators - it was hard, then, to know about what Joe Hart was so visibly upset after the match. Had he overfed his Tamagotchi to death?
What we will learn this weekend...


Liverpool, Manchester United and their respective fans will remember that they're not so different and learn to respect each other's losses and triumphs in a glorious display of understanding and tolerance that restores one's faith in football. Until Paul Scholes puts in a trademark late tackle on Joe Allen and all hell breaks loose, of course.
Roberto Mancini had even led his side to repeat the ol' "2-1, no, 3-2!" trick on the first weekend of the league season against Southampton, just in case the cruel temptress of fate had been too busy watching 'Cash in the Attic' the first time round.
The Italian will have to hope that the mistress of doom was engrossed in a particularly thrilling mystery novel while his team were beating - and crowing about beating - Manchester United 6-1 last season. Otherwise things are going to get very uncomfortable at the Etihad Stadium come December 8.
Young boys are enough to beat Young Boys
"Can we play Young Boys every week?" Liverpool fans must have been asking.
They can't, of course - although, thanks to a disastrous end to the transfer window, the Reds are now in a position where they do at least have to play young boys every week. So there's a bright side.
Inspired by the substitute performance of Jonjo Shelvey (a.k.a. Lord Voldemort if he had a nose - there's one that can't be unseen), Liverpool sort of smashed the Swiss 5-3 despite fielding 10 players whose combined ages added up to that of the 11th, Jamie Carragher.
One has to pity Carragher, who was presumably there as the Designated Dad, chaperoning all the toddlers and taking them out for ice-cream after the game as a team bonding exercise. He probably would have preferred to be at home; apparently there was some good football on the telly that he could have been watching instead.
No wonder the veteran lump was doddering around, glassy-eyed and threatening to score his millionth own goal. Poor Jamie was never made for an age in which kids are named things like "Andre Wisdom" without it being some kind of musical pseudonym. To see him left standing in the brand-new playground can only be more depressing for him than it is for watching nostalgics (or those who just like watching footballers who can outpace continental drift).
And anyway, should it even be OK for Brendan Rodgers to gather a group of young boys and tell them to go out and beat Young Boys?
WWLTW
takes youth crime very seriously.
Follow George Ankers on