EXCLUSIVE
By Kengo Nakamura
Shocking events in these last few weeks: As a Barca fan, it was a disappointing end to the European season. Everyone thought Barca would make it to the Champions League final. I thought that maybe Bayern Munich had a chance to win in the other semi-final, but I never thought that Barcelona would be eliminated.
But if there's a team that could stop Barca, predictions were that it had to be Chelsea. A few years ago they had a tough fight, and this year Chelsea were very motivated to stop Barcelona. It happened because Didier Drogba was there, he's the "magic bullet" that no other team has.
The turning point of the second leg, though, was the goal that Barcelona gave up at the end of the first half. How could give up a chance like that to Ramires? With Barcelona leading 2-0, if they'd ended the half like that they would have been able to qualify. But they relaxed too much, and got caught with one less defender than they should have.
On the other hand, that one goal gave Chelsea a lot of courage. Ramires also had an assist in the first leg. That was a goal that could have easily been missed, but it was a perfect loop shot and a great example of what a Brazilian player can do. So, Chelsea went back to the locker room with a boost of confidence.
In a match that had a lot of chances on both sides, I would say that that goal was the key moment of Barcelona's elimination. But there were some causes before the match as well. Between the first and second leg there was the Clasico, and I think that was really painful.
To play Chelsea, and then Real Madrid, and then Chelsea again... that had to be harsh. There weren't as many fit players as last year, and Barcelona's players were certainly tired. There were a lot of good plays, as expected, but on defence they played poorly. A lot of young players went in too. In the Classico it was Tijo, and in the Champions League it was Isaac Cuenca. He lost the ball frequently and was a target for Ashley Cole; I think Cuenca hit the breaks in the Champions League. However, Barcelona's system has put out young players like these for many years, so that's just how it works there.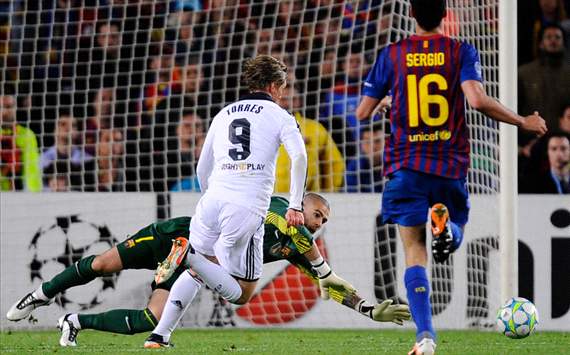 Hard to watch | Nakamura can't get enough of Barcelona, even when they don't win
So, these weeks have been shocking. The second leg was a draw, but it felt like three straight losses. The last match was played during Japan's national team training camp, so I recorded it, but I was almost afraid to watch it. Watching Ferdinand Torres score at the end was painful. Knowing the result and still watching it was torture. But I thought I'd come this far, so I might as well watch till the end. I'm a Barca supporter, after all! (laughs)
I became a Barcelona fan a very long time ago. When Pep Guardiola was still a player, I loved watching him pass the ball and attack. After the 'Dream Team', Real Madrid had made a better team that lasted until Ronaldinho came, but I still loved Barcelona.
If you look at the team now, they've really made something amazing. They're unbelievable, especially players like Xavi, Sergio Busquets, Cesc Fabregas and Andres Iniesta. More than Lionel Messi, we should look at the 'control' players.
The great thing about Xabi and Iniesta is that they can completely change the play in a split second. With a lot of imagination, they can go back and pull off plays that their opponents had thought they had cut off. Their team-mate's movement matters too, but those two are capable of going back and running the play over.
When if you watch a Barcelona match, it is hard to evaluate their opponents, that's because they almost never touch the ball! The only players who are 'up' are on Barcelona's side, and there are few opposing players who can play at a high level against the Catalans. It's a bit sad, but you always see the worried look of the opposing goalkeeper... Barcelona is just that overwhelming.
Barcelona players don't make passes they're not sure about. They make it 100 per cent sure that the ball gets to their team-mate and with their rhythm, break down the opposing team. All of the players are incredibly skilled technically, and even if some aren't fast, they can move the ball back and forth with direct passes and with that, they can't be stopped. If you keep moving back and forth, the opponent will show an open flank, sooner or later.
| | |
| --- | --- |
| "That's the sort of football that my club is trying to play... I can't say we're imitating Barcelona, but because I watch so many Barcelona matches I sometimes wonder if we can't try playing more like them" | |
And on top of that, when Barcelona players are in the penalty area they're able to deliver passes even though they barely see their team-mates. It's not just the pass, but the players can pull off an entire sequence of passing and movements through incredible technique. The gap in technique is so big, that no matter how many defenders are in the area, Barcelona can break through them with just two players. I think it's because they have great "vision". That's what my coach Yahiro Kazama thinks, at least (laughs).
I can explain Barcelona's game like this because right now that's the sort of football that my club, Kawasaki Frontale, is trying to play. It happened to me before; not just sending a through pass, I mean slipping in a pinpoint pass through a tight corridor. If the player who receives it can control it, then it can easily result in a goal. I can't say we're imitating Barcelona, but because I watch so many Barcelona matches I sometimes wonder if we can't try playing more like them.
Barcelona has a lot of small players, but it's incredibly pleasing to watch them take down giants. I'm not that big either, so watching Barca's "little ones" gives me a lot of confidence. If I have good skills with the ball and a good eye for tactics, I think that maybe I can play like them.
Be that as it may, to watch such a great Barcelona losing it was a shock. If the Champions League had a third-place match it would be a Clasico, but we've already had enough of that for this season. I'll watch the Copa Del Rey final, but as a Barcelona fan, the season's already over for me. By the way, their opponents Athletic Bilbao are incredibly interesting. After Barcelona, they're the team I'm following the most. Marcelo Bielsa is a captivating manager. They're a team that all football fans should watch.
To watch the final without Barca is very sad... I want to watch them play at the stadium one day... maybe
Goal.com
can send me there as a reporter? (laughs)
Goal.com is starting a new series of columns written by Kawasaki Frontale and Japan National Team midfielder Kengo Nakamura. Stay tuned for more thoughts on football from around the world from a true connoisseur!
Profile: Born on 1980.10.31 in Tokyo. In 2003 Kengo joined then-J2 Kawasaki Frontale from Chuo University, and stood out immediately. In 2004 after the team earned promotion, he became a regular member of the national team and appeared in the 2010 Fifa World Cup. He's a known connoisseur of international football.
Follow Goal.com Asia on

and

for the latest in Asian footballing news, features, and analysis