By Jay Jaffa & Chris Myson
What better way to fill the gap between the end of the domestic football season and the start of the next one with ... more football! And this summer, that is exactly what we have had in Poland and Ukraine.
But as players, fans, cities and managers prepare themselves for the end of Euro 2012 after Italy and Spain have met in this weekend's final, what have we taken from the last month of action?
Here are
Goal.com's
suggestions as we take a look back at the ups and downs of the tournament in alphabet form...
A
is for
Andriy
– Andriy Shevchenko to be precise. The legendary Ukraine striker may be in his mid-thirties and had prolonged his retirement solely to feature in his homeland this summer, but he justified those decisions by meeting two crosses against Sweden and scoring a match-winning double.
B
is for
Ballon d'Or
– A major international tournament is always an important measuring stick when deciding who will be crowned Footballer of the Year. Even though Lionel Messi scored 73 times for Barcelona last season, Andrea Pirlo has thrown himself into contention with a string of impressive displays. Cristiano Ronaldo's strong performances have not damaged his chances either.
C
is for
Countdown
– The most bizarre introduction to the Euros was the 10 second countdown announced over the PA system prior to the kick-off of each half. No-one knows why it was introduced, though the fans certainly enjoyed its novelty. There must have been a few occasions when the referees and players were tempted to kick-off before the announcer got to zero ...
D
is for
Dutch infighting
– The
Oranje
squad were tipped to push Spain and Germany all the way to the latter stages of the tournament but after a 1-0 opening defeat to Denmark, their world collapsed. Two further defeats made fewer headlines than the rants of egotistical superstars which ultimately cost Bert van Marwijk his job.
E
is for
Extra-time
- Just two games have gone to extra-time this summer, fewer than any other European Championship since the format moved to 16 teams. Five games in '96 and three in every Euros since have run the extended two hours. Of course, there is a chance this tournament could equal those before it – potentially bad news for Italy who lost in the Euro 2000 final in extra-time ...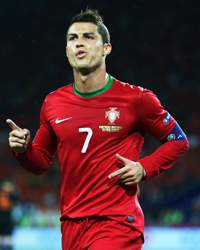 F
is for
'False nine'
– The tactical debate of the tournament surrounded Spain. Vicente Del Bosque's decision to forego a true striker and instead name a 'false nine', such as Cesc Fabregas or David Silva, led to widespread comment on the system's merits. Is this the formation of football's future?
G
is for
Goals
– There have been just two goalless draws in 30 Euro 2012 matches so far. The first was England's game with Italy in the quarter-finals, before the Spain v Portugal semi-final also failed to produce a breakthrough. At least we had to wait a while for the first 0-0 to come.
H
is for
Hosts
- For the second consecutive European Championship, both host nations were disappointingly eliminated at the group stage, following in the unenviable footsteps of Austria and Switzerland from Euro 2008.
I
is for
Ireland's fans
- Their team may have been outplayed on the field, but their fans were never outsung. Particularly in the match against Spain, Irish fans were absolutely inspirational and they won all football fans' hearts. Gerard Pique said he will remember 'Fields of Athenry' as long as he lives.
J
is for
John Delaney
- Ireland's merry CEO. The FAI chief spent large chunks of the group stages buying drinks for fans, downing shots and generally behaving like the drunkest uncle at a wedding. His inebriated visage appeared across Irish media, which rebuked him for being a national embarrassment on the global stage and behaving in a manner ill-fitting of his post's dignity.
One YouTube video shows Delaney slurring his way through a sycophantic, late-night speech to a gaggle of Irish fans before being hoisted in the air on a 'King's Chair' and having his shoes and socks stolen.
K
is for
Kev The Chicken
- After a very shaky start, Kev grew into his role as
Goal.com
's chief results predictor, nailing three out of four quarter-final results before lavishly picking Italy to defeat the much-fancied Germans. With Sunday's final approaching, his career, and indeed life, could be on the line. Get it right and he'll be a chicken supreme, wrong and he's off to the KFC abattoir.
L
is for
Lionel
– He may not have been at the tournament but Lionel Messi was never far from everyone's thoughts – particularly Ronaldo's as he was taunted by the Denmark fans throughout their group game. Meanwhile, Messi ensured he took the headlines despite Euro 2012 taking place by scoring a stunning hat-trick for Argentina in a friendly win over Brazil – also notching Goal.com's first-ever five-star rating - beating his rival to the punch.
M
is for
Mole
- Germany's line-ups for their first four fixtures were all leaked to the press during the build-up, leading Joachim Low to suggest there was a mole inside the camp. To stop the media from getting their inside information, he decided to tell his squad the starting line-up for the Italy game significantly later than usual. That went well ...
N
is for
Needless changes
– Low also received plenty of criticism for the way he managed his squad this tournament.
Die Mannschaft
blew away the contenders in the group of death before he opted to freshen his attack for the quarter-final against Greece. In a game Germany were likely to win, it only confused matters and Low made a number of blunders that contributed to the defeat to Italy.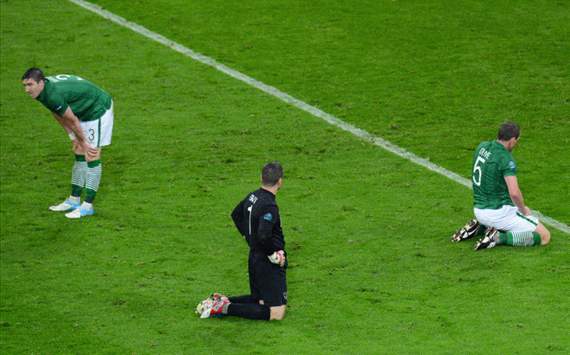 O
is for
Out of their depth
– Ireland arrived in Poland and Ukraine with expectations of putting up a fight. A string of 11 clean sheets in their 14 games prior to Euro 2012 gave the Emerald Isle hope of sneaking through their group. However, after conceding nine goals in the group stage, Giovanni Trapattoni's men were on their way home quickly, humbled and embarrassed.
P
is for
Panenka
- If you didn't know the term before, then you certainly will now. The shadow of Antonin Panenka will be all over the final. He scored a famous chipped penalty to prevent West Germany from completing a treble of Euros-World Cup-Euros in the 1976 final against the great Sepp Maier.
Andrea Pirlo and Sergio Ramos, who will face each other on Sunday, have already successfully executed Panenka penalties in high-pressure penalty shoot-outs and created two of the tournament's most iconic moments. Spain will try to accomplish the fabled treble against Italy – are we destined for spot kicks?
Q
is for
Qualification
– Euro 2012 is the last European Championships to feature 16 teams following Uefa's decision to expand the tournament to 24 nations from 2016.
R
is for
Racism
– It was billed as the biggest problem likely to surface in the tournament but credit must go to Ukraine and Poland's fans, who dispelled those myths with an exemplary attitude to their duties as co-hosts. Rather unexpectedly, the more western nations of Spain and Croatia saw their FAs handed token fines for unsavoury behaviour in the stands.
S
is for
Spies
- Ola Billger, a Swedish journalist, spotted England going through their pre-match briefing in his Kiev hotel ahead of the Sweden and England group game and saw his chance. He subsequently grabbed his binoculars and helped himself to 45 minutes of raw, unedited viewing before a blanket was finally placed over the skylight he was peaking through.
T
is for
Thunderstorms
- They devastated fan zones, ripped down walkways and even caused a 58-minute delay in the Ukraine-France match. Ukraine's 'tropical' weather has certainly had its say during the tournament.
U
is for
Undefeated
– The only team other than the finalists to go out of Euro 2012 despite not having suffered a defeat in regular play was England, who went out to Italy on penalties. In the 2010 World Cup, New Zealand exited the competition despite having not lost a match and they were the only team of the 32 to maintain that record - with eventual champions Spain having tasted defeat to Switzerland in their opening game.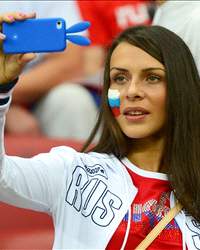 V
is for
Video Technology
– After John Terry hooked a ball from beyond the goal-line to safety, Fifa president Sepp Blatter finally felt the time was right to announce his support for goal-line technology - despite years of opposition. Uefa president Michel Platini is still unconvinced though, and backs his fifth official project.
W
is for
Women
– Femen, Ukraine's leading feminist organisation, battled Uefa throughout, accusing them of acting like pimps on the issue of prostitution this summer and insisting their sole interest was money. In an ironically misogynistic tribute to the organisation, many of the Uefa cameras were trained on some of the best looking female fans – making the tournament eminently more watchable.
X
is for
Xabi Alonso
– The Real Madrid midfielder has enjoyed an excellent tournament. Not only has he helped Spain to a third consecutive major final, but he enjoyed a night of personal success in the quarter-finals when he celebrated earning his historic 100th cap by scoring two goals against France in an impressive victory.
Y
is for
Y-Fronts
– Nicklas Bendtner was fined £100,000 and suspended for one-match after flashing some sponsored underpants following his goal against Portugal. The punishment seemed severe in comparison to some of the fines handed out for racism charges and misbehaving fans.
Z
is for
Zzzzzzzzzzzz
– Have Spain sent you to sleep yet? The transformation from one of the world's most ruthless and entertaining sides to the tiki-take-me-to-bed football they now employ has frustrated many in the tournament and drew jeers from the crowd in Donetsk in
La Roja
's semi-final win over Portugal.
Follow Jay Jaffa on