Played
February 22, 2013 8:45 PM MYT
Stadium Tuanku Abdul Rahman — Seremban

Negeri Sembilan 0-0 T-Team: Toothless Titans hold Deers to stalemate in Paroi
Peter Butler's men struggled to impose themselves but ultimately succeeded in holding Negeri Sembilan to a 0-0 draw at the Paroi Stadium
By Keeshaanan Sundaresan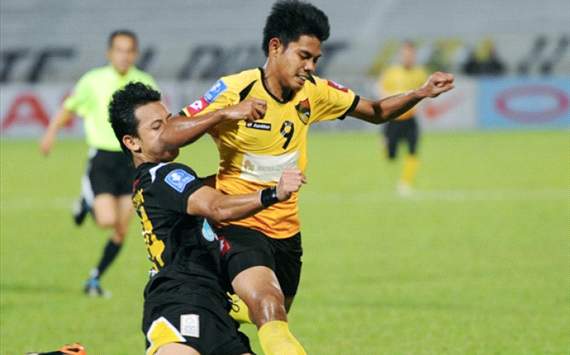 Negeri Sembilan's winless start to the season continued as they were held to a 0-0 draw by T-Team. Divaldo Alves' men had a flurry of chances to win the game but a combination of terrible finishing and bad luck saw them battle out a stalemate against the East Coast outfit.

Both sides adopted a cautious approach to the game in the first few minutes, with the home side's defence being marshalled by William Modibo. He was tasked with marking Caleb Folan of T-Team, who was already causing problems with his height in the opening few minutes.

However, the first real chance of the game fell to Negeri Sembilan's Emmanuel De Porras, who unleashed a powerful shot on target in the 16th minute, but it tipped away to safety by Iqbal in the T-Team goal. The away side pretty much dominated possession but they struggled to make an impact in the final third with Negeri looking very solid defensively.

In the 25th minute though, Negeri came very close to breaking the deadlock as a breakaway saw Nazrin Kawi fire an impeccable shot, which looked destined for the back of the net. Unfortunately, it rattled against the post and Iqbal did well to quickly collect the rebound.

George Boateng was continuously industrious in midfield while Mahathevan looked very solid at the back for T-Team. However, Folan was struggling to break the Negeri defence as he was dispossesed by Modibo time after time. The score remained 0-0 until half time.

After the break, T-Team continued applying pressure to the Negeri defence by swinging in crosses into the box for Caleb Folan. But Modibo bailed them out yet again with an impressive clearance header. Then in the 59th minute, Emmanuel De Porras was presented with a golden opportunity inside the box but the Argentinean forward fluffed his shot and saw it roll wide off target.

The Deers were slowly controlling the game at this point and Nazrin Nawi could have ultimately opened the scoring with a fantastic strike, but Iqbal made a tremendous save to keep the score level. The young winger was running rampant on the flanks and had another attempt saved by Iqbal just a few minutes later.

T-Team slowly faded in the background as Negeri began to show more intent on pushing forward. Shahurain Abu Samah scuffed several crosses on the right flank, while De Porras himself slipped on the field on several key occassions.

Nazrin Kawi had another golden opportunity in the 83rd minute, but his shot was tipped away brilliantly yet again by Iqbal.

Folan then went on to head off target late in the game, before Negeri thought they had won the game as De Porras headed home after a brilliant cross from Shahurain. However, the linesman was quick enough to rule the Argentinean out for offisde. The 0-0 score ultimately remained until full time as both sides went home with one point each.
| | |
| --- | --- |
| Sign up with Ladbrokes for a free bet up to $100 | |
Live Final scheduled Suspended Cancelled Postponed