23 pases a Rusia: Goal projects Mexico's World Cup roster
A new player has entered the game.
Only eligible since January, Monterrey midfielder Jonathan Gonzalez is starting to build his case to be included on Mexico's roster for the World Cup in Russia.
Will he represent El Tri this summer? He's not even close to a lock like center back Hector Moreno, whose move to Real Sociedad should have him feeling fresh, or Miguel Layun, who also got a lifeline with a winter move to Sevilla.
But Gonzalez could edge his way into the team, as could a handful of other players we saw on display in Wednesday's 1-0 friendly win over Bosnia & Herzegovina. 
"At the end of the day, the list of 23 players is limiting and we need experts in the team who can meet the criteria with functions in one or two positions," Osorio said Wednesday after the match.
So who will be on the final list? Every month until the tournament Goal will take a look at the 23 players most likely to represent El Tri at the World Cup, updating the projection as players' form oscillates or as injuries take players out of contention. Here is February's projection: 
---
Goalkeepers
---

Guillermo Ochoa, Jesus Corona, Alfredo Talavera
The three goalkeepers in Russia seem entirely dependent on how Talavera recovers from the knee injury that has knocked him out of the Apertura. The Toluca goalkeeper should be back on the field for the Red Devils soon, giving him a full four months to get back to normal.
It's not a huge issue for Mexico if Talavera can't rediscover his previous form. Ochoa is the undoubted No. 1, starting back-to-back World Cup qualifiers in the September cycle. The Standard Liege shot-stopper held his own against a potent Belgium attack in November and continues to be dependable when called upon for El Tri. Jesus Corona put in a good performance in November as well, especially with his right-leg save in the second half to keep the clean sheet intact against Poland. Mexico's top-two goalkeepers should be of little worry.
For the third spot? If Talavera isn't up to snuff, Osorio looks to be all in on Chivas goalkeeper Rodolfo Cota. In previous friendly matches, he's used one of his six substitutions on the goalkeeper, but Cota went the distance against Bosnia & Herzegovina.
---
Defenders
---

Hector Moreno, Nestor Araujo, Diego Reyes, Edson Alvarez, Miguel Layun, Carlos Salcedo, Jesus Gallardo, Hugo Ayala
Suddenly there's hope. Moreno moved to Real Sociedad and Layun went to Sevilla in the winter window. That puts the left half of Mexico's best back four in position to win La Liga minutes after they were left to rot on the bench for Roma and Porto, respectively.
Still, this area continues to be the place of biggest concern for Mexico, and our projection includes no players who are primarily right backs. But if Osorio is concerned about that, he hasn't shown it. Layun, Salcedo, Alvarez and Reyes all can play the position — and have for the Mexico national team in the past few months. Gallardo's positive performances against Bosnia at left back and against Poland, first at left wing back then at left back, means Layun could be on the right if needed. Salcedo is playing as a right center back with Frankfurt but once again moved out wide against Belgium before coming inside against Poland.
Alvarez had a standout Gold Cup that led to minutes in the recent batch of World Cup qualifiers. After Alvarez spent the summer training with the team in Russia, though not part of the Confederations Cup squad, it's a safe bet that he'll be included, especially after his midfield minutes in the final World Cup qualifier against Honduras showcased his versatility. He likely would've played more in Europe were it not for the injury he suffered against Belgium.
Luis "Chaka" Rodriguez's strong showing at right back against Bosnia may earn him a recall and a look against tougher competition in March.
---
Midfielders
---

Andres Guardado, Hector Herrera, Jonathan dos Santos, Javier Aquino, Marco Fabian, Jonathan Gonzalez
Gonzalez hasn't seen much time with Mexico. He didn't start in the friendly against Bosnia & Herzegovina. Despite all that, everything is pointing to Gonzalez making the team.
Osorio and sporting director Dennis te Kloese have been clear that they've made no assurances to Gonzalez about going to Russia. They also say he's getting the same chance as everyone else. That should mean time in the March friendly matches. Osorio keeps saying Gonzalez has a bright present and future. In the present, he looked comfortable enough in the more advanced role to draw attention and also has the ability to slot in more centrally. Maybe March changes things negatively for Gonzalez. For February's projection, he's in.
Guardado is in good form with Real Betis, even with the La Liga outfit struggling, and is shaping up to be the leader of the team this summer, on the field and in the locker room. Of course, if Rafa Marquez's situation is resolved, El Kaiser could fill the latter role. It seems more and more likely that won't happen in time. Despite Marquez's name slowly continuing to be cleared, Osorio said recently that it would come down to a sporting decision. Marquez is a legend, but do his Atlas showings (and recent injuries) really reflect a player who needs to be at the World Cup? 
This is an experienced group, though. Like in El Tri's last trip to Russia, there's not a player here who specializes in sitting back and destroying attacks. Dos Santos and Herrera took that job on to some extent at the Confederations Cup, and they'll have to do so again with few top-quality options available for Mexico as a defensive midfielder. Reyes and Guardado paired together to good effect against Belgium, so that's another option. Gonzalez does that with Monterrey, but with his small stature Osorio prefers him to be playing further up the field.
Fabian is a big question mark here as he continues to struggle with injuries. When Fabian has been healthy, Osorio and the coaching staff have wanted the Eintracht Frankfurt man in the group. He's due to return for Frankfurt as soon as Saturday.
---
Forwards
---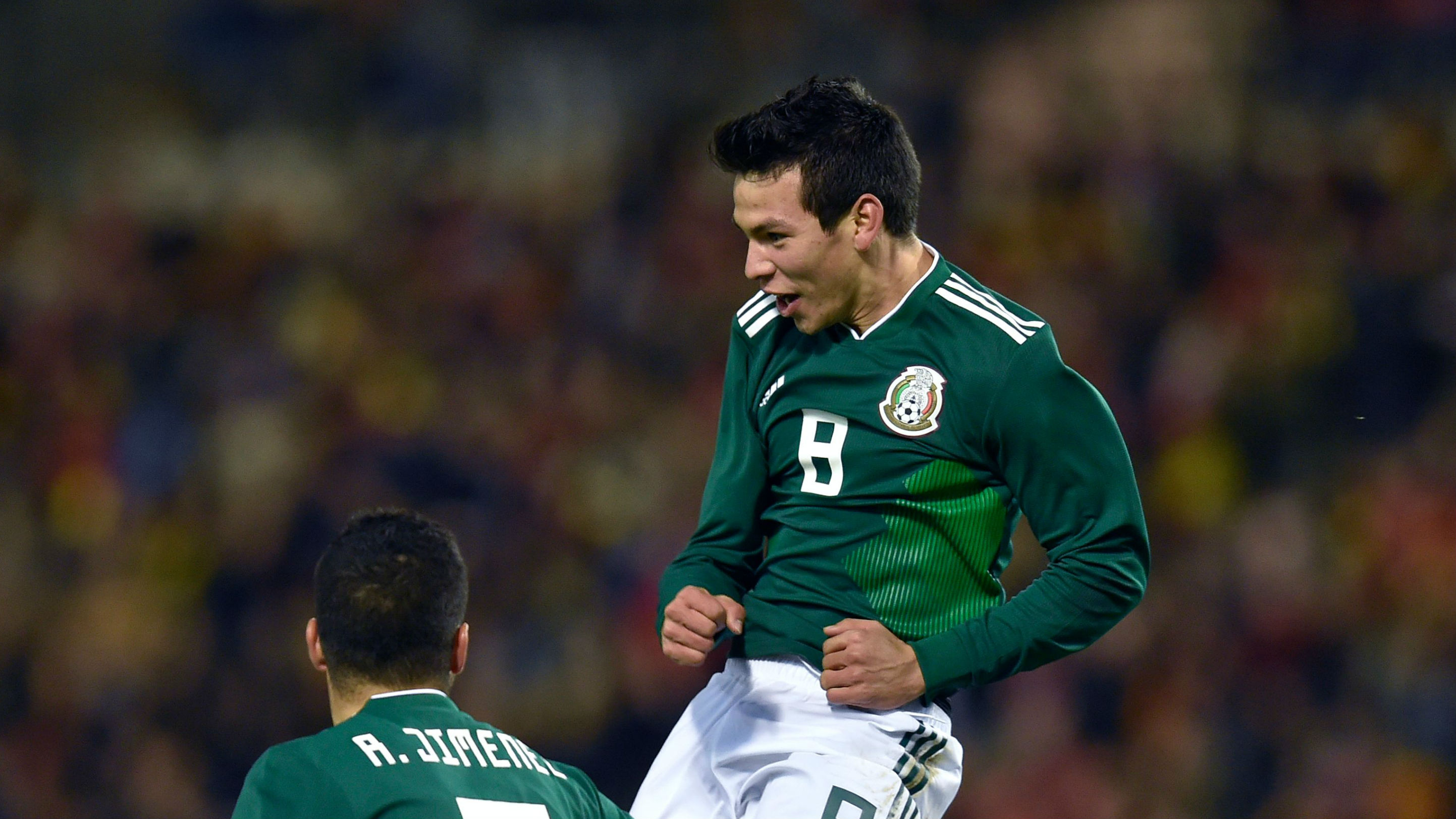 Javier "Chicharito" Hernandez, Raul Jimenez, Carlos Vela, Hirving Lozano, Jesus "Tecatito" Corona, Giovani dos Santos
Chicharito, Lozano and Tecatito are locks based on their form for club and country since Osorio arrived. Jimenez and Vela are likely in that group as well, even as their playing time dipped toward the end of 2017. Jimenez looks to be stuck at Benfica, while Vela's inclusion may depend on how quickly he adapts to MLS with Los Angeles FC. His multifunctional night Wednesday hints at a bright future.
Giovani dos Santos didn't look great against Bosnia & Herzegovina, and we thought it was fair to discuss his place on the roster after the contest. Osorio, however, saw it differently and seemed delighted with how Gio kept his fitness up during the offseason. Watch this space, but for now it looks like Gio is in.
So who is out? For now, it's Oribe Peralta. Osorio wanting Peralta to be in his squad both the Confederations Cup and the Gold Cup before America protested speaks to how highly he values Peralta's contributions. Peralta, however, really only does one thing well. With Chicharito and Raul Jimenez filling the same role and doing it better, "El Cepillo" is the player we've taken off of last month's projection to make space for Gonzalez.
---
Outside looking in
---
Trending up: Luis "Chaka" Rodriguez (Tigres defender), Jesus Molina (Monterrey midfielder), Rodolfo Pizarro (Chivas midfielder), Jesus Molina (Omar Govea (Royal Excel Mouscron midfielder), Oswaldo Alanis (Chivas center back),
Trending down: Victor Guzman (Pachuca midfielder, out with injury), Hugo Gonzalez (Monterrey goalkeeper), Jurgen Damm (Tigres winger), Cesar Montes (Monterrey center back), Erick Gutierrez (Pachuca midfielder), Alan Pulido (Chivas forward), Adrian Aldrete (Cruz Azul left back), Luis Reyes (Atlas left back), Moises Munoz (Puebla goalkeeper), Uriel Antuna (Groningen midfielder)