EXCLUSIVE
By Tim Musungu
Newly crowned Goal Kenya Player of the Year David 'Calabar' Owino insists he will achieve his childhood dream of playing football 'only if I turn out for my greatest club - Arsenal.'
Speaking exclusively to Goal after receiving the prestigious trophy, Owino, who beat four other players among them Southampton midfielder Victor Wanyama, says his immediate plan is to turn professional and play abroad.
Owino won the award as voted by fans after garnering 435 votes edging out Wanyama to second spot on 189. AFC Leopards' striker Allan Wanga, who scored a double for Kenya in Cecafa Cup final against Sudan, finished third after bagging 165 votes; Tusker's Jesse Were was fourth on 76 while Gor Mahia goalie Jerim Onyango finished last on 72.
Owino speaks to Goal about his achievements and his motivating factors;
Goal: David; congratulations on your Player of the Year award from Goal Kenya.
Owino: First of all, this has come as a surprise to me and I feel greatly honored by Goal to receive this very beautiful piece of silverware. It is indeed a sign that they recognize the effort put on the pitch by players. Secondly, I want to thank the fans for the support that they have given me and for their votes for me to be crowned Goal Kenya Player of the Year 2013. It comes just as I was voted the defender of the year and runners up in the Kenya Premier League Player of the Year award. It has truly been a jubilee year for me.
Goal: How would you describe the feeling of having to compete with the high rising Victor Wanyama, who plays in the English Premier League whilst you are based locally?
Owino: After getting to know that I was nominated alongside him (Wanyama) plus other very talented and gifted local-based players, I was never sure I was going to win the award. Wanyama is a player we all look up to in the national team and having beaten him to the award means a great deal for me. It means that some day, I will be in the same ranks with him and who knows? Probably better!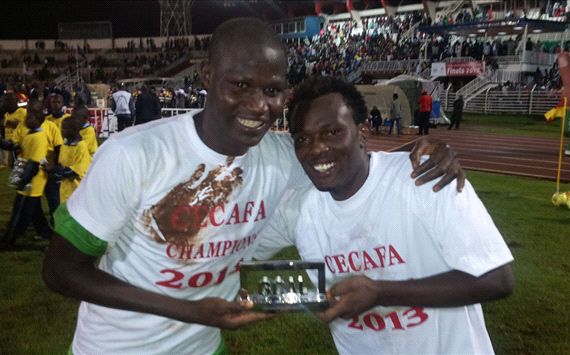 HAPPY |
Owino 'Calabar' celebrates with fellow team mate Anthony 'Teddy' Akumu
Goal: Looking back at the past season what would be your highs and lows?
Owino: I would not say it has been the smoothest of years in my career despite the huge achievements I have got. If I was to start with the lows, I started off the season with a slight injury and even after I recovered, I found it difficult to get regular playing time in my club despite the fact that I was a regular in the national team. That really frustrated me. But looking at the highs, I am happy that I was part of the Gor Mahia team that finally won the league after 18 years of waiting. I was also voted the defender of the year and scoring for the national team when we beat Namibia was one of my highest moments.
Goal: Would you so far describe 2013 as the best year of your career since turning professional with all the awards that you have won this year?
Owino: So far I can say yes. I have had a great season but what I know is that this is just the start. I know my abilities and with hard work and trust in God, I will achieve even more. This has just set me up for a bigger challenge.
Goal: What are some of the most memorable matches you have played this year, ones that you will live to remember for long?
Owino: The first game will definitely be the one we played against Namibia in Nairobi. That was the game in which I scored my first international goal and I can say it was a great goal. The second match is our match against rivals AFC Leopards' in the Kenyan Premier League. We were 2-0 down after 50 minutes but we rallied back and picked up a point and I scored the equalizer when the game was almost ending.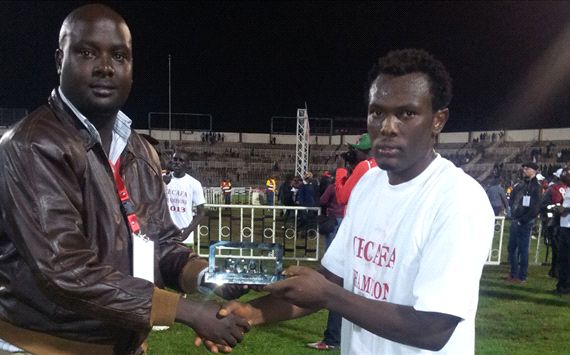 WINNER | Owino 'Calabar' meets with Goal Kenya Chief Editor Dennis Mabuka
Goal: You seem to have a lot of strength and energy when playing. What motivates you daily?
Owino: The fact that I have been given that chance to play is a motivational factor by itself. I always want to improve myself and play better than the last game. My father always inspires me a lot as well as my strong faith and trust in God.
Goal: Finally, a closing word and perhaps word of advice to upcoming players who look up to you?
Owino: I would again want to thank Goal for the award, my coaches both in the national team and at club level for grooming me to what I have become now. To young upcoming players, never give up, work hard, keep the discipline and above all put God above everything else.
Goal: Owino thanks very much for you time. What is your target going forward?
Owino: Thank you very much. I have always had a dream of playing in Europe and I will never stop dreaming of turning professional abroad. It is true that I love and support Arsenal because of Arsene Wenger's philosophy of having faith in young players. I hope one day he will have the opportunity to watch me play and maybe sign me up because I always belief I have skills to feature for the Gunners. We have Wanyama in EPL so it won't be difficult for me to join the same league.