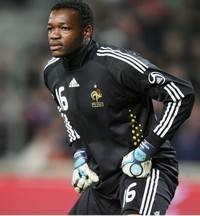 Steven
MANDANDA
France
Olympique Marseille's Steven Mandanda would be the singular pick to start in goal, although, had one or more of his three goalkeeping brothers showed themselves favourably disposed to representing France, he could have faced some competition. The oldest Mandanda has been one of the pillars that have kept Les Phoceens at the top of the French domestic game for some seasons now, and many opine that it probably is just a matter of time before he displaces Hugo Lloris in the France national side, to whom the DR Congo native has committed his international career.

Jerome BOATENG
Germany



Marcel DESAILLY
France



Angelo OGBONNA
Italy



Patrice EVRA
FRANCE



Jose Bosingwa - of mixed Congolese and Portuguese parentage and born in Zaire - contends for the right-full back spot but ultimately loses out to Jerome Boateng, half-brother of Ghana international Kevin-Prince Boateng. Only just 24, Boateng has quickly emerged to establish himself as a constant feature in the respective defensive units of Bayern Munich and Germany and is quite capable of excelling in a range of roles at the back, not least that of the No. 2. Manning the opposite wing is Senegalese-born Patrice Evra, who has remained a fairly regular player for France since circa 2004. Evra has impressed for Les Bleus and for Manchester United with his well-stocked and efficient defensive tool-kit as well as his brilliant attacking sense for the best part of a decade, and deservedly belongs to an elite class of left-backs that could waltz into any quality side at present.

The preferred central defensive partnership for this exclusive team, comprising of World Cup winner Marcel Desailly alongside Torino and Italy up-and-comer Angelo Ogbonna, appears somewhat odd yet is as solid as any. The former (who only migrated with his parents to Europe as a four-year old) is a bona fide French footballing legend and remains one of the game's more respected statesmen, while the latter, born to Nigerian immigrants in the Italian province of Frosinone, has barely got his international career with the Azzurri flying, albeit being one of football's hottest defensive prospects, all of which makes this blend of youthfulness and experience quite ideal.

Patrick VIEIRA
France



Zinedine ZIDANE
France



Gerald ASAMOAH
Germany



Luis NANI
Portugal



Settling on a suitable choice for a midfield anchor proved quite difficult, especially as it turned out as a straight fight between two legendary Frenchmen who re-defined the enforcer's role like few ever have: Patrick Vieira and Claude Makelele, natively Senegalese-Cape Verdean and Congolese respectively. Ultimately, however, Vieira seems the slightly better fit, as much for his incredible spell at Arsenal and for his exploits at international level.

Paired with Vieira in midfield, albeit in a more advanced position, is perhaps the greatest example of them all: Zinedine Zidane, the famous Algerian who turned out for France for so many stellar years. Really, it would take a full script to properly describe all of Zizou's attributes, so perhaps we just ought to consider ourselves privileged enough to have him gracing our team.

Our chosen right-winger is yet another west African, the sixth thus far: Ghanaian-born German Gerald Asamoah. Asamoah was actually once called up for a Ghana game yet failed to play and afterwards set his heart on a career with his adopted country, never again harbouring hopes of representing his homeland. Asamoah, now a ripe 34-year-old, went on to enjoy a hugely successful spell with Die Mannschaft, becoming the country's first fully black international and featuring at two World Cups, claiming silver and bronze medals in the process. Asamoah, if he would, could opt to switch flanks with Cape Verdean Luis Nani, the nominee for the other lateral attacking job. Born in Praia, Nani's family - much like those of quite a few on this list - journeyed to the Europe (Portugal, in his case) and has since blossomed into a fine winger who regularly wows Premier League fans with some sublime skills and has also established himself with Portugal's senior side.

EUSEBIO
Portugal



Mario BALOTELLI
Italy


Nani's fellow Portuguese representative, Eusebio - from Mozambique and arguably the first world-class striker to emerge out of Africa - leads the attack. Late into his teens, 'The Black Panther' took a blind leap into Europe as a fairly unknown quantity in a quest to make a name for himself. Till now he is considered Portugal's greatest player ever - and the Portuguese have had some top class footballers since. With a tally of over 700 career goals, there could hardly be one more deserving of being entrusted with this team's goal scoring duties.

Mario Balotelli completes the line-up of 11, slotting in almost seamlessly in the spot behind the man some 49 years his senior. The selection of Balotelli as Eusebio's complement was a no-brainer for obvious reasons. The young Italian forward of Ghanaian extraction is already a household name in football, having earned global fame for his legendary eccentricity and his goal-scoring prowess.
MANAGER

Well, yes, we do have a manager in ex-Newcastle United and current Norwich City handler Chris Hughton, son of a UK-based Ghanaian postman, and an Irish mom.
What do you think of our all-time best XI of naturalized Africans? Do let us know what you think of it in the comments section below.