COMMENT
By Kris Voakes | International Football Correspondent
The Japanese newspaper headlines were bursting with praise. "Honda: Milan's saviour", "Honda in a Kingly performance", "If anyone can rebuild Milan, it's Honda."
In his AC Milan debut away to Sassuolo in January, Keisuke Honda had given his legion of supporters across the globe every reason to believe that if the Rossoneri were to get back on track then he would have a big part to play in the recovery.
But less than eight weeks later, there is now a very different air around the ex-CSKA Moscow man. Having struggled to make much of an impact since Clarence Seedorf replaced coach Massimiliano Allegri following the 4-3 defeat in his Serie A bow, Honda now finds himself restricted to bit-part appearances as the Dutchman looks elsewhere for the inspiration needed in Milan's bid to lift themselves off the canvas.
'SERIE A IS NOT THE DUTCH SECOND TIER'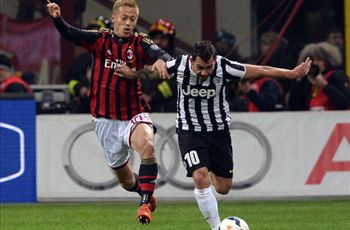 THE JAPANESE VIEW ON HONDA

"The Japanese media are not being very judgemental as they are afraid of hurting the player's feelings and falling out with his management.
"It is clear, though, that after the very promising debut vs Sassuolo and the Coppa Italia game and goal, Honda is not performing up to expectations, and there is some embarrassment about it.
"The booing against Bologna and Juve was also something the local media here did not linger on much, but nobody blamed Italian supporters for being demanding, especially since other Japanese players have been treated very fairly in Italy.

"I believe his whole experience in Italy so far could be crystallised in the moment he tried to take on Tevez and ended up losing the ball and committing a foul. He needs to improve, Serie A is not the Russian league or the Dutch second division."
Cesare Polenghi, Goal Japan

Appearing off the pace and mentally lacking, the Japanese has looked tactically naïve and has regularly failed to impose himself on games, leaving many questioning the motives behind his purchase.
Honda has actually started five of eight league games since his arrival, but has finished only two and found himself out of the starting XI when Juventus came to town last weekend. When Sky TV in Japan decided to dedicate one of its channels to a 90-minute player cam on the No.10, viewers spent much of the first 70 minutes left watching him sat on the bench chatting away with Michael Essien.
There have been contributing factors to Honda's struggles so far, not least the decision by Seedorf to largely use the Japanese in wide attacking positions rather than his favoured central spot behind the main striker. Such an apparent lack of adaptability, though, has not been looked upon particularly well by a demanding Milan crowd who have now whistled the Bosman signing at successive home fixtures.
Honda himself was rather pointed in his comments following Japan's 4-2 friendly win over New Zealand during the week, suggesting that he is far more effective when playing the game that made him such a hit with VVV and CSKA, as well as earning him star status in Japan.
"I have the DNA of a central attacking midfielder, so that position feels like my home," he told reporters. "I'm comfortable there, so it's almost a different conversation altogether to discuss it.
"But I'm playing in a different environment in a different country. If it was just a question of being comfortable there'd be no point in changing, so I have to figure out how to turn this discomfort into a positive."
There has been a great deal of talk in Italy that Honda's worth as a marketing tool has already made his transfer a massive success off the field, but he clearly has the quality necessary to develop into a decent standard Serie A player. However, with Milan expecting to welcome back a string of players after injury absences in the near future, the 53-cap attacker could find himself facing an uphill task fitting in.
Honda was expected to be the big impact addition of the January transfer window, but instead has been left watching Adel Taarabt turn it on in the red and black shirt. The famed Milan No.10 shirt does not belong on the substitutes bench, but it will take a dramatic upturn in form for Honda to buck the current trend and become the worthy heir to the likes of Ruud Gullit, Dejan Savicevic, Zvonimir Boban, Manuel Rui Costa and a certain Clarence Seedorf.
The longer the Dutchman remains unconvinced, the longer Honda's teething problems will continue.