By Christian Rizzitelli | Tahiti Expert
Tahiti's participation at the Confederations Cup is clearly a once-in-a-lifetime event for the Francophone island.
After shocking Oceania with their maiden OFC Nations Cup triumph last year, the Polynesian side have booked their tickets for historic encounters against top-class superpowers such as Nigeria, Spain and Uruguay.
Digging through the curiosities and mysteries that surround their recent emergence from the unknown,
Goal
gives an insight into the tiny Pacific island, recognised worldwide as a paradisiac tourist destination, but not known for its footballing achievements.
Kings of the Pacific
Tahiti are the only Pacific national team apart from Australia and New Zealand to have lifted the OFC Nations Cup trophy since its establishment in 1973. The Polynesian island's side clinched their win thanks to a 1-0 victory over arch-rivals New Caledonia, after favourites New Zealand were stunned by a 2-0 defeat to the losing finalists in the semi-finals.
Vah-Vah-voom
In a team with 22 amateurs out of 23 players, striker Marama Vahirua is the only current professional footballer from Tahiti. The 33-year-old Papeete-born star, who spent last season in Greece with Panthrakikos on loan from Nancy, is a widely renowned figure in France. He has scored more than 70 goals in Ligue 1 with Lorient, Nice and Nantes, who he led to their eighth league title back in 2000-01.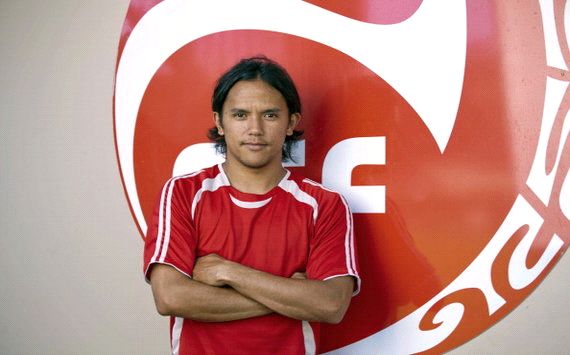 Vahirua | The 33-year-old is the country's only professional footballer


Making ends meet
Marama Vahirua will be Tahiti's only professional, but he's not the only member of the squad who gets paid for a sporting-related job. Goalkeeper Xavier Samin works as sports educator, while centre-back Tamatoa Wagemann earns his living by working as a personal trainer. Others, like striker Samuel Hnanyine, play sport in a different way, as the latter is a delivery man who sometimes has to carry 50kg sacks of flour.
A continental powerhouse
Although the undoubted underdogs in Brazil, Tahiti have a strong footballing tradition at continental level and have always been considered amongst the best in the Pacific. With five titles, they are the second most successful team in the history of the South Pacific Games, a quadrennial tournament which involves all the islands from the region, where they also recorded their best-ever win in the 1971 edition: a 30-0 annihilation of the Cook Islands. However, they are ranked a lowly 138th in the world - just two places better off than Afghanistan.
Making their mark
Plenty of footballers around the world have covered their arms with tattoos, but few know that they originate from Tahiti. Tattoos, the corresponding term for the Polynesian word 'tatau', are not only considered a sign of beauty and courage by the locals, but also have a prominent religious meaning. An ancient Tahitian legend claims that the god of tattoos, named Tohu, gave colour to all oceans' fish with his heavenly powers.
Steady Eddy

The secret key to Tahiti's Nations Cup success was without a doubt their promising head coach Eddy Etaeta. A former Tahiti international in the 1990s, the 43-year-old has managed to create a solid and tactically well-drilled side. He has compensated for the lack of talent with self-sacrifice and teamwork, and shown why he deserves to be one of the only three full-time paid employees within the little Tahitian Football Federation (FTF).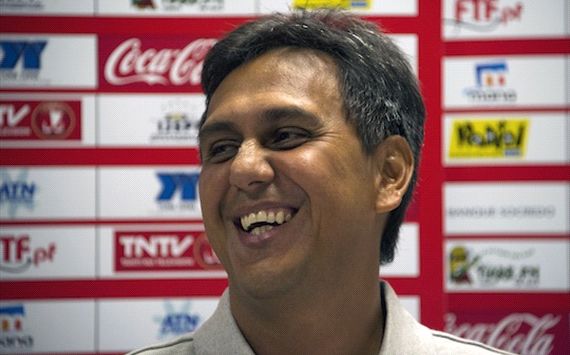 Eddy Etaeta | The coach won five caps for his country during the '90s
Keeping it in the family

There have been many influential footballers in the past who have hailed from the same family, including the likes of the De Boer and Koeman brothers from the Netherlands, but it's quite a rarity for a team to count on four players from a single household. Yet Tehau brothers Jonathan, Lorenzo and Alvin, along with their cousin Teaonui, are all part of the Tahitian team in Brazil, and are expected to play a major role for their side.
Hidden talents

Despite their recent OFC Nations Cup triumph, football is still an unfamiliar sport in Tahiti, as it is in the whole Oceanic region. However, Tahiti's sporting culture is not dominated by rugby - which is worshipped as a religion in the entire Pacific - but by their national sport, locally named va'a and internationally known as outrigger canoeing, where the Tahitians are unrivalled champions on the world stage.

The Bora Bora dreamland

Among the countless breath-taking destinations that Tahiti can offer, Bora Bora (which means first born in Tahitian) is definitely the one which is worth a visit most, thanks to its spectacular natural environment and its unique luxury resorts. Due to its dream atmosphere, the island is also known as "the romantic island". You will never catch Tahitian players complaining at living in such beautiful surroundings.

A haven for the greats

Despite being the homeland of just 178,000 dwellers, as a result of its unmatched natural wonders, Tahiti has been considered a source of inspiration by many of the world's finest minds. French painter Paul Gauguin spent the last years of his life in Tahiti to escape from Europe's industrial and corrupted society, while great naturalist Charles Darwin visited the island in 1835 and revealed he was struck by the locals' morality and kindness. Tahiti will hope to draw similar inspiration from their Brazilian surroundings as they look to shock the footballing world at the Confederations Cup.