COMMENT

By Peter Staunton
"That which does not kill us makes us stronger." That Nietzsche quote may have passed into cliché, but it nonetheless retains its truth. For Borussia Dortmund, it is appropriate following their self-inflicted exile in the footballing wilderness on the back of chaotic financial meltdown. In the case of Bayern Munich though, the recent, vigorous challenges posed by the Yellow-and-Blacks in the Bundesliga have provoked fortification and a renewed, awe-inspiring quest for domination.
Their announcement of the capture of Mario Gotze represents just that. It intends to demean and to degrade Dortmund while simultaneously safeguarding their own positions as top dogs in Germany. Coming as it did on the eve of Dortmund's biggest game in 15 years, the Champions League semi-final against Real Madrid, it could not have been more symbolic or, indeed, more characteristic of the modus operandi of Bayern Munich.
It brought with it scorn and disrespect from the Bavarians' sporting director, Matthias Sammer, the only man to win the Bundesliga as a player and a coach with Dortmund. "We haven't been in touch with Borussia Dortmund over it," he spat. "Why should we? Mario Gotze has got a contract release clause and he is making use of it."
Every club would be loath to lose the jewel in their crown, Gotze in this case, to a direct domestic rival. But under the prudent financial management of CEO Hans-Joachim Watzke, sporting director Michael Zorc and coach Jurgen Klopp, Dortmund have come to regard high-profile sales as a pragmatic necessity, as part of the strategy. Consecutively, they lost Nuri Sahin and Shinji Kagawa. Now Gotze's departure will bank a massive profit.
Fans accept this reality now and trust the club's judgement.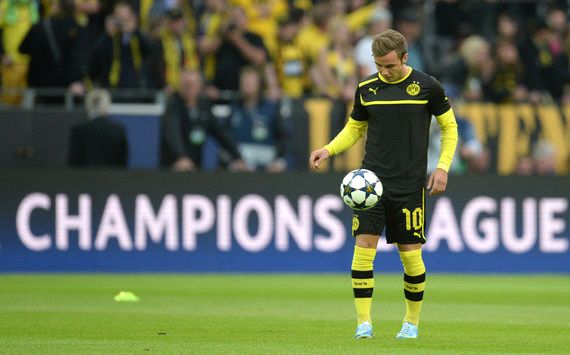 Gotze gone
|
But BVB fans are accustomed to seeing players moved on for healthy profit
For they tracked the stock market flotation of 2000 and watched an economic battering of 2002 unfold as funds from the listing were frittered away. They expressed their anger when the grand old Westfalenstadion had to be sold to a real estate trust to stave off catastrophe.
They winced through the expensive and near-fatal purchase of Marcio Amoroso. They lamented the sales of players like Tomas Rosicky, Alexander Frei and David Odonkor to cover debt and wages. They witnessed bankruptcy being countenanced in 2005 as stock plunged to 20 per cent of its original value.
They fretted as Watzke kept the wolves from the door after taking control and, somehow, kept the creditors at bay. "Pure chaos and anarchy," is how he described it.
They saw managers come and go and stood with the club as relegation on the field was threatened in 2008.
And they were part of the "We are Dortmund" projects across the region which helped safeguard the club's future. For all of that, they are blessed with perspective.
The sales of Sahin and Kagawa, in any case, barely knocked Dortmund out of their stride. Replacements Ilkay Gundogan and Marco Reus have been improvements on their predecessors.
But Gotze is different.
He heads the BVB academy project; a finishing school for elite young talent. To examine the various batches of players inculcated at the facility is to regard key components of a hugely-driven and united Dortmund team. Kevin Grosskreutz, Marcel Schmelzer and more are all testament to the new ethos.
But Bayern flexed their muscle as they are always liable to do and spirited Gotze away after being in Dortmund's system from the age of nine. From that display of power it is clear that Dortmund's rise and consistency has riled the Rekordmeister. Germany's only superclub, they expect things their own way. But the gadflies will not be easily swatted.
Dortmund have transformed from charity cases to rivals since hitting rock bottom. Progress under the inspirational Klopp in the eyes of Europe at large seems sudden and dramatic, but in truth it is anything but. After finishing 13th in the Bundesliga in 2008, Dortmund were sixth under Klopp in 2009, fifth in 2010 and champions in 2011 and 2012. In that sense, it has taken him five years to become an overnight success. Recently they have not only taken to beating Bayern but to humiliating them: last season's DFB-Pokal final, a 5-2 trashing, helped portray this Bayern squad as a bunch of preening bottlers to Dortmund's swaggering, virile gang of overachievers.
[Dortmund] might have hungrier players, but they don't have any world-class players. When they show they can compete in Europe, I'll take my hat off to them



- Uli Hoeness

What Bayern could not do on a wage budget of €160-odd million, Dortmund could do on less than half. And they could do it with style, with verve and panache.
Not that Bayern president Uli Hoeness would believe it. "The fairytale that Mr Hans-Joachim Watzke is telling, with his €45 million wage bill, he can tell to anybody who doesn't have a clue about our business," Hoeness told
Sky
television. "We will see when their balance sheet is produced."
But Dortmund have indeed come a hell of a way. They have been all the way to the brink.
They have not come to Wembley by 'living the dream' as occurred at Leeds United, recklessly spending and jeopardising the very existence of the club. They themselves tried that before. The experience did not kill them, though it very nearly did, and they are all the stronger for it now. This is Dortmund doing things properly. And it is getting right up Bayern's noses, for they, in part, facilitated the resurrection.
The Bavarian heavyweights like to exert patient pastoral control over the rest of the clubs in Germany. The consistent bailing out of neighbours 1860 and poor relations like St Pauli conveys a sense of benign munificence; an impression of Bayern being benefactors first, competitors second.
Dortmund know all about Bayern's charitable giving: in 2003 Bayern lent €2 million so BVB could pay their wage bill. "When they were aware that they could no longer pay their salaries, we gave them €2m without collateral for a few months," Hoeness told reporters in November.
Champions League winners in 1997, they came cap-in-hand begging for scraps. How times change and change again. While Bayern are and will always be in the financial front seat in the Bundesliga, Dortmund have become the most credible challengers to their sporting dominance in decades.
Two Bundesliga titles on the trot, and the double claimed last year at Bayern's expense, have fostered sporting sang-froid between the two. The enmity, in truth, stems from Bavaria. "I have always spoken with a lot of respect and admiration for Bayern," Watzke said in April. "But that has cooled. There are a few irritations now."
Aggressive and brash, Bayern have sauntered intimidatingly to the league crown, 25 points clear of BVB, and passed serenely to the final of the Champions League. They are still top dogs, and proud of it. "[Dortmund] may have hungrier players, but they don't have any world class players," Hoeness said last season. "When they show that they can compete in Europe, then I will take my hat off to them."
Nothing, in that regard, has yet been won. But the financial storm has been weathered, war on and off the field parried and battles won and lost. The ill-tempered barbs, now, count for very little.
Borussia Dortmund have done what Bayern never have had to do, despite their 23 titles in 50 years. They have regrouped and risen again.
Their crowning glory would be not only winning the Champions League, but beating Bayern Munich to it.
Follow Peter Staunton on