Goal profiles five of the players who have featured for both Kenyan giants in times past and present as the country gear up for the Super Clash on Sunday afternoon
The line that distinguishes AFC Leopards and Gor Mahia is rather fine and steep, one that has been straddled and occasionally crossed by a courageous few.
Ahead of the derby fixture the two sides are scheduled to contest this Sunday, Goal Kenya's Otieno Otieno profiles five of the bigger names, who have featured for both Kenyan giants in times past and present.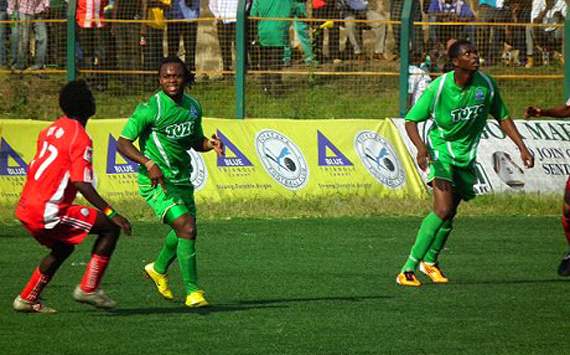 The Congolese striker remains the only player to have scored against AFC Leopards and Gor Mahia while on either side. Together with countryman Bob Mugalia, Selenga is among few Congolese players, who have found success on the local scene. He joined AFC Leopards at the end of 2009 after being dropped by Sofapaka, who had just won the premiership title that season. He will be remembered most by Leopards fans for his crucial goals in the 2010 season that helped their team to survive relegation when he single handedly carried the club out of the woods. In that season while at Leopards, he scored against Gor Mahia and earned the respect of former coach Zedekiah 'Zico' Otieno. He crossed over to Gor Mahia in 2011 while Gor were trying to improve on their previous season's second position finish. The highlight of his stay at Gor was scoring against AFC Leopards in a 2-0 win. He did not however, last at Gor and left to rejoin Sofapaka but remains a fringe player in the side.
The late John Okello 'Zangi' was such a talented midfielder that he was called up to the national team Harambee Stars when he was just 19 years-old. Okello featured in the final of the Cecafa Senior Challenge Cup which Kenya won 1-0 by stopping Zimbabwe. He joined Gor Mahia as an 18 year-old youth determined to build a name for himself in the national league and by the time he left the club in 1989, he had won three league titles with the club. But just like most talented players, Okello had a discipline problem or so the Gor hierarchy claimed and this led to his suspension first in 1986 and then eventual expulsion in 1988. He was enticed by AFC Leopards in 1989 to join the club but it was not smooth sailing for him as some Gor fans attacked him at Nyayo Stadium in 1989 and was saved by Gor players who carried him into the team bus.
Shikanda crossed over from AFC Leopards to Gor Mahia in 1991 at the peak of his career. Shikanda fell foul of the hierarchy at AFC Leopards when it became apparent that he could not juggle his studies with playing football something that the bosses at his former club felt was lack of commitment. At the time he had signed for Leopards, Shikanda now a football analyst, was studying medicine at the University of Nairobi and because of this it became challenging for him to assert himself in Leopards line-up forcing him to move to their arch-rivals where he hoped to get a starting position which he did. Just like Okello, Shikanda faced hostility from Leopards' fans who claimed his move had betrayed them. Even though Shikanda's move was nothing strange, many fans still could not understand that it could happen and struggled to accept it. But Shikanda undeterred by the protests, went on to have a successful career at Gor Mahia from where he retired into football administration.
Paul Ochieng started his football career at Mumias Sugar but was signed by Gor Mahia in 1988 to replace retired legendary defender John "Bobby" Ogolla. Since Ogolla hang his boots in the middle of 1987, Gor had lacked a solid replacement and Ochieng's signing was considered a good move. Ochieng was tall, strong and built like a tank. He was unbeatable both in the air and on the ground. He however, fell out with the Gor hierarchy over inadequate payment. The defender felt the players were being short-changed while at the same time AFC Leopards, who were bank-rolled by the then moneyed Alfred Sambu were doing much better financially. Ochieng therefore, had no options but to leave Gor Mahia and he did it at a time he was at his peak while still holding regular place in the national team Harambee Stars. Leopards were the more organized side at that time and were the first local club with a shirt sponsor when they got Crown Paints.
The defender was instrumental in helping Gor Mahia finish runners-up during the 2010 Kenyan Premier League season that he was christened 'PPO' (Provincial Police Officer) for his defensive prowess. Exactly a year later, arch-rivals AFC Leopards came calling but Gor were unwilling to sell initially demanding an unreasonable Sh1 million signing fee even though the player had just six months to the end of his contract. Leopards were given the go ahead to talk to the player in accordance with the transfer rules which allow a player to talk to another club if he has six months left to his contract. The transfer was so contested that at one time Gor accused their rivals of illegally agreeing personal terms with the player while he was still on contract with them. At the end, however, Leopards won over their player and paid out Sh450, 000 making Masika the most expensive player buy then. His stay at Leopards has not been successful though and he remains a pale shadow of his former self as he hardly gets a starting place in the Leopards line-up this days.