ANALYSIS
By Mark Doyle
Barcelona
vice-president Josep Maria Bartomeu has promised the club's bewildered fans "four or five signings" in response to last week's humbling by
Bayern Munich
. "We need to shake up the squad," he acknowledged. It is both lamentable and baffling that this has only dawned on the
Blaugrana
hierarchy now.
Barring a minor miracle at Camp Nou on Wednesday, the Catalans will bow out at the semi-final stage of the Champions League for the second year in succession. Once again, they have been good - but not good enough. And the cold, hard truth is that Barca only have themselves to blame, having failed dismally to strengthen their squad in the right areas.
When Barcelona swept Manchester United aside at Wembley two years ago to claim their second Champions League title in three seasons, the Catalans looked near-certainties to become the first side to defend the trophy successfully.
However, they elected to make just two signings that summer. Incredibly, neither was a defender, with Barca acquiring Cesc Fabregas from Arsenal and Alexis Sanchez from Udinese.
Fabregas was a sentimental purchase. The
Blaugrana
had become obsessed with re-signing a player whose departure for Arsenal as a teenager clearly still rankled. Rather than wisely bide their time before re-capturing a homesick Catalan for a significantly smaller fee one year later, they squandered €34 million that would have been better spent on their overstretched defence. Not yet good enough to either break into Barca's midfield three or to play in attack, Fabregas is essentially the world's most expensive reserve. It was simply a case of right player; wrong time.
HOW BARCELONA'S 2011 & 2012 SUMMER SIGNINGS HAVE FARED
| | | | | |
| --- | --- | --- | --- | --- |
| | FABREGAS | ALEXIS | ALBA | SONG |
| | | | | |
| SIGNED FROM | Arsenal | Udinese | Valencia | Arsenal |
| | | | | |
| --- | --- | --- | --- | --- |
| FEE | €34m | €36 | €14m | €19 |
| GAMES | 91 | 82 | 39 | 30 |
| | | | | |
| --- | --- | --- | --- | --- |
| GOALS | 28 | 23 | 5 | 1 |
| ASSISTS | 31 | 16 | 5 | 1 |
At least Fabregas will become a first-team regular in time, though. The same cannot be said of Alexis, who has been a monumental flop.
The Chile international showed glimpses of what he could do during his first year in Spain but his second season has been nothing short of disastrous. In fact, at times it has been farcical, with Alexis even occasionally falling over when the goal has been at his mercy. The harder he tries, it seems, the more spectacular the fall.
Barcelona did at least acknowledge that they might have some issues at the back when it came to last summer's recruitment programme, signing left-back Jordi Alba from Valencia and defensive midfielder Alex Song from Arsenal.
Alba, who started against Bayern, has proved a decent acquisition, but the one problem with the Spain international is that he is nearly as attack-minded as Dani Alves, meaning Barca are often caught with just two players at the back.
The thinking behind the Song deal was also reasonably sound in that the Catalans needed a defensive midfielder who could also play in defence; they just bought the wrong one. For twice the money, they could have signed twice the player, with Javi Martinez having swapped Bilbao for Bavaria last summer after Bayern agreed to meet the player's €40m buy-out clause.
It is worth remembering that Bayern were just as reluctant to pay such a price for Martinez, but the Bundesliga giants knew that he was the player that they needed. If only Barca had showed such conviction, the versatile Martinez could have been positioned at the heart of their under-strength defence last week rather than located at the base of the Bayern midfield.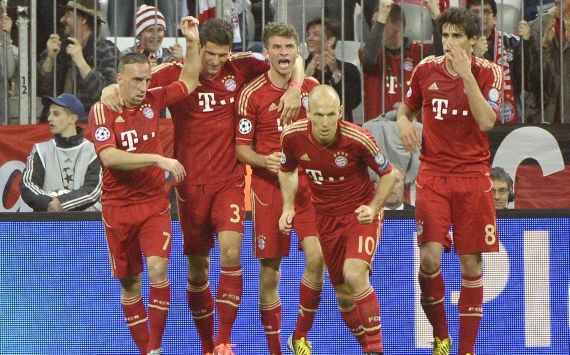 Bigger, Faster, Stronger | Bayern's strength in depth allows them to rotate more than Barca
Barca's transfer dealings really are worthy of comparison with those of the Bavarians. Bayern only made the last 16 of the 2010-11 Champions League. They knew that they needed to invest heavily in their squad and over the next two summers they brought in not only Martinez, but also Mario Mandzukic, Xherdan Shaqiri, Dante, Claudio Pizarro and Manuel Neuer.
Admittedly, Bayern did look, as Gerard Pique put it, "bigger, faster and stronger" than Barcelona at the Allianz Arena, but then, such is the strength in depth of the Bayern squad, Jupp Heynckes is able to rotate his players with greater regularity.
To appreciate the differing strength of their respective squads, one only has to look at the way in which a second-string Bayern line-up hammered both Hannover and Nurnberg in recent weeks. "We have no B team," Heynckes quite justifiably declared after one rout, claiming that he has two world-class players for every position. Tito Vilanova has no such luxury, as evidenced by the way in which an injury to the 35-year-old Carles Puyol has thrown his defence into utter disarray.
Barca, by complete contrast to Bayern, have not only failed to buy enough players over the past two years, they've also bought the wrong ones. They did not address their dependency on Lionel Messi to lead the attack and nor did they resolve their glaring defensive deficiencies. They failed to invest and are now poised to pay a very heavy price.