SPECIAL REPORT
By Kris Voakes | Italian Football Writer
When Lazio entertain Fenerbahce in the second leg of their Europa League quarter-final, a normally hostile atmosphere at the Stadio Olimpico will instead be transformed into an eerie one. The Biancocelesti's two-match stadium ban means that they will remain starved of their home support just as they were when overcoming Stuttgart in the last 16.
The suspension was handed out by Uefa after reports of racist taunts during their round of 32 clash with Borussia Monchengladbach, which followed similar offences at both of their group fixtures against Tottenham and at one match against Maribor.
Lazio coach Vladimir Petkovic was measured and firm when asked about racism in his pre-match press conference. "Racism is a bad thing," he said. "We will certainly be penalised at the match. The important thing is that sanctions are as uniform at an Italian level as across Europe and the world."
When supporters finally return for their next European home game, whether that is a semi-final or next season, the Rome club are certain to be watched very closely to discern how they handle a problem which has been evident for some time.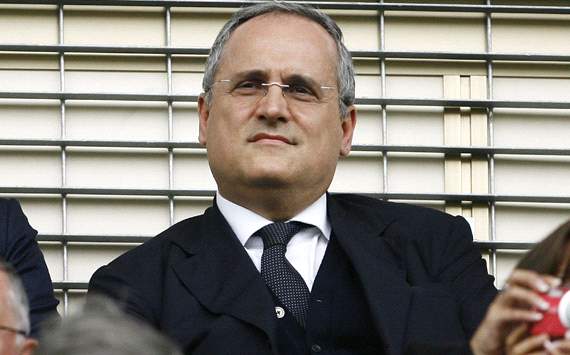 Lotito | Believes Lazio's troubles are an issue for the "small minority"
However, it remains to be seen how seriously the club takes it. Lazio president Claudio Lotito reacted with anger at Uefa over the sanction, rather than address the root of the problem. "We cannot as a club be penalised for the mistakes of a small minority [and] we will lodge an appeal," said Lotito.
Had this been the first case of such trouble, then perhaps Lotito would have had a strong argument but it was not. While the Monchengladbach scenes were the fourth reported occurrence this term, there have been countless other examples of racist taunting at Lazio games in the past. This writer has witnessed two other occasions in recent times at the Olimpico in Europe when black players have been targeted, including at this season's group game against Panathinaikos.
Countless displays of racism have come and gone without Lazio being able to quell the monkey noises or the chants. Many opportunities for fellow supporters to point out the trouble-makers to stewards or police have been passed up. The only surprise about Uefa's action was that it took them so long.
It is not exclusively Lazio fans who have questions to answer when it comes to racism though. The fact that Italy has witnessed a spate of other such racist episodes suggests that Lazio are not alone in their need to tackle the issue.
Inter alone have paid out over €100,000 in fines for the racist behaviour of their fans this season, including a €50,000 punishment for chanting and the waving of inflatable bananas at AC Milan's Mario Balotelli in the Derby della Madonnina. There have been other fines handed out to Juventus, Genoa and others this campaign, showing a continuing trend for vitriolic behaviour directed at ethnic groups. Last weekend, Balotelli asked referee Paolo Tagliavento to make a note of racist abuse being fired his way from Fiorentina fans.
We should tackle that behaviour with a firm attitude from the government and from football federations, and not just keep talking about it. Act, and talk less about it





- Clarence Seedorf

Former Inter and Milan midfielder Clarence Seedorf once told the BBC's World Football: "If we look at racist behaviour – which doesn't mean that these people are racist – we should tackle that behaviour with a firm attitude from the government and from football federations, and not just keep on talking and talking about it. Act, and talk less about it. Give more attention to integration and to the positive values of what we want to have in a civil society."
In 2011, Samuel Eto'o was barracked mercilessly when he visited Turin with Inter, with Juventini likening him to African immigrants handing out roses on the local metro, but there was little to no media coverage of the chanting, no official report and no extended ban.
Manchester City captain Vincent Kompany, also speaking to the BBC, pointed to the widespread condemnation and imploration for action as England's greatest weapon against racism in football.
"When anything happens it shocks the whole country, and the whole country shows that it is not something that will be accepted," suggested Kompany. "And that's great because, whichever way you look at it, the fact that people talk about it is already a [sign] that this country is a lot more evolved than some other countries."
A Stoke City fan who shouted abuse at Balotelli when he was a team-mate of Kompany was quickly identified and banned from football for three years. That such swift action rarely takes place in Italy is damning.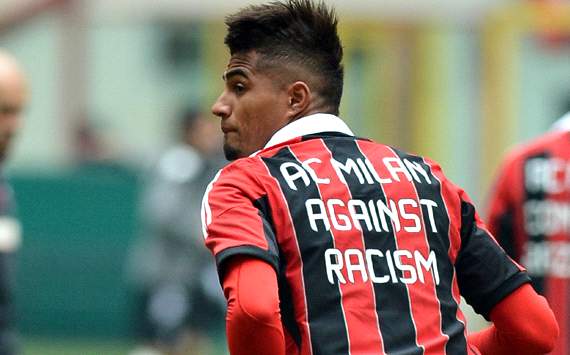 Boateng | "We can't allow this to happen before our very eyes"
Critics believe an unwillingness to talk about the issue and accept that it needs to be dealt with heavily is holding Italy back in its fight against racism. Milan's walk-off against Pro Patria, inspired by Kevin-Prince Boateng after he was subjected to taunts from the minnows' fans, was expected to be a tipping point but now appears just as likely to be a false dawn. Since that moment in January, meagre fines continue to be the order of the day across Italian football. The FIGC appears reluctant to follow Uefa's hardline example.
When speaking at a United Nations convention recently, Boateng warned: "Stadiums can be places where people of different colour come to support their teams or they can be seen as stagnant areas where healthy people will be infected by racism. We can't allow this to happen before our very eyes."
The theory is that banning everyone from the stadium can only lead to increased pressure from the fair-minded majority to have the abusive minority run out of the game. And maybe then there will also be a greater inclination to point out the trouble-makers immediately in future.
Stadium bans may come at a huge cost to the ordinary fan in the short term, but it could be argued that the sacrifices are worth it in the long-term interests of the game. Do the Italian football authorities see it that way? The jury is out.