COMMENT
By
George Ankers
In the 10-and-a-half months since May 13, 2012, the scenes at the Etihad Stadium have been replayed many thousands of times.
Sergio Aguero
's late strike,
Manchester City
fans' explosion of delight, Martin Tyler's incredulously elongated vowel...
That is, rightly, the front cover of that particular volume of the history book but, for the fans crammed into the away end at the Stadium of Light, the memories of that day are altogether less ecstatic.
SNATCHED AWAY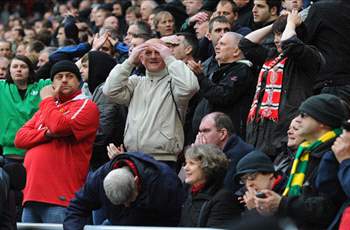 20' - Rooney scores

The United forward tucks away his 27th Premier League goal of the season; Manchester United lead City by two points.
39' - Man City take the lead
Their rivals regain their goal-difference advantage when Pablo Zabaleta strikes at the Etihad Stadium.
48' - QPR strike back

Mark Hughes' men shock the hosts with Djibril Cisse's goal just after half-time.
66' - City fall behind

Despite having Joey Barton sent off, QPR turn the tie on its head through Jamie Mackie. United fans erupt in cheers, sensing their moment.
90+3' - Full-time at Sunderland

News of Edin Dzeko's equaliser reaches the Stadium of Light but, with a City draw enough, United wait on the pitch to confirm their triumph.
90+5' - Full-time at the Etihad

Everything goes quiet at Sunderland; Sergio Aguero has stolen the title at the last moment.
On Saturday, they return to Sunderland, and this time there will be no sickening twist at the end. Something will have to go even more spectacularly wrong for that to happen down the line.
The mathematical possibility of Manchester United losing their grip on the title again will not be officially eliminated on Wearside, though some supporters might rue goalless draws with QPR and wish for a more perfect catharsis.
There had been no guarantee of triumph even if the Red Devils should win that day; that was part of the appeal. City had started the day ahead on goal difference – it was a chance to steal the trophy from right under their noses.
Though United were unable to add to Wayne Rooney's 20th-minute goal, their result was never in doubt. Bred winners, the visitors got the job done. They saw off Sunderland with minimal fuss, worries over the lack of a second goal tempered by a relative lack of threat from their hosts. Meanwhile, City had let slip their lead and were losing to relegation candidates. So far, so typical.
For a few brief moments after the final whistle, United walked the Stadium of Light pitch as Premier League champions. It wasn't confirmed – but surely. Then the news spread.
Sir Alex Ferguson's men had always been the agents of inevitability, their eventual triumphs as certain as death and taxes (the sucker-punch of Bayern Munich in the 1999 Champions League final the classic example). City had always been clumsier, prone to embarrassment. This was supposed to work the other way around.
Now, watching back the footage of the moment when the Red Devils found out that they had been given a taste of their own medicine, you can see it sting Sir Alex just enough to show. You can see the hardened general take the blow that convinces him to go all out to beat his rivals to Robin van Persie's signature. You can see a team take it hard enough to come back and win it this year almost in spite of their remaining flaws.
You might think that, 15 points clear with just nine games to play, United have nothing for which to play on Wearside. Roberto Mancini has finally admitted that the title race is over, after all – although we have heard that one before. There is potentially an FA Cup semi-final just around the corner and Sunderland have been freshly gutted by injuries.
There is no revenge to be had against the Black Cats themselves but there are demons lurking in the rafters at the Stadium of Light and they must be exorcised.
After all, in today's instant-reaction world, if the winning stops, the talking starts. Obviously it won't happen again – but what if it did, and it started here? Again? Sir Alex will have no room for that. The powerlessness of that moment when the rug was pulled out from under his feet is not something that he will allow to be repeated.
In the end, last May's result away to Sunderland had no impact on the title. It will likely have no bearing this year either. But there is more at stake than that.
Follow George Ankers on