COMMENT
By
Wayne Veysey
at White Hart Lane
'Mind the gap'. It is the phrase used by both
Tottenham
and
Arsenal
followers when they crow about being above their bitter rivals in the league table.
Well, the bragging is sure to be cranked up from Spurs worshippers following a thunderous and wonderfully entertaining north London derby in which their collection of all three points prompted wild scenes at the final whistle.
This clinical 2-1 victory lifts Andre Villas-Boas' increasingly well-drilled team back above Chelsea into third and to within just two points of second-placed Manchester City, who travel to Aston Villa on Monday night.
For a generation of Spurs fans who have watched their team live in the shadow of Arsene Wenger's Champions League regulars for so long, an equal thrill is being seven points above Arsenal.
TOTTENHAM 2-1 ARSENAL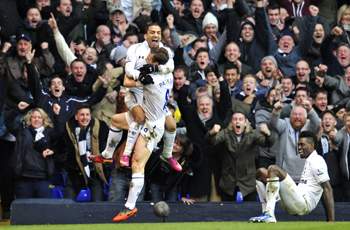 | | | |
| --- | --- | --- |
| | 37' | GOAL! Bale makes it 1-0 |
| | 39' | GOAL! Lennon adds a second |
| | 51' | GOAL! Mertesacker nods home |
MAN OF THE MATCH

JAN VERTONGHEN





Offered some respite from Arsenal's dominant possession control by calmly retaining the ball. Showed good awareness to step up and intercept several dangerous through-balls, and made a great recovery challenge on Walcott. An excellent display.
Giddy heights indeed. Especially when one considers that the club's wage bill lags way behind those of the Manchester clubs, Liverpool and the other two London powerhouses.
Yet long-time regulars at the Lane need only cast their minds back 12 months to avoid getting too carried away.
Spurs looked nailed on for a Champions League spot under Harry Redknapp only to find the rug pulled beneath their feet by a combination of a wheezing finish to the season and Chelsea's against-the-odds march to European glory.
On that occasion, it was Arsenal whose late surge culminated in a frantic final day in which they pipped Tottenham to third.
Nevertheless, there is a growing sense that Spurs are timing their run to the finish line far better this time around.
The feel-good factor was evident on Monday when Gareth Bale raced to hug Andre Villas-Boas on the touchline after his brilliant winner had sealed a thrilling 3-2 win at West Ham.
Back on home turf, there was further unabashed celebration after Spurs withstood a strong second-half fightback from Arsenal at a White Hart Lane rocking with noise and barely-concealed joy. Steffen Freund's enthusiasm, it seems, is proving infectious.
With 10 matches of the campaign still remaining, it will un-nerve some Tottenham fans to talk of a changing of the north London guard.
They have seen their team fall apart too often, and Arsenal pip them to the post too frequently, to over-indulge in day-dreaming. Who can forget the dodgy lasagne that prompted a final-day meltdown in 2006?
Nevertheless, there is growing evidence of Tottenham's resurgence and Arsenal's decline, however gradual it may be.
The verve, commitment and discipline of Villas-Boas' side was clear to see in the latest of a series of thrilling north London derbies.
As Wenger rightly pointed out, his team was the more composed of the sides in the opening third of the game before the wind was knocked out of their sails by two clinical finishes, from Bale and Aaron Lennon, within 140 seconds of one another.
"We were 2-0 down when we should have been 2-0 up," lamented the Frenchman. "It's very frustrating. It was a strange game to lose."
Yet, heroes in lilywhite were everywhere. In Hugo Lloris and Jan Vertonghen, Spurs had comfortably the outstanding goalkeeper and defender on show. Mousa Dembele and Scott Parker matched Arsenal's various central midfield combinations for endeavour and composure, and Bale demonstrated once again that he is an outstanding player in the most unreal form.
The Welshman, who scored his 10th goal in eight games, has been a joy to watch over the last few months but there is far more to this team than a No11 who can do no wrong.
"World-class players make the difference and we have lots," noted Vertonghen, who, like many of those who graduate from the Ajax finishing school, speaks as well as he plays.
Key to Spurs' victory was the resoluteness of their defending. Time and again, Arsenal's technically adroit midfielders manoeuvred themselves into positions 25 yards from the home side's goal but found themselves snuffed out or resorting to pot-shots.
The excellent Lloris dealt superbly with the high balls that came into his box, which was in stark contrast to Szczesny's cat-on-a-hot-tin-roof act at the other end.
Arsenal's statue-esque back-line deserve all the opprobrium that is heaped on them, but it does not half help when the 'keeper behind you is reliable and trustworthy.
Despite the theme of lamentable defending that runs through nearly all Arsenal's marquee-match setbacks in recent times, it would be ludicrous to completely write Wenger's team off.
Sixteen consecutive top-four finishes means that history is on their side, and they have experience of doing enough to win what their manager calls the fifth trophy.
Wenger knows he has a mighty task on his hands to pull back Spurs this time.
Follow Wayne Veysey on